Mercury's ASURRE-Stor® Self-Encrypting Solid-State Drive for Classified Programs has been recognized by a panel of industry experts assembled by Military & Aerospace Electronics Magazine.
ASURRE-Stor has been honored with the highest level of Innovation – Platinum – which "recognizes a superb innovation, characterized by a groundbreaking approach to meeting a need, and/or a new level of performance, efficiency, ease-of-use, or other beneficial quality."
Learn how to protect classified data up to Top Secret designation.
Learn about the NSA's Commercial Solutions for Classified (CSfC) program.
Learn how an agile commercial SSD can enable your mission success!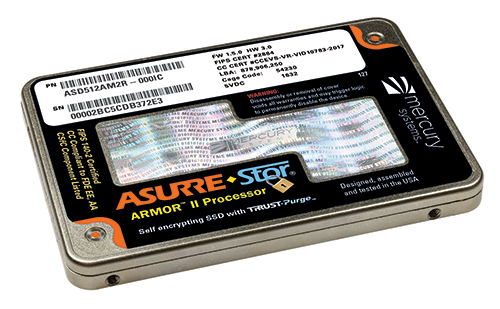 "Mercury's SSD team has the security experts everyone wishes they had in house. Our new ASURRE-Stor SSD is a game-changer…. Having this level of security verified in a commercial product gives our customers a solution they can easily deploy to the field in weeks instead of months or years." — Bill Sorrentino Sales Director, Mercury Systems