Mercury Systems Acquires American Panel Corporation
Mercury Systems has acquired American Panel Corporation ("APC"). The acquisition was completed on September 23, 2019.
Based in Alpharetta, GA, APC is a leading innovator in large area display technology. Their capabilities are deployed on a wide range of next-generation platforms, including the U.S.Army's Apache attack helicopter and M1A2 Abrams battle tank, as well as the F-35, F-15, F-16 and F-18 fighter jets.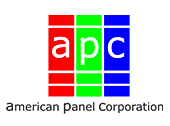 Mercury's previous acquisitions of CES, Richland Technologies and GECO Avionics focused on providing highly specialized, safety certifiable avionics processing capabilities. APC complements these capabilities by providing very advanced, ruggedized displays for the military aerospace, ground vehicle and commercial aerospace markets. Acquiring APC adds unique capabilities to Mercury's growing avionics platform and positions the Company to play a larger role in military digital convergence.
Questions? Call 1.866.627.6951 or contact us.