Optimize for SWaP With Freescale
Is Your Solution 'SWaP-timal'?
In today's defense industry, military programs are being asked to do more with less. Minimizing system size, weight and power (SWaP) is one way to achieve this objective. Not only does a SWaP reduction help meet budgetary constraints, it also enhances mobile operation, product life and mission duration.
Powerful Processing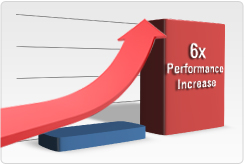 Mercury has offered products and subsystems based on Freescale® / Power Architecture® processors for decades. Freescale's latest generation of processors features 12 cores per processor. That's a lot of power. In fact, Mercury's new T4240-based processing module has the processing power of 4–6 Freescale-based processing modules from prior generations. It's yet another example of doing more with less.
Protect Your Software Investment
Mercury's continued dedication to delivering the highest optimized software for Altivec® technology means that your legacy SAL (Scientific Algorithm Library)-based software application can execute unchanged on the latest generation processor — only faster. The result is lower development costs of new applications. And new applications can start with standard libraries such as VSIPL++, ensuring that open architecture requirements are met.
Doing More With Less Power
Freescale's industrial grade, low-power processors are the perfect partner for Mercury's highly rugged systems and modules. Together they ensure reliable operation in harsh environments. By combining highly efficient processors with Mercury's patent-protected ruggedization techniques, users can design with confidence into even the most challenging developments.
Take the Next Step
Products
Press Release
Mercury Computer Systems Announces Industry's Highest PerformingPower Architecture®-based OpenVPX Module
Webcast
AltiVec Unleashed - Bringing unprecedented performance levels to Signal Processing