Ensure Super-Fast Performance With Intel
Are Your Applications Really Cooking?
Modern defense applications require super-fast subsystem performance to execute the demanding real-time tasks they were designed for. Are you positive your subsystem performance is as fast as it should be?
Server-Class Performance ... and It Can Fly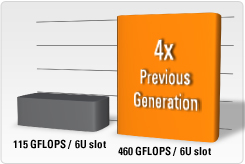 Mercury's Intel®-based product line features rugged modules based on both server- and mobile-class Intel processors, the highest performing embedded processors on the market. Mercury's Ensemble™ Series 6U OpenVPX™ HDS6601 rugged compute blade — based on the 8-core Xeon server-class processor — offers 460 GFLOPS in a single 6U slot. That's more than 4X the previous generation of Intel-based products. A flying rugged server? It's not a dream any more.
POET: The Protocol-Agnostic, Multi-Fabric Interconnect Technology
Protocol Offload Engine Technology (POET) is one of the innovations that supports this outstanding performance. POET implements a collection of standard interfaces to create a bridge between processors and switch fabrics. Through its low-latency and high-bandwidth characteristics, POET enables scalable, high-speed and deterministic communications and I/O. Flexible and versatile, the POET interconnect efficiently extends the capabilities of an Intel-based subsystem.
Intrinsically Open
Mercury's current and prior generation of Intel-based modules enjoy the intrinsic openness and wide ecosystem of Intel-based products. OpenMPI/OFED, POET and OpenVPX are additional open technologies comprising Mercury's ultra-high performance embedded subsystems.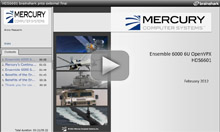 View a Product Presentation
(Ensemble 6000 HDS6001)
Mercury's Long-Term Intel Relationship
Together, Intel and Mercury have been partners in innovative building blocks for the defense industry since the introduction of the i860 processor in 1989. And Intel's long-term roadmap and technical vision means that Intel processors will be available for both tech refresh and new programs in the future.
Take the Next Step
Products
Press Release
Mercury Computer Systems Launches High Performance, Low Power OpenVPX Products Based on 3rd Generation Intel® Core™ Processor for defense and aerospace applications
Mercury Computer Systems Announces New Levels of Embedded Performance with Server-Class OpenVPX Blade Based on the Intel® Xeon® Processor E5-2600 Family