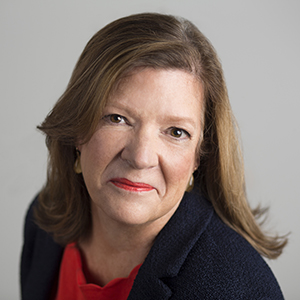 Nancy Conway
Nancy Conway is an Account Management Director at Mercury Systems. In her career, she has worked in both commercial and defense sales at hardware, software, and infrastructure companies including Oracle, Motorola, and USInternetworking, Inc. She holds a Bachelor of Science in Marketing/Management from the University of Virginia.
What challenges have you faced in your career and how did you overcome?
The technology industry is constantly disrupting. When I look back over the companies that I have worked for, many do not exist anymore or were acquired. Change is constant. I learned over the years that you must be open and embrace change, be comfortable with disequilibrium, and to keep learning and growing. You can keep looking back or look to the future.
What is your proudest moment?
When one of the companies I worked for was acquired, there were only a handful of us that went to the new company. Several of my customers were in the midst of large development projects and were lost. I connected the handful of folks around the country to create virtual support teams to keep them moving ahead in their mission-critical projects and they succeeded in delivering to their respective companies. At a company meeting, they were brought on stage and thanked me for my efforts on their behalf. Customers are more than people that buy things from you; we share joint commitments and goals that we share in joint success.
What are your goals for the future?
Continue the work that I have built in almost 14 years at Mercury; finding ways to solve problems with our customers on the warfighter's behalf. Continue to innovate and learn and bring more and more value to my customers.
What makes a great leader?
Strong people and communication skills. Listening to your team. Not wanting 'yes' people all around you, or the whole team will not grow. Focusing on the mission of the team but also on the people who all need to feel that they are part of something bigger than themselves. Don't lead by ego, but by example.
How did mentors influence your life, and who influenced you the most?
I have had male and female mentors in my life, but I will say that the female mentors made the most impact on me in my life. I believe this because throughout my career there were fewer women at a certain career level, and the female mentors inspired me to keep growing and pushing. They pushed me to areas outside of my comfort zone but provided guidance as well as feedback and allowed me to make mistakes without serious repercussions. Personal and professional lives are parallels to each other; what you learn in one transfers to the other.
What is your advice to young women?
Have a seat at the table, make sure your voice is heard, but be willing to take feedback and grow. Some of my toughest managers were the ones that I learned from the most. Support women but be gender neutral – it is not a woman thing or a man thing, it is about success in the mission of the company, your team, and yourself.
Why technology/defense industry?
Constant innovation. In the defense industry, you know what you do matters. It saves lives and creates a safer place for our country and our families.
What is one of the biggest advances in your field within the tech industry over the past 5 years?
The defense industry lags behind the commercial technology industry for many years, as it needs to provide well proven technology to our warfighters. However, we are all challenged by security of our data, networks, and systems. The threat is constantly morphing and changing. The work that Mercury and industry is doing to pioneer and advance in these challenges is so powerful.
What changes have you seen over the years for women in tech?
The technology industry has an abundance of women. The defense engineering industry is still challenged by the number of women that are here, but it is growing daily. Large defense companies are headed by women at all levels and positions demonstrates the impact that women have made. Women's natural leadership in team-building, creating win/wins coupled with focus on achievement, growth, and results has been recognized. The door is wide-open.