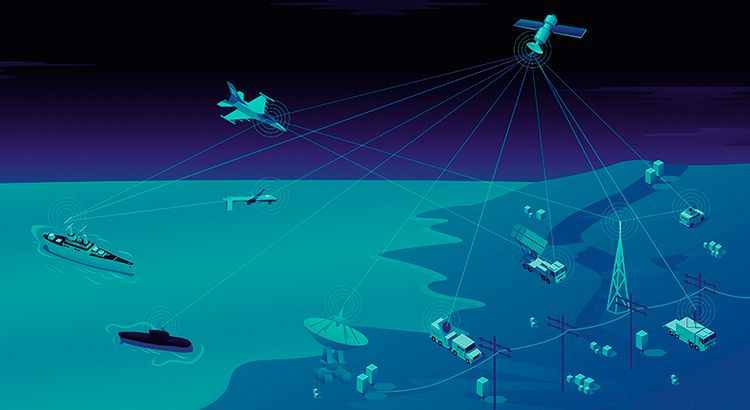 The core goal of Joint All-Domain Command and Control (JADC2) is to provide our armed services and allied partners with an improved ability to sense, make sense of and act on information across all domains. As the Department of Defense (DOD) begins a renewed push toward this concept, Mercury Systems already has technology involved in current related programs and capture efforts across military branches and the defense industry. Here we'll clear up some common myths around JADC2 and we'll discuss where it is heading and how Mercury is involved.
Context and misconceptions around JADC2
There are several misconceptions about JADC2 — the primary one is that it is a program. This is understandable, because some operators refer to a "single pane of glass," where all domains are integrated into one picture pertinent to that operator. However, JADC2 is actually a concept and a directive from the Pentagon to create a wholly connected military in which information flows quickly, securely and accurately across sea, land, air, cyberspace and space.
In the projected future state, JADC2 initiatives will provide commanders with actionable intelligence that outlines a better picture of the multidomain theater of operations. By leveraging the power of a modern, secure computing infrastructure that is coupled with artificial intelligence and machine learning, JADC2 initiatives will be able to connect the right sensor with the right operator so leaders can quickly direct forces against peer adversaries.
This leads to another misunderstanding: Because each service branch has their own name for their JADC2 initiatives — Advanced Battle Management System (ABMS) for the Air Force and Space Force, Project Convergence for the Army and Project Overmatch for the Navy and Marine Corps — many defense observers often incorrectly assume that the services aren't making JADC2 a priority. In fact, each service is coordinating their efforts with the DOD Joint Staff J6 Command, Control, Communications, and Computers/Cyber (C4/Cyber) Directorate cross-functional team and with allied partners to accelerate decision-making across the joint force.
Finally, the incorrect use of the term "Internet of Military Things" (IoMT) as another name for the JADC2 concept may cause some confusion. Though both IoMT and JADC2 use smart technology, they are distinctly different and the terms cannot be used interchangeably.
Current happenings in JADC2
Development and production under the Air Force's ABMS program is expected to ramp up in 2023 and the years beyond. As one of the first companies to be onboarded to the ABMS indefinite delivery/indefinite quantity (IDIQ) contract vehicle, Mercury Systems is well-prepared with innovations to bring next-generation communications and computing technology to the edge of the battlefield.
And although ABMS is taking a lead role in the concept, JADC2 is being driven by the previously mentioned cross-functional team co-chaired by military and DOD leaders. The team also includes industry such as Mercury, several large prime contractors, subcontractors and a federally funded research and development center. Together, the group is tasked with defining technical requirements and breaking down communication silos between industry and the DOD to enable the progress of JADC2.
The Mercury Processing Platform
Modern command and control environments and battle management demand the use of secure processing and sensors. Mercury Systems is a central figure in the development of JADC2 with its expertise in producing secure and rugged computer processing systems. We're currently involved in more than 20 efforts related to JADC2 — from key sensor-to-shooter links for the Army and Marines to 5G-based threat assessment warning systems for the Navy.
Customers entrust their mission-critical challenges to Mercury. Our trusted, secure, end-to-end processing platform leapfrogs incremental gains to power the most critical aerospace and defense missions on the planet — and beyond. Explore the Mercury Processing Platform and connect with us as we aim to bend the curve of aerospace and defense innovation deployment.