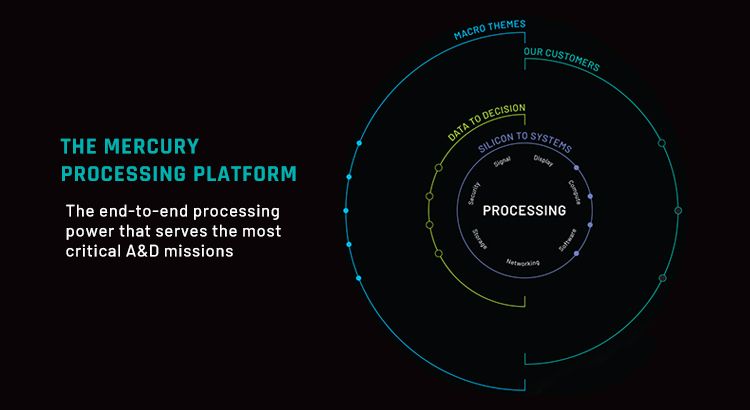 "Mercury is a very complex company." Those were the words I heard on my first day with the company just over three years ago. I had friends at Mercury and had followed or competed against the company for over a decade, but it wasn't until that first day that I realized I had little understanding of what the company actually did, who it served and what it represented. And, based on our market research, it turns out I was not alone.
What do you do?
Some who have known Mercury for a long time might describe the company as "an embedded computing company" or a "defense electronics company." Others who witnessed our growth into RF and electronic warfare technologies might talk about our RF, microwave and mixed-signal products. Then there was the addition of C2I and C4I and security capabilities, which led some to describe the company as a rugged systems or server company. Now, with an advanced safety and mission computing portfolio, Mercury is gaining recognition as an avionics company. Finally, there is our investment in microelectronics technologies, which will likely be the fastest-growing and most exciting evolution of the company, as we can now do all the above at chip scale.
Mercury has grown so rapidly, and has added so many people, technologies, capabilities and products over the years, that a lack of familiarity with what the company does was probably inevitable. So how do we address this familiarity conundrum?
Well, trying to tell the world about everything the company does did not work: We sell EW test and training solutions, application-ready subsystems, military rugged display systems, rugged servers and subsystems, data storage and transfer systems, RF microwave and mixed signal products such as frequency converters, signal sources, components and amplifiers, microelectronic components such as memory, custom system-in-package and multi-chip modules. Then there are the boards – multiprocessing, single-board computers, GPGPU, FPGA, video and graphics, networking, I/O, storage and RF. But wait there's more – development systems, tools and software. Not to mention the services we offer: system integration and design assistance services. We can manufacture your products. Do you need help with safety-certification, or do you need someone to audit your system security? We do that too!
No wonder nobody knows exactly what Mercury does.
Simplify
Sometimes an effective way to solve a problem is to do the opposite of what you have previously tried. And this little tactic led our marketing team to a conclusion: There is one thread that runs through everything we do. Our evolution has not been ad hoc. There was a strategy and a purpose to all the acquisitions, technology and investments of the past 40 years and it is right there in our vision statement:
Make the world a safer, more secure place for all. Our goal is to provide all processing solutions on every system requiring uncompromised computing.
What we have built is a processing platform that the world's most advanced aerospace and defense solutions have been built upon. Our realization: We do not need to explain the multitude of Mercury solutions; we just need to describe our one offer to customers – The Mercury Processing Platform.
The Mercury Processing Platform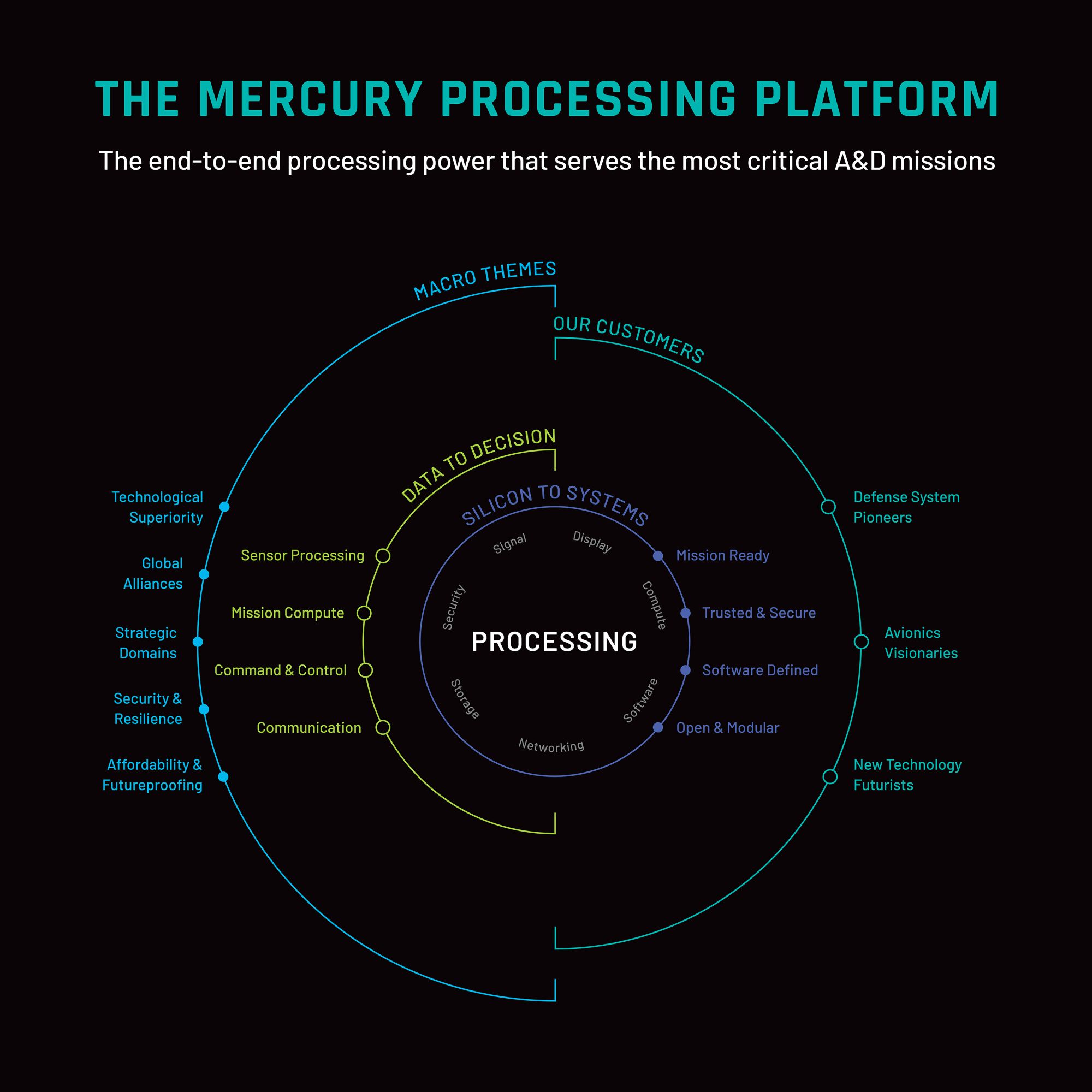 The Mercury Processing Platform includes all the technologies that we've built over the years: Security, Signal, RF, Display, Computing, Software, Networking and Storage. Beyond those technologies it includes our people, their expertise and how we service our customers. The platform and its technology are offered from silicon, or chip scale, all the way to system scale and is mission-ready, trusted and secure, software-defined, open and modular. Our customers can tap into individual pieces of the platform, but the more they leverage, the more value it can provide.
Our customers – the defense system pioneers, avionics visionaries and new technology futurists of the world – build on the Mercury Processing Platform to address a range of applications from sensor processing to mission computing, command and control to communications. They build aerospace and defense solutions that collect sensor data at the very edge and deliver meaningful insights that enable better/faster mission-critical decision-making.
And at no time in our recent history has the Mercury Processing Platform been so relevant. With near-peer threats and the very real prospect of the U.S. and its allies losing a technological advantage, the status quo of technology innovation will not work. "Incremental gains are no longer enough." The Processing Platform must help our customers – and the entire industry – bend the curve on innovation, delivering to the mission faster than ever before. We are focusing the platform to deliver on maintaining our technological superiority, strengthening global alliances, expanding into strategic domains and building robust security and resilience, all as affordably as possible.
Bend the Curve
So, what does Mercury do?
Mercury is a technology company that delivers commercial innovation to rapidly transform the global aerospace and defense industry. From data to decision, silicon to systems, A&D leaders turn to the products, services, technologies and people that comprise the secure, end-to-end Mercury Processing Platform—the exponential power that connects customers to what matters most. Innovation That Matters®. By and For People Who Matter.
Want to learn more? I encourage all of you to join us and discover how you can bend the curve.