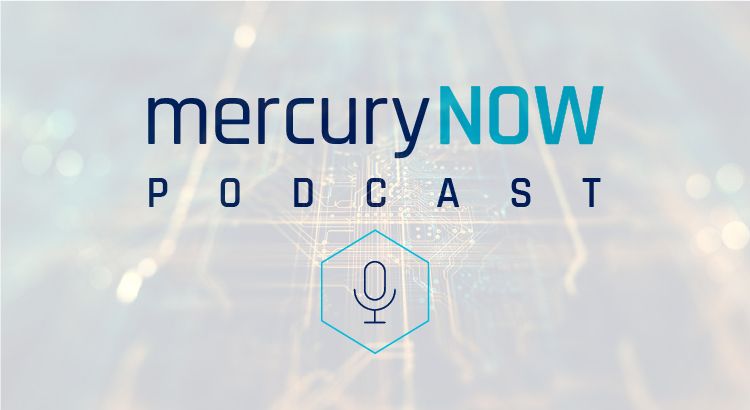 Almost one year after Mercury's strategic investment in custom microelectronics capabilities, the first in a family of trusted, secure system-in-package products has been announced. The RFS1080 RF SiP brings onshore, trusted 2.5D capabilities to the A&D industry, greatly impacting the speed and success of radar and electronic warfare (EW) processing. Listen as Tom Smelker, VP and general manager, Microsystems, discusses Mercury's collaboration with semiconductor partners to bring the latest leading-edge silicon to the defense community, customizable for specific applications.
Read the transcript.

Ralph Guevarez:

Hello and welcome to Mercury Now, a podcast series brought to you by Mercury Systems. I am your host Ralph Guevarez and today's topic: Changing the RF and Spectrum Processing Industry as Mercury continues advancements in microelectronics.

Ralph Guevarez:

I'm honored to have a return guest today. Joining me once again is Tom Smelker, Vice President and General Manager of Mercury's Microsystems. Tom, good day and welcome once again.

Tom Smelker:

Thanks for having me back Ralph. Always enjoy chatting with you about exciting capabilities that are coming up.

Ralph Guevarez:

Thank you. I do as well. So, Tom let's dive right in.

Ralph Guevarez:

You just announced the first commercially available product resulting from your recent microelectronics investment, the RFS 1080 RF System and Package. Could you tell our listeners more about the RFS 1080 and how it leverages an investment of this magnitude?

Tom Smelker:

Ralph I would love to. I'm ecstatic right now.

Tom Smelker:

Almost a year ago, last October, we announced what we were doing and building this business unit called Mercury Microsystems all about bringing two-and-a-half-D capabilities to our defense customers. Building a fab that was onshore and trusted for our customers because that's what they demand and that's what they need. And so, we're beyond that now and what you're seeing today and hearing today is about the RFS 1080.

Tom Smelker:

Where's the biggest impact that this capability can impact our men and women in the armed services? It's in the radar and the EDW processing today and we're really seeing huge changes in both those markets. And so, through collaboration with our semiconductor partners, being able to bring the latest leading edge silicon to the defense community, adding that performance pieces that we're able to integrate with that and the fact that Mercury can customize the RFS 1080 for a specific applications is exciting. And we do all this and deliver it in a trusted manner.

Tom Smelker:

A lot going on and a lot of excitement so, thanks.

Ralph Guevarez:

Thank you, Tom.

Ralph Guevarez:

Now could you expand on this idea of chip scale customization? Why is this so important to your customers and how the RFS 1080 supports this idea?

Tom Smelker:

If you go back to open VPX at the board level, Mercury was one of the thought leaders in open VPX. Taking that thought leadership and that innovation, we see and we're driving what we call open systems architecture at ship scale. And it's the same fundamental ideas from the board now down to the chip scale. So, being able to rapidly customize solutions with these multiple chips and chiplets and have standard interfaces that allow our customers then to bring the right capability for the right size, weight, power, and cost, what we call SWaP-C to the specific program.

Tom Smelker:

So, very exciting times in what we call heterogeneous integration or two-and-a-half-D; lots of different buzz words for the same thing in what we're doing here. But the most exciting piece of it, commercial leading edge semiconductor capability, is profoundly more accessible to our defense partners.

Ralph Guevarez:

Thank you, Tom.

Ralph Guevarez:

Now returning to the RFS 1080 RF SiP, could you tell us what makes the performance unique? What new applications does this enable?

Tom Smelker:

Absolutely.

Tom Smelker:

There's a lot of innovation going on today in the direct digitization world. And so, partnering with those leading semiconductor companies that I was talking about we're able to leverage all that innovation and then we can integrate what Mercury brings to the table for the defense industry into that. So, you take a lot of what's going on in the commercial industry, add our integrated memories, our integrated security and our other capabilities and bring new opportunities in the multifunction radar applications, high spectral density electronic warfare. Really reducing the latency. Changing the game of electronic warfare. And even 5G communications for defense applications is going to change based on what we're doing here.

Tom Smelker:

So, a lot of excitement in a lot of different defense markets.

Ralph Guevarez:

It's very exciting.

Ralph Guevarez:

Now, in all honesty, this sounds like a truly disruptive product. As I mentioned in my opening statement, could you describe how this will change the RF and spectrum processing industry?

Tom Smelker:

It's really going to change it because by changing how the sensors are designed, how they're integrated and where the processing is really done. So, as I was talking just earlier about direct digitization, what that allows is now we're moving the high-performance processing right to the sensor. And so, we can down convert from RF directly to digital with no IF conversion. Start processing that right away. Create information at the sensor and bring all new opportunities and allow our defense partners to really innovate on this capability.

Tom Smelker:

What's also exciting about it though is how we're talking about is the integrated security. We can bring that this capability and we can add security so they can ensure that their intellectual property is protected and is trusted and doesn't get into bad hands. But even when we do that, if you look at the overall system cost of the old way of designing sensors, we're actually reducing overall cost. We just worked with a customer where we're showing a 47% reduction in overall sensor cost by doing this, but a 83% capability increase. So, the game is changing for radar and EW because of what we're doing here with the RFS 1080. So, it'll allow our customers to really bring all new capability enhancements to their customers and more customization will come out of that because now they'll be able to tweak it for that solution right away.

Ralph Guevarez:

Thank you, Tom.

Ralph Guevarez:

Now I know this is a hot topic so, could you expand on the need to have trusted manufacturing for the RF SiP?

Tom Smelker:

So, I'll make it personal for you, Ralph. If you look at where we're at today with the pandemic, go back to the April timeframe where we had untrusted supply chains for both PPE, pharmaceuticals and whatnot. We were seeing PPE that was false, that wasn't working right. Couldn't get our hands on the right stuff. Our defense community, the men and women of the defense world, have had to grapple with this for quite some time. It's all about assurance and reliability for our men and women that are on the front lines. They can [inaudible 00:07:24] when the microelectronics that are in their systems are what they're supposed to be, that they have high reliability and they're going to work the way they're supposed to be. What everyone in the United States expects our men and women in our armed forces to have. So, what's exciting is it's been Mercury's top priority to have trusted microelectronics delivered to our customers and you've seen that in a lot of our investments.

Tom Smelker:

What you're also seeing today is the DOD is now prioritizing trusted microelectronics as their top priority as well. So, it's a great partnership that we'll have with the DOD community ensuring that our men and women have assured, reliable solutions. And in our two-and-a-half-D build-out, we ensured that it was built in our DMEA facility, following our DMEA trust processes for design, for fabrication and assembly, for test. So, we deliver the right solution that is expected to our customers.

Tom Smelker:

So, something that's near and dear to my heart and I'm glad to see that the department of defense now is focused on it.

Ralph Guevarez:

Thank you, Tom. I appreciate the detailed answer and I understand this product is a big deal to your customers. So, is it available as a package device or an integrated board?

Tom Smelker:

The short answer to that Ralph is yes. So, under our Microsystems business that I run, it is available as a package device. What we're also working with our mix signal group is having a standard product that has a standard board level solution as well. So, our customers, and if they don't need any customization and they just want to use a Mercury standard board, it will be available to them easily. If they want to customize the system and package, we can quickly do that under my business unit and we can even customize the board level solution for them as well if they want. So, a lot of opportunities for our customers to get exactly what they want.

Ralph Guevarez:

Thank you, Tom. This sounds like a really exciting time for this group and this industry.

Ralph Guevarez:

Give us a glimpse into the future, what can you tell our listeners to keep an eye out for?

Tom Smelker:

Oh my goodness. It's such an exciting time in the industry. We just talked really about the radar, EDW world, but it's game changing across the board. As you see in the commercial sectors of smart sensors everywhere in our homes, in our cars, our watches, our phones, you name it, everything's becoming smart and artificial intelligence is starting to really take off and be everywhere too.

Tom Smelker:

So, that's what excites me is when you start thinking of AI at the edge for military applications and it's going to change how our customers process information. So, you're going to see that in the future, but what's more exciting is just your last question. Mercury is going to do that, but we'll also make sure it's trusted and secure for those applications as well.

Ralph Guevarez:

Tom, I want to take this opportunity to thank you for joining me once again. It was a pleasure having you on the show. I wish you the best of luck moving forward and Godspeed with Microsystems and all that Mercury does.

Ralph Guevarez:

I look forward to having you on the show again, thank you.

Tom Smelker:

Thank you. I appreciate all that and I also want to thank you for having us on the show. It's always great to talk to you about exciting things that are coming up or happening at Mercury. So, have a great day.

Ralph Guevarez:

This has been another edition of Mercury Now, a podcast series brought to you by Mercury Systems. I am your host, Ralph Guevarez signing off.