RES-XR6 Rackmount Servers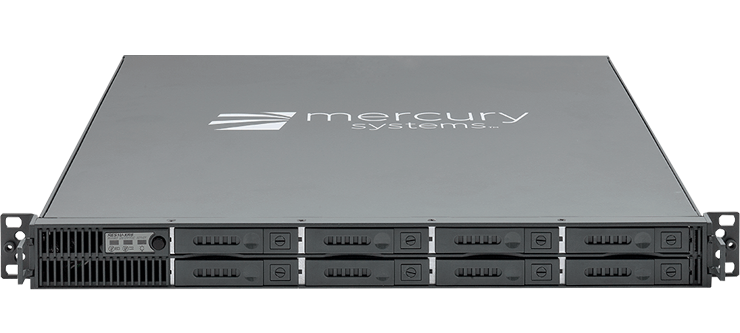 Tailored C4ISR Edge Processing
A part of Mercury's EnterpriseSeries, RES-XR6 rackmount servers package up to four 2nd Generation Intel® Xeon® Scalable processors and 6TB DDR4 ECC memory in resilient, reliability-enhanced, and lightweight form factors. Featuring expansion slots, multiple sizes and depths, rear or front high-speed I/O, security features, and various storage options, users can tailor scalable solutions to meet current and future system requirements.
Products

Mercury and HPE are teaming together to bring data center capabilities to the Edge
Up to 2 Intel® Xeon® Scalable Processors with 28 cores
Leverages HPE's most mature and widely deployed data center platoform, ProLiant
HPE specializations and threat protection enhancements such as iLO 5 and HPE root of trust
Redundant processors and memory to avoid a single-point-of-failure
MIL-STD: 810G, 901D, 167-1
G-Series
Designated G Series products offer multiple enhancement options such as a system control module for remote management, CAC reader for extra security measures, patented Aeroloc Baffle system for low airflow operations, remote battery bypass that enables BIOS battery replacement without system shutdown, and read/write switches to prevent accidental rewrite. Default configurations also meet MIL-STD 1474-D (airborne noise), and 740-2 (structural borne noise).
Extra Security on the Move
Select RES-XR6 systems feature a specially designed dust cover, new memory retention + vibration dampeners, and optional tamper-proofing and tamper-evidence features offer users extra security for operations on the move. Dual redundant, hot swappable AC or DC power supplies provide high availability.
Greater Agility & Higher Performance
Intel Xeon scalable processors deliver superior workload-optimized performance and hardware-enhanced security. Additional cores, a 50% increase in memory channels, and 20% more PCIe lanes deliver higher performance and scalability for mission critical workloads.
Scalability
Systems can be expanded by adding commercially available, off the shelf (COTS) PCIe cards such as networking cards, encryption cards, storage controllers, and other value-added options. All XR6 RES servers come with IPMI v2.0 redfish, TPM 2.0 and are compatible with popular hypervisors and operating systems.
Proven Resiliency
Standard configuration RES-XR6 servers are designed to operate from 0°C to +50°C, greater temperature extremes are available for special configurations. Advanced thermal and mechanical design features provide superior resilience to shock, vibration, dust, sand, and temperature extremes. Dual redundant, hot swappable AC or DC power supplies provide high availability. MIL-STD-461 power supplies are also available.
Extended temperature range: -15° C – 65° C**
Operating shock: 3 axis, 35g, 25ms
Operating Vibration: 4.76 Grms, 5 – 2000Hz (SSD)
Light weight, corrosion resistant
Multiple power supply options
Extensive high speed I/O options
Multiple storage options