MXMCM256
Overview
Model: MXMCM256
XMC Secure Solid-State Drive (SSD) with Self‑Encrypting Drive (SED) Technology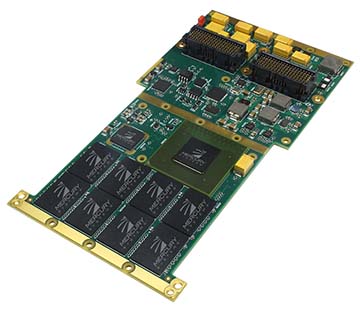 The MXMCM256 now expands the secure self-encrypting SSD family in an XMC format. This platform is a VITA 42.3 compliant board, offering a x2-lane PCI Express bus interface, plus a configurable SATA 2.6 interface that supports ATA-7 and ATA-8. It is offered in an air cooled or conduction cooled XMC mezzanine storage solution designed for applications where data protection, endurance, and security is extremely important. This solution incorporates the Mercury Armor™ II proprietary flash processor and utilizes high performance and reliable SLC NAND solid state flash technology. The security features include AES-256 XTS encryption (NIST certified), where the loaded encryption key can be purged within 30ms.
General Description
XMC form factor
XMC Interfaces

x2 PCIe interface conforms to VITA 42.3
SATA Interface up to 3 Gb/s

SLC NAND flash technology
Multiple key management options
Power: 5V or 12V ± 10%
Storage temperature:

Up to -55° C to +105° C ambient
Performance
Sustained sequential reads/writes: 175/200 MB/s
Resetto-ready time: < 2 seconds
Power: (5V, 25°C)

R/W: 4.5W typical
Idle: 1.5W typical
Data Management and Protection
Superior ECC (Error Correction)
UBER, 1 sector per 10-18 bits read
BIST, Built In Self Test
MTBF: >2,000,000,000 hours @ 25°C
Write endurance up to 9 PB (MXMCM512)
Read and write wear leveling

Power loss protection
No data loss during power interruptions
Docs & Specs
Product Overview
Data Sheet
Contact factory for data sheet
Contact Us
Mercury is focused on serving our customers with unsurpassed responsiveness and technical expertise. We offer a wide range of services designed to deliver the best combination of technology, products and support to our customers.
We can respond to your design questions via the link below.