Test & Simulation

Our Radar Environmental Simulators (RESs) provide simulated RF returns to exercise active radar sensors including fire control, surveillance, guidance, imaging, proximity, fuses, and altimeters. At testing ranges and laboratories around the world, Our RES solutions are the most deployed.
Our EW, SIGINT, radar and EO/IR domain expertise is the bedrock of the most robust radar test and simulation solutions available. Mercury's low-latency EW-DRFM technologies are leveraged to configure our sophisticated Radar Environmental Simulators (RES). Our RESs exercise complex EW and SIGINT systems, executing probability-of-intercept metrics, system evaluations, training and other radar quantative measurements.
RESs are the optimal tool for low-cost radar testing, avoiding the expense and ever present anomalies associated with full field trials. RES testing creates a secure, controlled environment, where situational complexity is dialed-in as required. With their ability to control the full spectrum of test metrics, RESs are excellent tools for radar development and upgrades, in-line production testing, platform integration, repair and training. Our RESs are ideally suited to excite complex, active two-way (T/R) radar arrays; our DRFM-based technology receives radar signals, digitizes them, adds targets, clutter, terrain, weather and other environmental effects and transmits a low-latency simulated signal back.
As the Intelligence, Recognizance and Surveillance (IRS) community's attention pivots to the Pacific, existing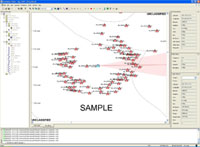 ISR platforms are modernized with new mission capabilities and updated Actively Electronically Scanned Array (AESA) radars with digital phase shift antennas. Prime contractors and governments alike seek effective and affordable radar verification, in-line-production testing and training capability. Mercury's scalable modular RES solutions have the support of the largest arsenal of radar libraries from the largest installed base and the leverage of commercial-item components to deliver the most capable and cost effective solutions.
Our RESs are a robust and flexible radar scenario ecosystem that is accessed by the industry's most comprehensive and intuitive Windows based GUI. Mercury's sustained IRAD commitment and use of modular Open System Architectures (OSA) ensure RES technology is exportable, affordable and the fastest-way-to-results.
Our has the greatest engineering domain experience with over 400 units, spanning 50 different base models that are deployed with the Navy and Air Force, prime contractors and test ranges and international customers under ITAR control.
Related Info: