RFS1080 RF System-in-Package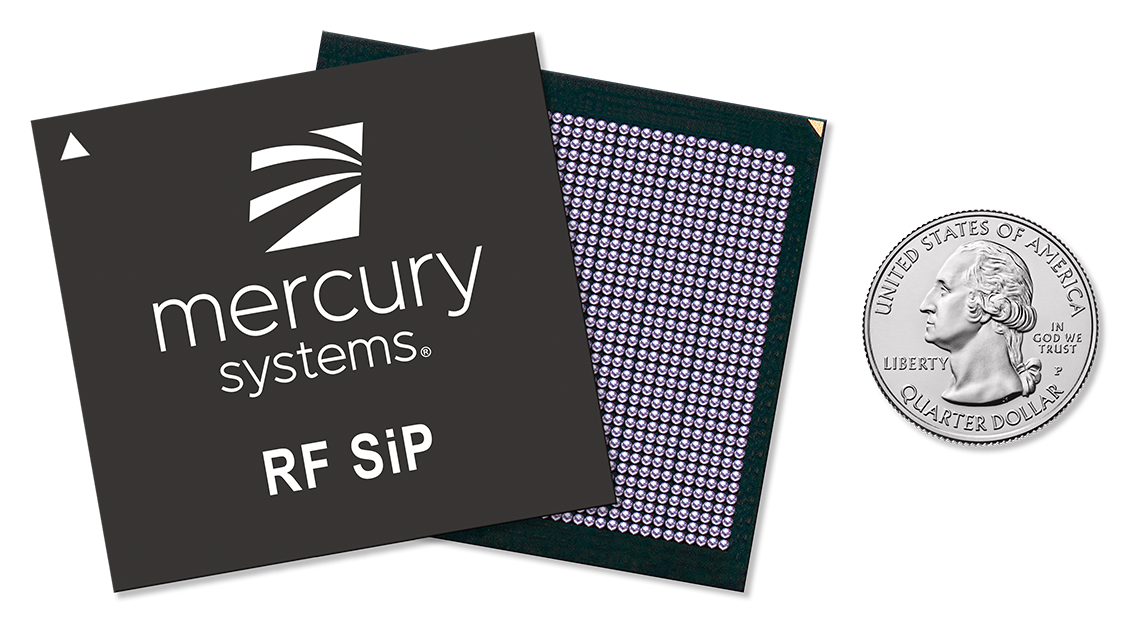 Redefining Sensor Edge Processing with Trusted, 2.5D Packaging Technology
The RFS1080 RF SiP is a high-frequency, direct-to-digital transceiver solution designed and manufactured in a trusted, DMEA-accredited facility that successfully scales computing density while lowering system-level costs, size and power in a compact BGA form factor.
With our RF SiP, you can:
Bring wideband direct-to-digital-operation and industry-leading performance to the tactical edge.
Maximize EW spectral density by consolidating the performance of what typically requires multiple boards into a single package.
Specify a custom solution, simplify your development and accelerate time to market with a modular, multi-vendor chiplet architecture.
Achieve your SWaP and performance goals with broadband, low-latency processing in a compact form factor.


SWAP-C Comparison
RF SiP-based board vs. typical discrete board solution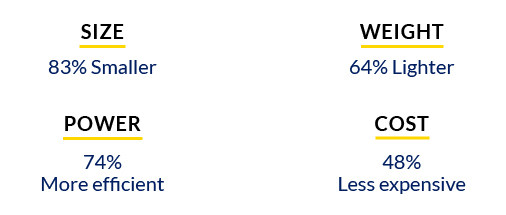 Direct Digitization at Chip Scale
As the latest sensors capture large volumes of data, there is an increasing need for high-performance edge processing. Through direct digitization at chip scale, we support raw sensor data digitization and processing in small form factor systems without the need for large, costly analog hardware. Data processing is maximized with a high-speed digitization rate on the RFS1080.
RF Edge Processing Has Never Been Better
With greater functionality, higher performance and a much smaller package than traditional surface-mount boards, the RFS1080 RF SiP redefines the way sensors process information. This broadband, chip-scale solution enables multiple channel direct digitization with industry-leading FPGA technology in a compact BGA package.
Select an optimal combination of integrated RF and digital chiplets – bonded together with dense, high-speed interconnects – for a single packaged design to satisfy your program requirements. Without costly custom silicon, the RFS1080 RF SiP is scalable, adapting to rapid upgrades and refresh cycles in less than 12 months.
Podcast: New RF SiP Products
Listen to the Frequency Matters podcast with Microwave Journal editors, as Tom Smelker, VP and GM of the microelectronics business at Mercury Systems, discusses Mercury's first RF SiP product, the manufacturing capability behind it, and how this capability fits into Mercury's strategy.
Latest RF and processing from the commercial semiconductor industry with Mercury's trusted, 2.5D system-in-package capability
Industry-leading FPGA technology in a compact ball grid array (BGA) package measuring less than 2"
Defense-grade package and chip-level security integration
DMEA-trusted facility manufacturing
Board-level integration support leveraging 3U and 6U OpenVPX and SOSA™ board solutions
Rapid customization of commercial and customer-supplied chiplets including security, digital signal processing and many others
Direct RF to digital, wideband ADC/DAC chiplets
Digital interface transceivers to support multiple communication protocols including Ethernet and PCIe
Broadband, chip-scale solution for radar and EW applications
Dimensions (W x D x H): 50mm x 50mm x 5mm
BGA Pitch: 1mm
Weight: Less than 40g
Power: 140W (typical)
---
Contact Us
Interested in a trusted microelectronics design? Contact a Mercury expert now to get started.