Talent Management
The talent, character and passion of our team members and our unique culture define us. Our people are driven and smart and focused on Innovation that Matters®. Our work requires insight, ingenuity and commitment. Our culture and values are embedded in all we do.
We foster career growth through tools and resources that help guide team members at all stages in the employment lifecycle. Training and education resources offer skill-building benefits to team members seeking career development.

Professional and Career Development
We invest in the professional development of our team members, hiring and retaining a diverse workforce. We are committed to ongoing employee training in critical compliance areas including business ethics, export rules, and our culture of integrity. We adhere to high ethical and security standards and operating with integrity is a foundation of our culture and values.
We are life-long learners. This is integral to our culture and values. We subscribe to over 3,500 online courses and 140,000 videos with topics including six sigma, mini-tab, JIRA, project management, business writing, managing teams, Excel, Confluence, and many others. Our online courses are easily accessible and typically 60 minutes or less, segmented by topic, and available via LinkedIn Learning. We also offer an internal learning and development portal that provides education, tools, and other resources designed to help employees in their development.
We offer several management and leadership development programs across our team member development framework, including our three marquee branded programs: Managing at Mercury, M3 (Mercury Managers Matter) and Leadership Edge. These programs vary in duration and focus and are designed for team members at varying levels within their career.
We ask our employees to set regular development activities each year so that they may receive the appropriate education, experiences, and work exposure that is appropriate for their career development. We also engage in ongoing formal leadership assessment and succession planning for our senior leaders, including the establishment of on-boarding plans and ongoing development plans.
We conduct regular pulse engagement surveys and anonymous team member engagement surveys across our business to listen, learn and empower our teams to continuously improve. In 2019, 92% of our employees were actively engaged in this feedback process and provided meaningful survey responses, which was higher than the 80% engagement score of our benchmarked peers. Mercury received an engagement score of 75 in the 2019 survey, which was higher than the global benchmark score of 72. We are committed to operationalizing our learnings, including factoring survey insights into retention and promotion decisions for team leaders.
We consistently receive high approval ratings from our employees. Glassdoor has given us a 4.6 rating out of 5, with 97% of reviewers saying that they approve of our CEO and 93% of reviewers saying that they would recommend Mercury to a friend.
Employee Demographics and Statistics
Gender Diversity
The gender diversity of our U.S. employees is provided below for the three most recently completed calendar years.

During calendar year 2017, we added two women directors to our public company Board of Directors, who also serve as independent directors. We have a focused strategy to attract women engineers and women in leadership and technical roles. The overall decline in the percentage of women employees is primarily the result of acquisitions.
Race/ Ethnicity Diversity
The racial/ ethnic diversity of our U.S. employees is provided below for the three most recently completed calendar years.

Voluntary and Involuntary Termination Data
Our voluntary and involuntary termination data for the three most recent calendar years is reported below.

Our attrition rates are consistent with the defense and technology sectors. We conduct and review exit survey data on a regular basis to better understand and reduce our voluntary attrition.
Employees Around the World
We pride ourselves on being a multinational company with locations in the United States, Switzerland, Canada, the United Kingdom, France, Spain, and Japan. Below is a breakdown of the number of employees in each country as of calendar year 2019.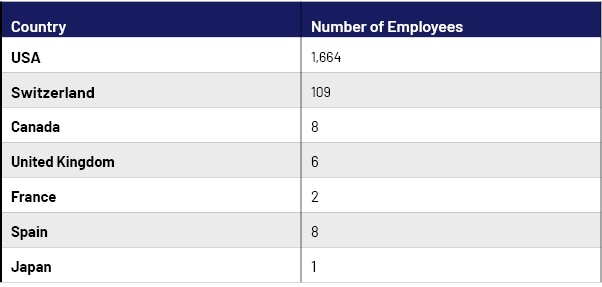 Pay Equity
Identifying and quantifying historic pay gaps based solely on gender can be challenging given the unique backgrounds each of our employees brings to the company. Despite this challenge and evidencing our strong commitment to closing the historical gender pay gap in the U.S., in 2018 we engaged an internationally known human resources consulting firm to conduct an assessment to determine the extent to which gender could have an impact on pay levels across the organization for our U.S. employees. That assessment found that women - without adjustment for factors outside of gender that might reasonably command higher pay in the marketplace from employers - are paid on average approximately 2% - 4% less than men. Based on the assessment, we have proactively worked to address each employee's individual circumstances to determine whether the pay gap was associated with factors other than gender and initiated a process to provide pay adjustments for women, as appropriate. Any adjustments have been based on the statistically derived recommendations from our outside consultant, and we continuously leverage market data and other statistics to inform promotions, adjustments and new hire offers to provide women with competitive pay without regard to gender.
Diversity and Inclusion
Mercury is committed to providing an inclusive environment that respects the diversity of the world. We believe that the workforce required to grow our business and deliver creative solutions must be rich in diversity of thought, experience and culture. Our diversity and inclusion initiatives focus on building and maintaining the talent that will create cohesive and collaborative teams that drive innovation.
We recognize that we must all respect others in order to perform with excellence both in and outside of the workplace. We value the diversity of the people with whom we work and the contributions they make. We do not tolerate discrimination or harassment. And we are committed to equal opportunity and to maintaining a workplace that is free from discrimination or harassment on the basis of race, color, gender, sex (including pregnancy, childbirth and related medical conditions), national origin, ancestry, age, religion, physical or mental disability, medical condition, gender, sexual orientation, gender identity, gender expression, genetic information, military or veteran status, marital status, a person's request for family care leave, pregnancy disability leave, or leave for an employee's own serious health condition, or any other characteristic protected by applicable law.
We expect our employees, suppliers, customers and other stakeholders to share a similar commitment to equal opportunity, diversity and inclusion. These values will help our employees use their full potentials at work to provide Innovation That Matters®.
OSHA Injury Data
We are committed to providing a safe and healthy work environment that protects our people, customers, vendors and the public from injury. Team members at every level are responsible and accountable for our safe operations and safety program. Complete and active participation by everyone, every day, in every job is necessary to ensure our safety.
We have adopted internal health and safety policies, including our Human Rights Policy, that are applicable to our employees and our suppliers. Our management team is responsible for adhering to these standards in the design and implementation of our policies, procedures, work instructions and daily practices. Our team members are responsible for protecting their own health and safety by working in compliance with the law and by following company policy. We provide regular trainings to our employees to ensure their compliance with company policy and laws.
Many national and local laws protect employees from unsafe working conditions. These laws differ among jurisdictions and subject matter. We expect our team members and vendors to respect and comply with these legal protections.
The OSHA recordable incident data for our sites in the U.S. is reported below for the three most recent calendar years.


Our Response to COVID-19
With COVID-19 now a pandemic that continues to impact people and countries around the world, we are increasingly focused on "leading from the front," communicating as frequently and openly as possible to help keep you informed of the latest developments here at Mercury, which are occurring at a very rapid pace.
We remain laser-focused on the four goals we established: to protect the health, safety and livelihoods of our people; to mitigate or reduce operational and financial risks to the business; to continue to deliver on our commitments to customers and shareholders; and to continue the mission-critical work Mercury does every day to support the ongoing security of our nation, our brave men and women in uniform, and the communities in which we all live.
As we are an essential business in the defense industrial base, our facilities continued to operate while complying with social distancing requirements. We implemented the following preventive measures:
established physical segregation areas and implemented social distancing requirements at all of our facilities in adherence with relevant health authority guidelines as well as requiring onsite employees and visitors to wear masks and be temperature tested upon entering the facility;
placed a hold on all international and domestic travel, requiring 14 days of self-quarantine after any recent business and/or personal travel;
limited non-essential site visits by internal and external visitors;
limited essential site visits to specific conference rooms/areas;
implemented environmental cleaning and disinfection protocols based on Centers for Disease Control and Prevention (CDC) and other recommendations;
instituted a no-physical-greeting policy, i.e., handshakes, etc.;
ordered masks and sanitizers for all on-site employees;
posted COVID-19 CDC information sheets throughout all facilities; and
created plans and protocols for confirmed-case and site-shutdown scenarios.
To protect the health, safety, and livelihoods of our employees, we have:
instituted a policy of 120 hours additional sick leave for employees for COVID-19 related circumstances to incentivize unwell employees to stay home and in the event of a temporary facility closure;
established a relief fund, The Mercury Employee COVID-19 Relief Fund, starting with a $1 million budget, to assist eligible Mercury employees, including temporary agency employees, experiencing unexpected financial burdens as a result of this crisis;
worked with our health insurer to waive the telemedicine co-pay for employees;
established a work-from-home program for all employees that can perform their duties remotely, moving more than 900 employees off-site;
expanded our IT network capacity to support work from home;
moved to virtual meetings, including interviewing and onboarding where possible;
created information packets and curated online resources for managers and employees to maximize productivity; and
begun COVID testing for employees at our larger manufacturing locations.
Now that we have established an effective and efficient business continuity model, we have begun to pivot our focus toward strategies, communications and plans for transitioning from a crisis phase to operating in a "next normal" environment. We are doing this very carefully and thoughtfully, with our first priority being the safety and well-being of our extended Mercury family. That said, we are also using this crisis as an opportunity to reimagine what life at Mercury looks like and incorporate many of the innovative business practices we have instituted into our vision of the next normal.
Similar to many government institutions, we are implementing a multi-phased Return to Workplace initiative. Our approach is designed to support our four primary goals discussed above, which have been in place since the onset of pandemic. With these in mind, we plan to return to the workplace slowly, methodically and with extra vigilance. The timing of our strategy is largely based on the epidemiology statistics in and around our major sites and will be adjusted accordingly. Although some of the decisions we make may be at odds with the phasing and timing at which individual states, counties, towns, or our customers have chosen to reopen, we believe a more conservative approach will help ensure we continue to deliver on our four primary goals. As we prepare for the next phase, we expect Return to Workplace dates to vary by site, and are planning for the majority of those currently working from home to continue to do so for some time.
With respect to ongoing business operations, we have been monitoring for potential disruptions to our supply chain and/or product deliveries and will continue to implement mitigation plans quickly, as needed. To minimize exposure risks to employees, customers and other visitors, critical health and safety protocols will remain in place for the foreseeable future, including:
restrictions on international and domestic business travel;
continuing to limit all non-essential visits to our manufacturing sites;
mandatory on-site mask policy for all employees and visitors to Mercury sites, including face shields in certain areas;
temperature scanning at all Mercury sites, whether through self-administered one-time use thermometers or temperature scanning technology;
strict adherence to social distancing, hand washing and other health and hygiene guidance;
rigorous deep cleaning of all facilities and frequent cleaning and disinfecting of commonly used areas;
mandatory self-quarantines for any employee: who has recently traveled internationally or via public transportation domestically (e.g., air, train or bus); displaying flu-like symptoms; and/or potentially exposed to someone with COVID-19; active monitoring of confirmed COVID-19 cases or potential exposure of our employees, with site-specific protocols for various scenarios, up to and including site closure and decontamination; and
COVID testing for employees at our larger manufacturing locations.
In addition to the above, and in light of many of the longer-term effects of living and working under the stress of an extended global crisis, we have put in place a host of health and well-being tools and programs for employees and their extended families. As part of our commitment to taking care of ourselves and each other, we have incorporated a company-wide pledge into our daily operations, which captures many of the key tenets of our cultures and values and applies them to this challenging environment. As we look back at the resourcefulness, agility, sense of urgency and, possibly most impressive, the compassion demonstrated by our collective organization since the onset of this crisis, we could not be more proud of our Mercury team and our unwavering commitment to Innovation That Matters®. A profound and impactful example of this has been the adaption and, in many ways, the reinvention of our customer relationships, which has been essential to delivering the mission-critical solutions needed to ensure the safety and security of our communities. That would not have been possible without the ongoing communication, responsiveness and steadfast partnership we have with our customers.
We have regularly surveyed our employees to get their perspectives on our COVID-19 efforts, and our employees have given us high favorability ratings on our health and safety efforts: 90% of our employees said that they were committed to Mercury's health and safety pledge; 90% of our employees rated us favorably on the availability of supplies and PPE; 87% of our employees rated us favorably on our protocols and policies for masks and face shields; and 88% of our employees were satisfied with our COVID-19 response efforts.
Moving forward, we will strive to maintain the high level of collaboration, accountability and trust we have established as a community, while remaining agile and operating at the speed of relevance.
For more information about our response to COVID, please see our dedicated resource page.
Respect for Human Rights
We value and respect individual and cultural differences and are committed to providing an inclusive environment that is free from all forms of inappropriate behavior, including unlawful harassment and discrimination.
At Mercury, we are committed to ensuring that our team members, the people who work for our contractors, customers and suppliers, and individuals in the communities affected by our activities are treated with dignity and respect. Our employees and suppliers are required to abide by our Human Rights Policy and go through regular trainings or assessments to verify their compliance and understanding of the policy.
Human Rights
We respect human rights. We are committed to identifying, preventing and mitigating adverse human rights impacts arising from our business activities before or if they occur through due diligence and mitigation processes. We are committed to engaging with stakeholders in the communities where we operate to ensure that we are listening to, learning from and taking into account their views as we conduct our business.
Valuing Diversity
We value the diversity of the people with whom we work and the contributions they make. We are committed to equal opportunity, intolerance of discrimination and harassment and maintaining workplaces that are free from discrimination or harassment on the basis of race, color, sex (including pregnancy, childbirth and related medical conditions), national origin, ancestry, age, religion, physical or mental disability, medical condition, gender, sexual orientation, gender identity and gender expression, genetic information, military or veteran status, marital status, request for family care leave, pregnancy disability leave, leave for an employee's own serious health condition or any other characteristic protected by applicable law. We do not tolerate disrespectful or inappropriate behavior, unfair treatment or retaliation of any kind. Harassment is unacceptable in the workplace and in any work-related circumstance outside the workplace. These principles apply not only to our team members but also to the business partners with whom we work.
Safe and Healthy Workplace
We provide a safe and healthy workplace that complies with applicable safety and health laws, regulations and internal requirements. We are dedicated to maintaining a productive workplace by minimizing the risk of accidents, injury and exposure to health risks. We are committed to engaging with our team members to continually improve health and safety in our workplaces, including the identification of hazards and remediation of health and safety issues.
Workplace Security
We are committed to maintaining a workplace that is free from violence, harassment, intimidation and other unsafe or disruptive conditions due to internal and external threats.
Forced Labor and Human Trafficking
We prohibit the use of all forms of forced labor, including prison labor, indentured labor, bonded labor, military labor, slave labor and any form of human trafficking. Please visit the following link to see our statement published pursuant to the California Transparency in Supply Chains Act.
Child Labor
We prohibit the hiring of individuals that are under 18 years of age for positions in which hazardous work is required.
Work Hours, Wages and Benefits
We compensate team members competitively relative to the industry and local labor market. We strive to operate in full compliance with applicable wage, work hours, overtime and benefits.
Employee Benefits
We offer a robust health care package and a full roster of team member benefits to maintain a culture of health.
Work Life Integration
We offer flexible schedules and a supportive work environment. We understand employees have priorities beyond the workplace.
Full time employees accrue a generous vacation package starting with 15 days per year.
On average employees receive 11 paid holidays per calendar year.
Education and Training
We invest in our team members' future. We encourage employees to take advantage of higher education and professional development opportunities.
We reimburse employees 100% for tuition and lab fees for up to the IRS non taxable limit.
Through our online learning system, employees can take advantage of on-the-job training in a variety of disciplines. We encourage our team members to seek professional development training through industry organizations that develop skills or knowledge and contribute to employees' ability to perform his or her job. We also hold in-house Learn at Lunch seminars that focus on topics such as product updates and personal investing.
Healthcare Benefits
We are committed to providing our team members with a comprehensive set of healthcare benefits.
Health Insurance. We offer a national Preferred Provider Plan (PPO) and a High Deductible Health plan (HDHP) with a companion Health Savings Account (HSA) option.
Dental Insurance. We offer a comprehensive Dental Insurance Plan that pays 100% for preventive benefits

with no deductible, including cleanings, X-rays and diagnostics every six months.

Vision Coverage. We offer vision coverage including access to care from eye doctors and quality, affordable eyewear.
Health Care Reimbursement Accounts. A health reimbursement arrangement (HRA), sometimes called a health reimbursement account, is an IRS-approved, employer-funded, health benefit used to reimburse employees for out-of-pocket medical expenses and personal health insurance premiums.
Dependent Care Reimbursement. Pre-tax wages can be set aside to cover dependent care expenses. Eligible expenses include payments to a child care center, elder care, after-school care, or babysitting services in your home or someone else's by a licensed provider.
Retirement and Investing
We are committed to providing team members with comprehensive opportunities to invest in the future.
401(k) Plan. Employees may contribute a percent of eligible earnings on a pre-tax, Roth, or after-tax basis, which includes a company match.
Employee Stock Purchase Plan. Employees who work 20 or more hours each week are eligible to participate in our stock purchase plan and may contribute a percentage of their gross wages (after taxes) into the plan. Enrollment is open each January and July.
Income Protection
We understand it is important to feel secure especially when life events take you away from the office. As such we offer the following benefits:
Short Term Disability
Long Term Disability
Worker's Compensation
Maternity Leave
Parental Leave
Adoption Leave
Jury Duty
Military Leave
Personal Leave
Bereavement Leave
Family Medical Leave Act (FMLA)
State specific Small Necessities Leave Acts