BLOG MENU

Safe AND secure avionics? You can do that? Yup!
Mercury Systems
April 19, 2019
Although we all love connectivity and the benefits it brings us, there is a downside. By now, we've all heard about cars that have been hacked. Wired magazine even has an entire section of their website dedicated to the subject. Anytime you connect to a network, you open up your system to vulnerabilities.
Avionics systems are the same. These critical systems operate our airplanes, helicopters and airborne unmanned vehicles. Everything is moving to digital and they are increasingly being networked.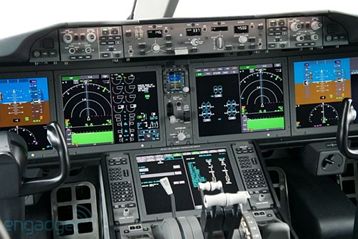 Historically (despite the recent 737 max 8 incidents), avionics systems have been remarkably safe – much safer than driving. One example of this can be found in this USA Today article quoted below.
"In absolute numbers, driving is more dangerous, with more than 5 million accidents compared to 20 accidents in flying. A more direct comparison per 100 million miles pits driving's 1.27 fatalities and 80 injuries against flying's lack of deaths and almost no injuries, which again shows air travel to be safer."
How has air travel achieved such safe success? Through very diligent design methodologies combined with testing and verification procedures. These procedures are captured in the certification process known as DAL (Design Assurance Level). And the intensity of the testing and compliance depends on the system involved as noted below.

There are two components of this process, one for software and one for hardware:
The move to digital
But now the world is changing. These platforms are being networked for a number of reasons:
Connections to satellites for flight information, on-board entertainment and more
Nose-to-tail connectivity
Increasing use of AI and machine learning algorithms
Predictive real-time system monitoring
Even when a plane isn't flying, it gets connected to testing equipment that receives updates through the internet. Any of these networks can introduce security issues.
Add to this, there is a push for open system architectures. For avionics, FACE is one of these important design paradigms. The goal of FACE is to make military computing more robust, interoperable and portable through use of a common operating environment.
So now design engineers need to balance the needs and requirements of safety with open architectures and security. Here are a couple of recent articles on the topic:
From Military & Aerospace Electronics magazine:
Safety- and security-critical avionics software
Functionality of avionics software continues to expand. Additional software capabilities bring many more lines of code, and greater opportunity for error. At the same time, the more critical an avionics software suite becomes, the higher its risk of cyber terrorism and of being hacked, so current and future avionics software offer safety and security through software development tools, testing and verification utilities, and operating systems that are tamper-proof.
What to do?
Mercury has invested in security for defense electronics for many years. We have designed techniques to detect and prohibit intrusion to key systems. Combined with our avionics safety capabilities, we are uniquely prepared to address the convergence of safety, open architectures and security.
Listen to this podcast
Scott Engle, Business Development Director for Mercury, was just interviewed for a podcast entitled Wheels Up! In this episode, Scott talks about the coexistence of safety and security in world of avionics and why the key to security in aviation may be tied to the reclassification of security-related failures.
And to learn more about secure design and manufacturing, read our recent whitepaper entitled: Next Generation Defense Electronics Manufacturing