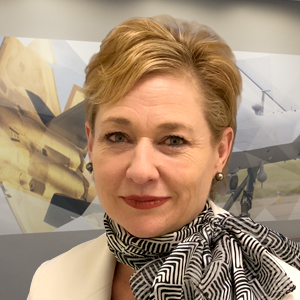 Pam Kidwell
Pam is Director, Strategic Relationships and Government Relations. She came to us from Raytheon where she held multiple positions, including Director of Business Development for Thales Raytheon Systems and Regional Director for Europe and Sub-Saharan Africa for Network Centric Systems. Pam holds a Bachelor's degree in International Business and Foreign Service from Baylor University.
What challenges have you faced in your career and how did you overcome?
I always wanted to be a Business Developer and work with customers to collaborate on new opportunities and programs. It's changing but still atypical for the classic BD customer facing role within Aerospace and Defense to be filled by a woman. I was especially unique within Raytheon, for example, as a female, non-technical, non-military business developer, and I ended up having many mentees as a result of my success. The international expertise certainly helped. I overcame the initial challenges with hard work and determination to prove that I could do it, and I was fortunate to have some senior leaders mentor me along the way.
What is your proudest moment?
From a professional perspective, I actually have a couple of memorable ones.
The first, and it is my favorite "trade show story", is when I was asked to brief the Defense Minister of a Middle Eastern country, who was also a member of the Royal Family (and the King's brother) at Eurosatory. I was the senior Raytheon NCS leader at the show that year and we had a key pursuit. I was asked to host the Defense Minister for a meeting to discuss some key aspects of our proposed program. I had only a few hours of notice and quickly learned not only the key talking points but also appropriate protocol to host a member of the Royal Family. I had to walk out and greet the Prince and his enormous entourage in front of the entire Raytheon show team. Which meant that if I made any gaffes whatsoever, absolutely everyone would hear about it! I was nervous but all went well and the briefing was successful. It was actually a great team story because although at that point in my career I had little experience in the Middle East, the experts in the other businesses jumped in to brief me before and made sure that all on the stand knew that I was selected to greet and host this dignitary. His Royal Highness was absolutely charming and gracious, and it was a pleasure to meet with him.
The other recently happened when I ran into one of my former employees at the Paris Air Show. He gave me a big hug and asked to meet sometime soon to catch up. I later learned from industry friends that he was saying what a great boss and mentor I was to him. I was just so pleased that I helped him and happy that he was doing well with his career. It's wonderful to see your investment in people pay off in some small way.
What are your goals for the future?
Continue my role as a Business Developer and hone my skills in Government Relations. I'd like to re-engage in the international market at some point in the future.
What makes a great leader?
Great leaders are authentic and instill positive energy. They are accountable and honest, and they walk the talk, inspiring by example. Great leaders are effective communicators. They lead with confidence, not arrogance, and are committed to their mission and their teams.
How did mentors influence your life, and who influenced you the most?
Professionally, I worked for 3 different retired 3 Star Army Generals. They all influenced me greatly on the importance of leadership, not management, and I learned some key senior customer engagement skills from them. One of these retired General Officers, who I am still close to today, was especially high maintenance and demanding. I wouldn't want to repeat the experience, but I learned much from him to include how to manage every detail of international trips and engagements to meet with senior customers (Ambassadors, Royalty, and Foreign Military General Officers).
I've also been fortunate to have Brian Hoerl, Didier Thibaud, and Ian Dunn invest time in me. I am so impressed with the growth of Mercury Systems and its transformational initiatives. What a great company!
The single most influential person in my life was my Grandfather who was a self-made man and epitomized determination, hard work, honesty, and humility. He was also a great story teller and had the best sense of humor! In true Texas fashion, I learned how to ride horses and work cattle from him, and how to be tough when needed. Being tough proved especially useful working for Army Generals!
What changes have you seen over the years for women in tech?
There are more opportunities for women in general, and those that know how to leverage the women's network in Aerospace and Defense can go further now.
What is your advice to young women?
Decide what you want to do and find a great mentor(s) to help you navigate your way, and be determined, of course. And make it a point to give back some way to the next in line as you achieve success and your goals. Build your network. Work hard and stay humble.