DDR4, DDR3, DDR2, DDR Memory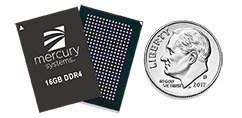 Smaller. Faster. Rugged.
Since 2000, our miniaturization technology has transformed DDR memory into ultra-compact and rugged BGA devices ideal for size, weight and power (SWaP) constrained military applications. With BuiltSECURE™ trust and assurance, all of Mercury's secure memory devices are engineered to operate reliably in high performance military embedded systems.

All products are available in commercial (C), industrial (I), and military (M) temperature grades.
Can't find your memory solution here? Contact us directly.
DDR4 Products
Size
Organization
Part Number
Data Rate (Mb/s)
Voltage (V)
Package
Dimensions
Request Datasheet
4GB
512Mx72
4N512M72T-XBX
1333-2400
1.2
321 PBGA
13mm x 20mm
Email
8GB
512Mx72
4N1G72T-XBX
1333-2400
1.2
321 PBGA
13mm x 20mm
Email
16GB
2G x 72
4N2G72T-XBX
1600–2666
1.2
367 PBGA
16mm x 23mm
Email
DDR3 Products
Size
Organization
Part Number
Data Rate (Mb/s)
Voltage (V)
Package
Dimensions
Request Datasheet
1GB
128Mx72
W3J128M72G-XPBX
800-1600
1.5
375 PBGA
21.5mm x 20.5mm
Email
1GB
128Mx72
W3J128M72K-XLBX
800-1600
1.35
375 PBGA
21.75mm x 19.25mm
Email
1GB
128Mx72
W3J128M72G-XLBX
800-1600
1.5
375 PBGA
19.25mm x 21.75mm
Email
1GB
128Mx64
W3J128M64K-XLBX
800-1600
1.35
375 PBGA
21.5mm x 20.5mm
Email
1GB
128Mx64
W3J128M64G-XLBX
800-1600
1.5
375 PBGA
21.5mm x 20.5mm
Email
2GB
512Mx32
W3J512M32K-XBX
800-1600
1.35
136 PBGA
10mm x 14.5mm
Email
2GB
512Mx32
W3J512M32G-XBX
800-1600
1.5
136 PBGA
10mm x 14.5mm
Email
2GB
512Mx32
W3J512M32KT-XB2X
800-1600
1.35
204 PBGA
10mm x 14.5mm
Email
2GB
512Mx32
W3J512M32GT-XB2X
800-1600
1.5
204 PGBA
10mm x 14.5mm
Email
2GB
512Mx32
W3J512M32K-XB3X
800-1600
1.35
136 PBGA
10mm x 14.5mm
Email
2GB
512Mx32
W3J512M32KT-XB3X
800-1600
1.35
204 PBGA
10mm x 14.5mm
Email
2GB
512Mx32
W3J512M32G-XB3X
800-1600
1.5
136 PBGA
10mm x 14.5mm
Email
2GB
512Mx32
W3J512M32GT-XB3X
800-1600
1.5
204 PBGA
10mm x 14.5mm
Email
4GB
512Mx64
W3J512M64K-XPBX
800-1600
1.35
543 PBGA
23mm x 32mm
Email
4GB
512Mx64
W3J512M64G-XPBX
800-1600
1.5
543 PBGA
23mm x 32mm
Email
4GB
512Mx64
W3J512M64K-XPB2X
800-1600
1.35
543 PBGA
23mm x 32mm
Email
4GB
512Mx64
W3J512M64G-XPB2X
800-1600
1.5
543 PBGA
23mm x 32mm
Email
4GB
512Mx72
W3J512M72K-XPBX
800-1600
1.35
543 PBGA
23mm x 32mm
Email
4GB
512Mx72
W3J512M72G-XPBX
800-1600
1.5
543 PBGA
23mm x 32mm
Email
4GB
512Mx72
W3J512M72K-XPB2X
800-1600
1.35
543 PBGA
23mm x 32mm
Email
4GB
512Mx72
W3J512M72G-XPB2X
800-1600
1.5
543 PBGA
23mm x 32mm
Email
4GB
512Mx64
W3J512M64K-XLBX
800-1600
1.35
543 PBGA
23mm x 32mm
Email
4GB
512Mx64
W3J512M64G-XLBX
800-1600
1.5
543 PBGA
23mm x 32mm
Email
4GB
512Mx64
W3J512M64K-XLB2X
800-1600
1.35
543 PBGA
23mm x 32mm
Email
4GB
512Mx64
W3J512M64G-XLB2X
800-1600
1.5
543 PBGA
23mm x 32mm
Email
4GB
512Mx72
W3J512M72K-XLBX
800-1600
1.35
543 PBGA
23mm x 32mm
Email
4GB
512Mx72
W3J512M72G-XLBX
800-1600
1.5
543 PBGA
23mm x 32mm
Email
4GB
512Mx72
W3J512M72K-XLB2X
800-1600
1.35
543 PBGA
23mm x 32mm
Email
4GB
512Mx72
W3J512M72G-XLB2X
800-1600
1.5
543 PBGA
23mm x 32mm
Email
4GB HD
512Mx64
W3J512M64K(T)-XHDX
800-1600
1.35
399 PBGA
14mm x 21.5mm
Email
4GB HD
512Mx72
W3J512M72K(T)-XHDX
800-1600
1.35
399 PBGA
14mm x 21.5mm
Email
8GB
8GBx64
W3J1G64K-XPBX
800-1600
1.35
543 PBGA
24.5mm x 32mm
Email
8GB
8GBx72
W3J1G72K-XPBX
800-1600
1.35
543 PBGA
24.5mm x 32mm
Email
DDR2 Products
Size
Organization
Part Number
Data Rate (Mb/s)
Voltage (V)
Package
Dimensions
Request Datasheet
128MB
64Mx16
W3H64M16E-XBX
400-667
1.8
79 PBGA
11mm x 14mm
Email
128MB
64Mx16
W3H64M16E-XB2X
400-667
1.8
79 PBGA
11mm x 14mm
Email
256MB
2x64Mx16
W3H264M16E-XSBX
400-667
1.8
79 PBGA
11mm x 14mm
Email
256MB
2x64Mx16
W3H264M16E-XB2X
400-667
1.8
79 PBGA
11mm x 14mm
Email
256MB
32Mx64
W3H32M64E-XBX
400-667
1.8
208 PBGA
16mm x 20mm
Email
256MB
32Mx64
W3H32M64E-XSBX
400-667
1.8
208 PBGA
16mm x 20mm
Email
256MB
32Mx72
W3H32M72E-XBX
400-667
1.8
208 PBGA
16mm x 20mm
Email
256MB
32Mx72
W3H32M72E-XBXF
400-667
1.8
208 PBGA
16mm x 20mm
Email
256MB
32Mx72
W3H32M72E-XSB2X
400-667
1.8
208 PBGA
16mm x 20mm
Email
256MB
64Mx64
W3H32M72E-XSB2XF
400-667
1.8
208 PBGA
16mm x 20mm
Email
512MB
64Mx64
W3H64M64E-XBX
400-667
1.8
208 PBGA
16mm x 22mm
Email
512MB
64Mx64
W3H64M64E-XSBX
400-667
1.8
208 PBGA
16mm x 22mm
Email
512MB
64Mx72
W3H64M72E-XBX
400-667
1.8
208 PBGA
16mm x 22mm
Email
512MB
64Mx72
W3H64M72E-XBXF
400-667
1.8
208 PBGA
16mm x 22mm
Email
512MB
64Mx72
W3H64M72E-XSBX
400-667
1.8
208 PBGA
16mm x 22mm
Email
512MB
64Mx72
W3H64M72E-XSBXF
400-667
1.8
208 PBGA
16mm x 22mm
Email
1GB
128Mx72
W3H128M72E-XSBX
400-667
1.8
208 PBGA
16mm x 22mm
Email
1GB
128Mx72
W3H128M72E-XNBX
400-667
1.8
208 PBGA
16mm x 22mm
Email
1GB
128Mx72
W3H128M72ER-XNBX
400-667
1.8
208 PBGA
16mm x 22mm
Email
DDR Products
Size
Organization
Part Number
Data Rate (Mb/s)
Voltage (V)
Package
Dimensions
Request Datasheet
128MB
64Mx16
W3E64M16S-XSX
200-333
2.5
60 PBGA
10mm x 12.5mm
Email
128MB
64Mx16
W3E64M16S-XSBX
200-333
2.5
60 PBGA
10mm x 12.5mm
Email
256MB
32Mx64
W3E32M64S-XBX
200-333
2.5
219 PBGA
25mm x 25mm
Email
256MB
32Mx64
W3E32M64S-XSBX
200-333
2.5
208 PBGA
22mm x 13mm
Email
256MB
32Mx64
W3E32M64S-XB2X
200-333
2.5
219 PBGA
21mm x 21mm
Email
256MB
32Mx64
W3E32M64S-XB3X
200-333
2.5
208 PBGA
22mm x 13mm
Email
256MB
32Mx64
W3E32M64SA-XBX
200-333
2.5
219 PBGA
25mm x 25mm
Email
256MB
32Mx64
W3E32M64SA-XB2X
200-333
2.5
219 PBGA
21mm x 21mm
Email
256MB
32Mx72
W3E32M72S-XBX
200-333
2.5
219 PBGA
32mm x 25mm
Email
256MB
32Mx72
W3E32M72S-XSBX
200-333
2.5
208 PBGA
16mm x 25mm
Email
256MB
32Mx72
W3E32M72S-XB2X
200-333
2.5
219 PBGA
21mm x 21mm
Email
256MB
32Mx72
W3E32M72S-XB3X
200-333
2.5
208 PBGA
16mm x 22mm
Email
256MB
32Mx72
W3E32M72SR-XBX
200-333
2.5
208 PBGA
16mm x 25mm
Email
512MB
64Mx72
W3E64M72S-XBX
200-266
2.5
219 PBGA
32mm x 25mm
Email
Downloads
- Secure Solid State Drives
- Extended Temperature Memories
- Ceramic Memories
- Performance, Layout & Design Benefits
- SiP Capabilities

Download Now