Management Team

MARK ASLETT
President and Chief Executive Officer
Mark Aslett is Mercury's President and Chief Executive Officer, and is a member of its Board of Directors. He brings in-depth experience that spans the technology industry, across a variety of markets that include telecommunications, data networking, security, defense, and life sciences. Within these areas, Mr. Aslett has held strategic-level positions in or has been responsible for engineering, operations, marketing, business development, portfolio management, and general executive management.
Prior to joining Mercury, Mr. Aslett was President and Chief Executive Officer of Enterasys, and held various positions with Marconi plc and its affiliated companies, including Executive Vice President of Marketing, Vice President of Portfolio Management for Marconi Capital, and President of Marconi Communications - North America. Mr. Aslett has also held positions at GEC Plessey Telecommunications, and other telecommunications-related technology firms. He started his career at British Telecommunications plc as a software engineer.
A native of the United Kingdom and a naturalized United States citizen, Mr. Aslett has an extensive background in global business. Mr. Aslett has a master's degree in business administration from Harvard Business School and a First Honors bachelor's degree in digital systems engineering.
---

MICHAEL RUPPERT
Executive Vice President, Chief Financial Officer and Treasurer
Mr. Ruppert is responsible for Mercury's financial and treasury functions as well as corporate development activities, including strategy, planning and mergers and acquisitions. He brings a wealth of investment banking experience spanning mergers and acquisitions, capital formation, strategy development and execution, as well as transaction execution for a wide range of companies in the aerospace and defense markets. Over his career, he has provided strategic guidance and consultation on many marquee public company transactions in the defense industry in addition to advising public and private companies and investors on transactions of all types and sizes.
Prior to joining Mercury, Mr. Ruppert was the Co-Founder and Managing Partner of RSPartners, LLC, a boutique M&A advisory firm focused on the aerospace and defense industries. Previously, Mr. Ruppert was a Managing Director at UBS Securities where he led the Defense and Government IT effort from 2011 to 2013. Before that he focused on aerospace and defense mergers & acquisitions at both Lehman Brothers and Lazard.
Mr. Ruppert holds a bachelor's degree in business from the University of Virginia's McIntire School of Commerce and a Masters of Business Administration degree from the University of Virginia's Darden School of Business.
---

DIDIER M.C. THIBAUD
Executive Vice President and Chief Operating Officer
Mr. Thibaud is Mercury's Executive Vice President and Chief Operating Officer, where he is responsible for global sales, product engineering, operations and other duties.
Previously, Mr. Thibaud was President of the Company's Mercury Commercial Electronics (MCE) business unit. He also headed up its international subsidiaries. Before joining Mercury in 1995, Mr. Thibaud was Technical Director and Account Manager for Horizon Technologies, where he specialized in the development of Services and System Integrations for European Defense and Commercial businesses. Previously, at ONERA, the French National Research Center for Aerospace, Mr. Thibaud spent several years managing research and development of DSP applications in medical and defense electronics, and was the engineering manager for multiprocessor systems that were used for tracking and surveillance radar. Mr. Thibaud started his career with CHU Lille hospital's center for medical signal processing research.
Mr. Thibaud graduated from the Hautes Etudes Industrielles in Lille, France, with a degree in information technology. He also earned a D.E.A. (Diplôme d'Etudes Approfondies) in signal and image processing.
---

CHRISTOPHER C. CAMBRIA
Executive Vice President, General Counsel and Secretary
Mr. Cambria is Mercury's Senior Vice President, General Counsel and Secretary, responsible for the direction and management of Mercury's legal affairs, including support for mergers and acquisitions and corporate finance transactions. He has more than 30 years' experience providing strategic oversight of legal and regulatory matters, managing major acquisition transactions and serving as a key advisor in rapidly growing business environments.
Prior to joining Mercury, Mr. Cambria served as Vice President, General Counsel, and Secretary of Aerojet Rocketdyne Holdings, Inc., where he managed all legal and regulatory matters as well as the acquisition of Pratt & Whitney Rocketdyne for $550M. Previously, he served as Senior Vice President and General Counsel at L-3 Communications Corporation where he managed L-3's IPO and NYSE listing and completed over 100 M&A transactions including the acquisitions of The Titan Corp for $2.74B and Raytheon's Aircraft Integrations Systems division for $1.15B. He has also worked previously at the law firms of Fried, Frank, Harris, Shriver & Jacobson and Cravath, Swaine & Moore.
Mr. Cambria holds a bachelor's degree in Business Administration from Seton Hall University and a Juris Doctor from New York University School of Law.
---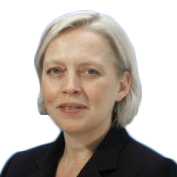 EMMA WOODTHORPE
Chief Human Resources Officer
Ms. Woodthorpe is Mercury's Chief Human Resources Officer (CHRO), responsible for driving the Company's HR strategy and partnering with senior leadership to design and execute a long-term human capital approach in support of company goals. She has more than 20 years experience positively impacting the visibility and performance of businesses and HR functions from Silicon Valley start-ups to large multinational corporations.
Prior to joining Mercury, Ms. Woodthorpe served as Vice President of Human Resources for Xylem, Inc., a $4B public company, where she provided strategic HR leadership across multiple businesses. Previously, Ms. Woodthorpe has served in key HR roles at DuPont and Display Research Laboratories.
Ms. Woodthorpe holds a bachelor's degree in Business Administration and Human Resources from The Manchester Metropolitan University.