Microelectronics for Edge Computing
Microelectronics for Edge Computing
Accelerate edge computing deployment with
system-in-package and multi-chip module technologies
Mission-critical applications at the tactical edge drive the demand for low-latency processing in ever-shrinking form factors. This leads to an emerging need for high-performance signal processing solutions small enough to fit in the palm of a hand. Integrate the latest silicon technology from the commercial sector with application-specific integrated circuits and the added benefits of advanced security, trusted manufacturing, and long-term supply that only Mercury can deliver.
To help tackle your most challenging edge-processing applications, we are working in tandem with high-tech industry leaders to make the latest in commercial silicon profoundly more accessible to the aerospace and defense industry. Sign up to receive up-to-the-minute product announcements and technical resources.
Capability Highlights

Size, Weight, & Power (SWaP)
Dense chip-scale packaging

Ruggedized Military Grade
Tested for operation in harsh environments

DMEA Facilities
Managed U.S. supply chain for trust

Rapid Customization
Modular designs simplify development process
Products
Bringing Commercial Semiconductor Technology to the Defense Industry
Commercial innovation in 5G communications and other applications is driving rapid change in silicon technology. Defense forces seek to leverage this innovation and challenge the microelectronics industry to provide agile, leading-edge solutions that are also secure, trusted, and cost effective. Mercury is uniquely positioned at the intersection of high-tech and defense, and we are stepping up to that challenge.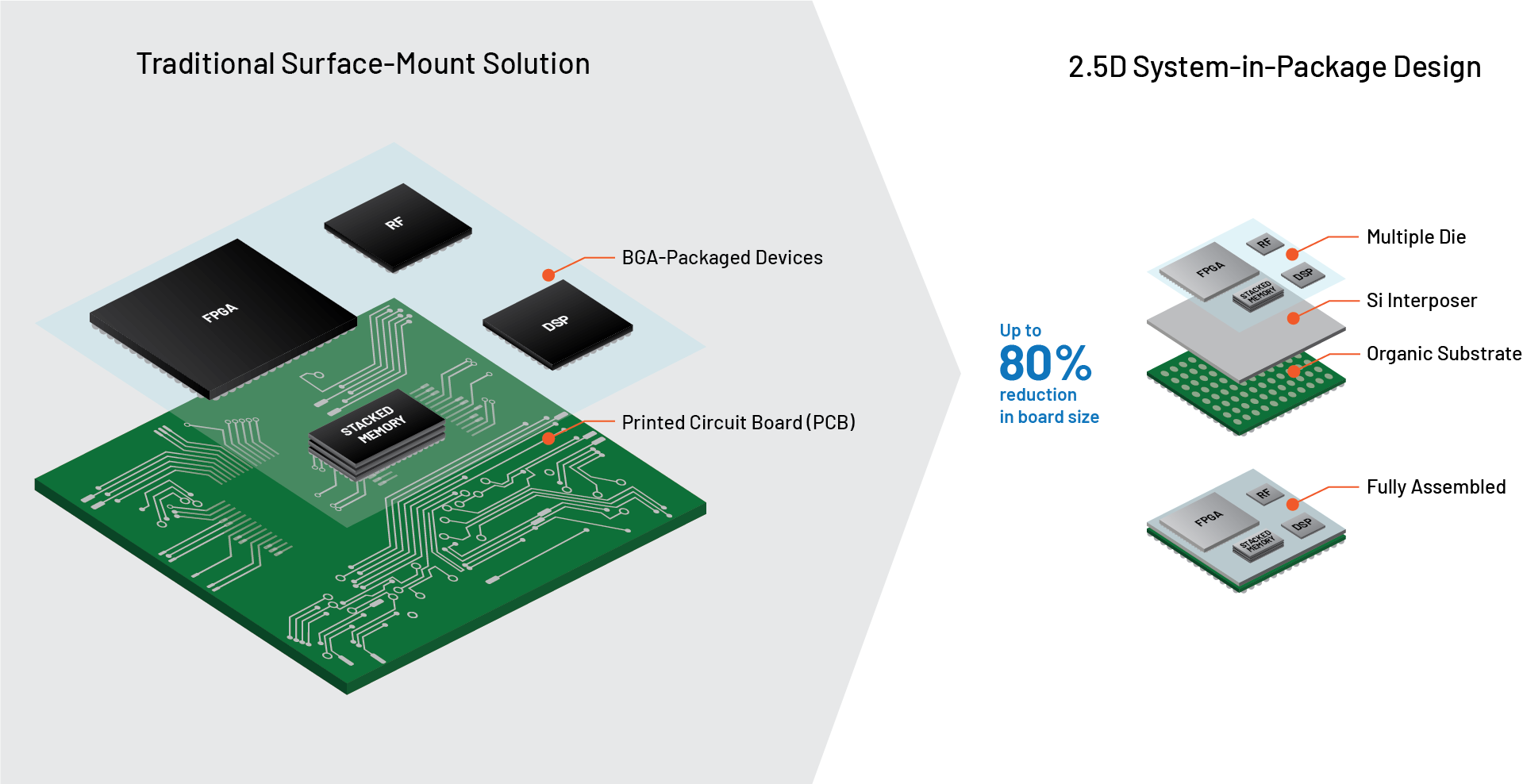 Redefining Sensor Edge Processing with 2.5D System-in-Package Technology
Tom Smelker, VP and General Manager of Custom Microelectronics Solutions at Mercury Systems, shares how 2.5D microelectronics integration in semiconductor design is a powerful new trend that will deliver industry-leading performance in the smallest form factor possible.
Application Spotlight: Multifunction AESA
As threats evolve and become more advanced, there is a growing need for radar systems with the ability to adapt and respond. By bringing the latest in processing technology directly to the sensor aperture, an active electronically scanned array (AESA) can quickly transition between EW functions such as tracking and mitigating electronic threats, as well as weapons targeting and communications. With system-in-package technology, low-latency modules are installed on each antenna element to maximize the flexibility of the radar system.
System-in-Package and Multi-Chip Module Technologies
Through-Silicon Vias
For the ultimate in SWaP optimization, highly complex semiconductor devices are integrated in a system-in-package (SiP) using a custom-designed interposer with through-silicon vias (TSV). This technology reduces the need for large signal-routing boards, significantly reducing the size of sensor processing solutions to enable edge computing.
Die-Stacking
Powerful edge-computing systems require dense, ruggedized memory. To enable these applications, memory dies are stacked vertically. This Mercury-developed process has been proven in harsh, high-G environments and significantly reduces the physical size of the system.
Multi-Chip Module Technology
For more than 30 years, Mercury's multi-chip module design and fabrication have provided innovative SWaP solutions for mission-critical systems. Our advanced thermal and electrical modeling capabilities enable modern FPGA and processor adoption for the most advanced military and aerospace applications. Tailored test solutions ensure only the highest quality products are delivered, resulting in a significant reduction of field failures.
Advanced Design, Manufacturing, and Test
Mercury is a dedicated, focused defense electronics manufacturer of rugged, miniaturized processing solutions that are designed, made and tested in private and trusted domestic Advanced Microelectronics Centers (AMCs). Our Phoenix AMC produces dense memory, military-grade SSD solutions, and custom system in package devices and has been recognized by many government, quality, and commercial enterprises for its excellence and capabilities.
Advanced system-in-package (SiP) and multi-chip module (MCM) technologies require accurate simulation and modeling to achieve power and signal integrity while taking into account thermal effects. Simulation and modeling of these complex designs enable rapid product development cycles and mitigate program risk. Mercury invests in world class tools for all areas of its business and utilizes the ANSYS suite of simulation and modeling tools to provide thorough performance data to drive successful custom designs.

• SiP and MCM packaging for SWaP optimization
• Innovative thermal management techniques
• Ruggedization to gun hardening
• Advanced simulation and modeling
• Digital, RF, and mixed-signal integration
• Advanced 2.5D packaging in development using TSV interconnects
With an exclusive focus on high-reliability microelectronics for military and aerospace applications, our DMEA-trusted facility contains state-of-the-art equipment to realize the most complex custom solutions. By mixing die attach, flip chip, wire bond, and surface mount technology on the same device, we deliver the most performance in the smallest footprint. Our design engineers work hand in hand with our factory floor for a seamless transition to prototype and full rate production.
System-in-Package
Wafer bonding/debonding
Thermal compression bonding
Plasma activation
Wafer mounting
Reflow
Larger form factor pick-and-place for die placement
Passive component chip shooter down to 01005
Backgrind
Dicing vacuum/pressure curing
Underfill
Bump height/mechanical measurement
Multi-Chip Module
3D die stacking
Automated epoxy die attach
Automated wire bond
Flip chip
Encapsulation
Surface Mount
Surface mount to 01005
Conformal coating
From functional to environmental to accelerated life testing, our team of test engineers create scalable test solutions addressing:


MIL-PRF-38534 Class H and Class K for hybrid microcircuits
MIL-PRF-38535 Class M for integrated circuits
MIL-STD-883 for microelectronics devices
We specialize in developing custom test protocols to address application- and mission-specific reliability requirements.
Podcast Series
Listen to three podcasts about the increasing importance of microelectronics and system-in-package technology in aerospace and defense industries. Learn about how microelectronics will revolutionize space and military applications with Tom Smelker and Military Embedded Systems; the importance of addressing the entire microelectronics capabilities ecosystem with Mercury CEO Mark Aslett; and the story behind our 2.5D SiP technology development with Tom Smelker.