Integrated RF & Digital Architecture for Next-Gen Smart Munitions
The SpectrumSeries™ Compact Multi-Band Platform is a complete sensor chain solution in development to address the need for low-cost, high-performance, small-size hardware that is reliable enough for the most demanding environments. This mixed-signal architecture combines RF and digital technology using a modular approach that enables easy modifications. Ideal for sub-50 mm self-guided munitions and digital beam forming, this technology can integrate an RF front end with a digital module in a ruggedized package with diameter smaller than one inch.
This technology agnostic solution combines multiple layers and is compatible with surface mount, chip-and-wire, hermetic modules, custom system-in-package and printed antennas. As new system requirements drive smaller package sizes and higher levels of integration, this ultra-compact, mixed-signal architecture is ideal for a wide range of applications such as guided munitions, aerospace platforms and many others.
Enabling Compact Precision Guided Weapons
Redefining Sensor Edge Processing
2.5D System-in-Package Technology
Tom Smelker, VP and General Manager at Mercury Systems, shares how 2.5D microelectronics integration in semiconductor design is a powerful new trend that will redefine edge processing in the smallest form factor possible.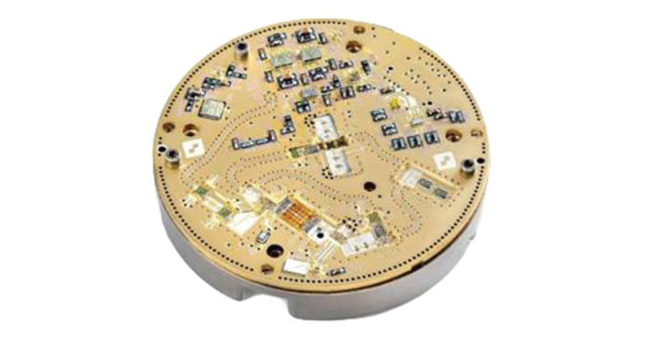 Dense RF Circuitry
At Mercury Systems we are experts in the design and manufacture of advanced RF and microwave technology. This expertise is critical for the development of compact transceivers small enough to fit in 1-inch diameter packages.
To maximize circuit density, we use bare die devices and bond wire interconnects. Our advanced manufacturing centers produce this type of hardware using state-of-the-art automation and on-site engineering.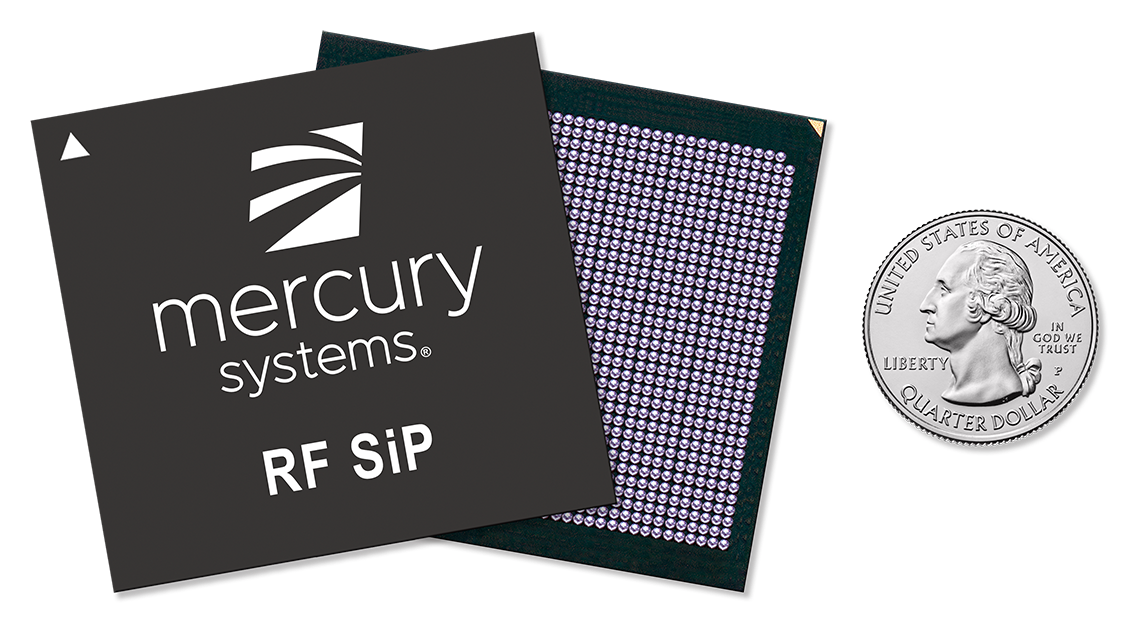 Custom System-in-Package Technology
A System-in-Package (SiP) solution embeds multiple integrated circuits and passive components in a single, high-density BGA package. This in-house technology supports die stacking and a wide range of components including processors, memory and power circuitry.
This well-established technology enables rapid customization and allows the SpectrumSeries platform to be tailored for a specific application.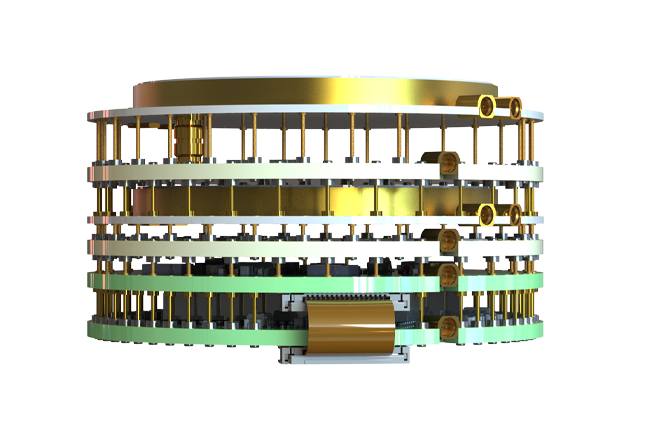 Compact RF Interconnects
Solderless interconnects are key to the modular design of our Compact RF solutions. SMP-style RF connectors provide the RF connection between layers and nail-and-socket DC pins surround the parameter of the layers providing the DC contacts. The patented coaxial-to-microstrip transition technology enables high-frequency, orthogonal connections in an extremely compact space.
By formalizing the connections between layers, adding or removing layers becomes easy. For example, the RF front end can be removed for a direct-digitization architecture.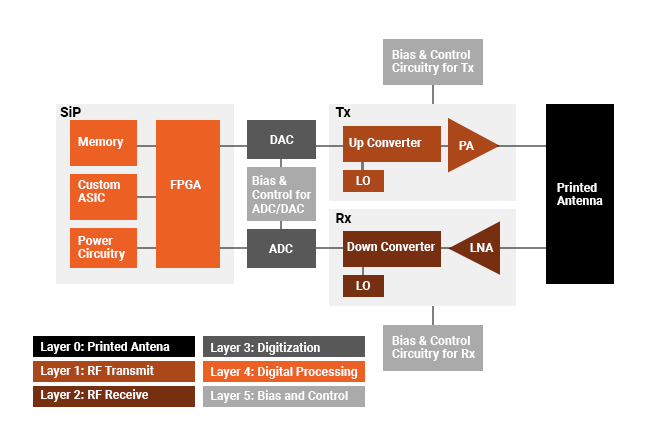 A Scalable and Multi-use Sensor Chain Solution
The modular nature of the SpectrumSeries platform enables rapid scaling and can easily be customized to support a variety of applications. For low complexity designs few layers are needed. As the complexity grows, additional layers are added to increase the functionality. To provide maximum flexibility, each layer can be individually customized to meet specific customer requirements.
Using design principles to optimize for reliability, this technology can benefit applications such as ground-based AESA radars, small form-factor aerospace and precision-guided weapons.
Integrated Manufacturing
Reduce Risk with Automated RF Manufacturing
Utilizing the latest in automated RF manufacturing, we make production of cutting-edge technology scalable and repeatable, supporting your ramp to full-rate production while reducing risk. With 250,000 square feet of flexible manufacturing capability, we ensure delivery of high-volume high-quality product.
Downloads
This system leverages Mercury's existing 3U OpenVPX™ products, combined with COTS technology and proprietary firmware, to achieve a modular receiver system. This architecture allows for multiple, coherent channels as well as low-latency digitization and microwave frequency conversion.
Learn how our RF, mixed-signal, and packaging teams work together to develop the SpectrumSeries™ Multiband Platform, an extremely compact architecture for next-generation smart bullets.