Lower cost, mitigate risk and scale airborne applications with ease
JARVIS is an integrated modular avionics 2nd generation (IMA-2G) architecture-based mission computer aligned with the FACE™ technical standard that dynamically allocates application resources across four O-level replaceable computing modules to reduce sustainment cost, downtime and risk.
Built with One High-Performance Module
JARVIS contains four identical, encrypted JARVI modules with Cortex-A53 processors, GPUs and FPGAs that can be configured and reconfigured to support multiple aircraft applications.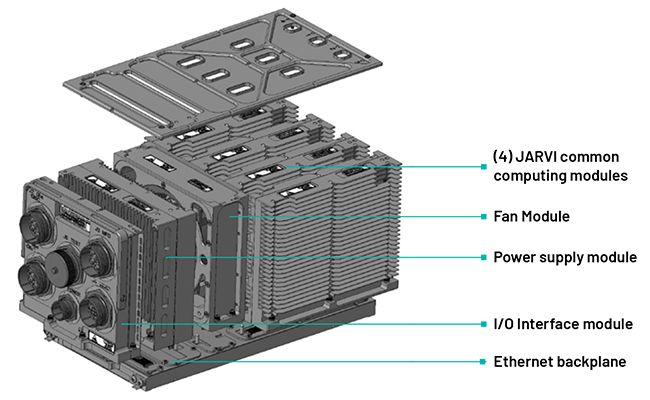 Features
Sustainable and Scalable Architecture
Saves over $300 million in lifecycle and maintenance costs
Integrated modular avionics and 2nd generation (IMA-2G)
Aligned with the FACE™ technical standard
Built-in fault tolerance that can identify, prioritize, program, recover and dynamically distribute application resources
Modules
O-level replaceable with 12-minute repair time
Identical <4 lb modules with a single part number
Reconfigurable to support multiple applications
Can function as a standalone, small-form-factor computer
4 ARM quad A53 64-bit processors featuring neon and floating-point coprocessors
64 GB DDR4 memory
Safety-critical AMD E9171 GPU with full Open GL SC 2.0 and Vulkan SC
Dynamically reconfigurable FPGA with 1.3 million logic elements
NSA Type-1 and FIPS 140-2 encryption
Video capture and switch
System
Rugged: MIL-STD 810, 1686 and 202
<30 lb and low power
Certifiable up to DAL-A to meet CAST-32A and CAST-29 objectives
Built-in networking, monitoring, management and diagnostics
Self-testing capability that eliminates the need for automatic test equipment (ATE)
ARINC 653-compliant RTOS
ARINC 661 model-based GUI
ARINC 664, AFDX secure communications
Support
Specifications
The JARVIS configuration consists of up to 4 DAL-A certifiable computing modules.
Each computing module features:
Processor
Intel Stratix 10 system on chip (SoC)
Quad-core 64-bit ARM Coretx-A53, 1 GHz
850K to 3M logic elements in the FPGA
48x full duplex transceivers
Memory and Storage
8 GB DDR4 FPGA memory
8 GB DDR4 processor memory
768 MB NORflash
Integrated Ethernet Switching
Port configurable as AFDX or Ethernet
Integrated Graphics Processing Unit
AMD E9171 GPU
SDI and RS170 video capture to GPU memory
SDI and NTSC video output and overlay (symbology, PiP, etc.)
Video Capture and Switch
7x SDI and 4x RS-170 video capture to GPU memory
Software configurable video I/O: any video input can go to any video output
Maintenance and Diagnostics
Integrated built-in-test (BIT) capability
Internal health monitoring system
BuiltSAFE™ Proven Elements
DO-254 hardware
DO-178C graphics CoreAVI OpenGLSC 2.0
Design and information assurance
Mechanical and Environmental
Dimensions
ARINC 600 case size: 5 MCU
7.64" x 7.87 " x 15.10" (194.06 mm x 199.89 mm x 383.54 mm)
Weight: 28.42 lb (12.7 kg)
Airflow intake: 7.64 g/s @ ≤ 55°C
Module size/weight
Weight: 3.43 lb
Dimensions: 8.396" x 63.845" x 1.9" (213.26 x 176.86 x 48.13 mm)
Rugged and Low Power
Supply voltage: 115 VAC@400 HGz
TDP: 220 WDO-160 G
MIL-STD-810H
MIL-STD-1686C
MIL-STD-202H
Software Board Support Packages (BSP)
Integrity-178 TUMP BSP with drivers
Meets CAST-32A objectives
Meets CAST-29 objectives
Other operating systems available upon request: Linux, VxWorks, Deos, LynxOS, PikeOS
Applications
Applications
Platform management
Mission management
Weapons management
Flight maintenance
Navigation
Sensor/image/display processing
EO/IR surveillance systems
Airborne sensor fusion
Platforms
Rotary-wing and fixed-wing aircraft
Unmanned aerial vehicles (UAV)
Networked/processor-enabled ground vehicles
Cut Sustainment Costs
JARVIS mission computers use common, reconfigurable, fault-tolerant, O-level replaceable modules to save over $300 million in lifecycle and maintenance costs
PROVEN ENGINEERING
Accelerate Subsystem Development
Streamline safety-critical system development and the certification process with DO-254 / DO-178 design assurance checklists, guided assessments, and hardware and software artifacts.