BLOG MENU

Women in STEM
Leadership Team
February 7, 2019
A few months ago, Mercury partnered with the Society of Women Engineers to host our first Women in Technology Night at our headquarters in Andover. I was fortunate enough to have panelists Star Dargin, CEO of Star Leadership and Susan Macchia, Senior Manager at Endeavor Robotics join me in giving insight on our career progression, experiences, and steps taken to earn leadership roles. I was thrilled to see a room full of participants networking and hearing our stories, as well as an engaged audience on our livestream and Facebook Live.
I walked away from this event thinking more about two important topics: women in STEM (Science, Technology, Engineering, and Math) and work-life integration.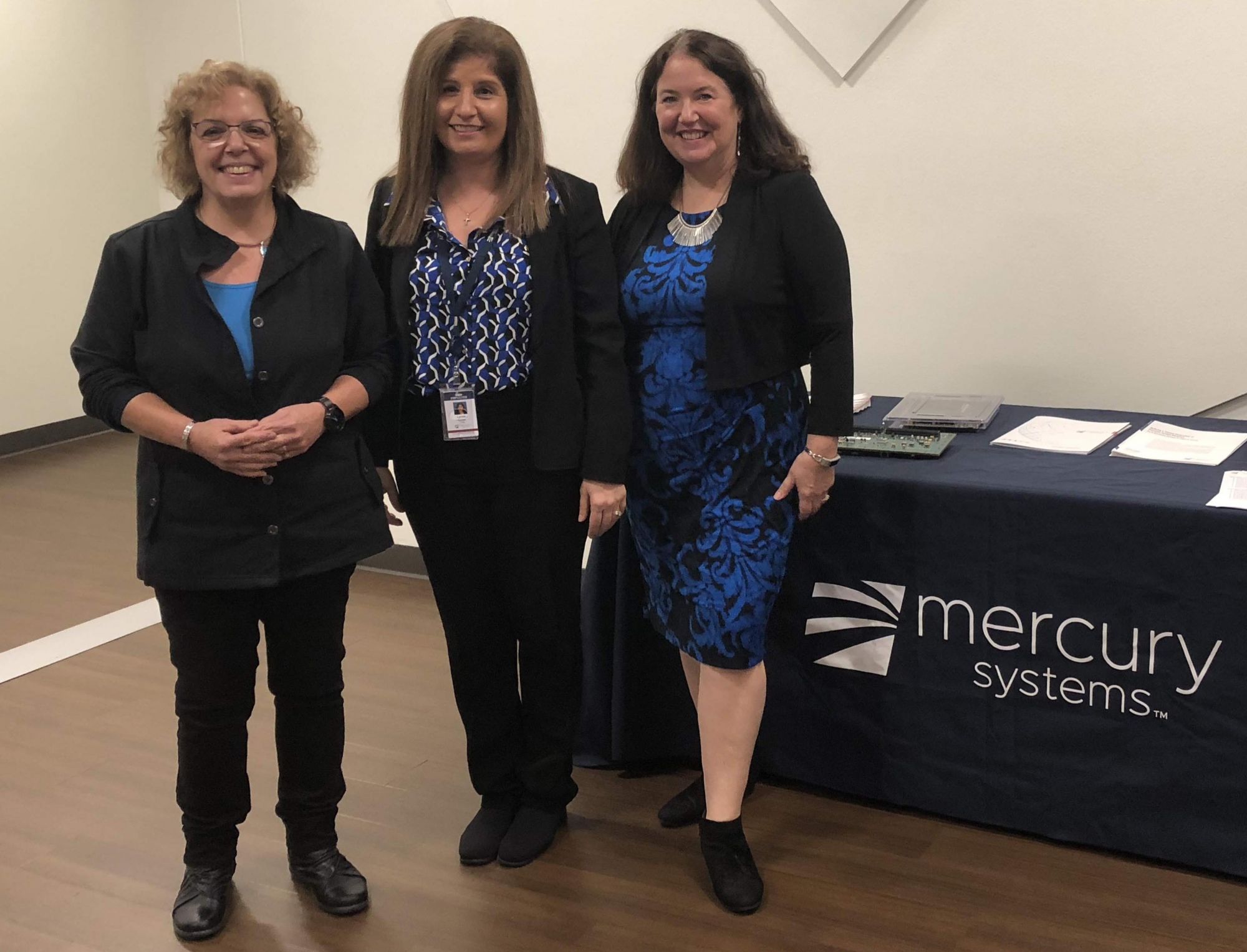 From left: Susan, Lynne, and Star
Women in STEM
One question on this topic really stuck with me. Someone asked, "What advice would you give to the next generation of young women about entering a STEM career? Is this something that you would encourage or not?" As I digested this question, I thought, of course we would encourage them. My full answer is that we want to help as many young women as possible to follow their dreams and feel empowered to enter a field where females are the minority. It's the only way that we can impact change in the workforce.
Our partner, Raytheon, sets a perfect example of encouraging young women to learn about STEM through their collaboration with Girl Scouts of the USA. With Raytheon's help, "Girl Scouts will launch its first national computer science program and Cyber Challenge for middle and high school girls. The program aims to prepare girls in grades 6–12 to pursue computer science careers, including cybersecurity, robotics, data science and artificial intelligence, among others."

At Mercury, we're doing our part to educate young women (and men) about work in a STEM field through our participation in the Corporate Work Study Program at Notre Dame Cristo Rey High School. This program places students into entry-level positions at companies like Mercury to gain invaluable experience in the workplace, while both funding the school and earning tuition. The NDCR students that work here in Andover at our HQ have the opportunity to explore different areas of STEM, whether it's working closely with our engineering, IT and program management teams or even our finance/accounting and marketing teams.
Work-Life Integration
The question of how to balance work and family was a hot topic at the Women in Tech event. I especially enjoyed the story that Star Dargin told about why she decided to start her own consulting company, Star Leadership.
She was working over the weekend and felt something tugging at her pant leg – it was her two young sons. In that moment, she realized her attention was always on work, and she took the rest of the day to play with her children. This was the turning point for her to change direction and allow more flexibility for her young, growing family. Since then, she has been a successful coach and public speaker on these topics for over 20 years. That's leadership through example.
As we move forward, I hope to see more young women exploring opportunities in STEM and leadership. My advice is to have courage, work hard, and know that you can have it all, whether it's your dream job in engineering, a family, or both.
-Lynne Currier, Vice President of Engineering