Control radios and data communication feeds with one device
Communications Management model ACM9443 functions as a single control head for the management of radios, transponders, TACAN, moving maps, and more. Designed with data ports prepared for technology expansion, supporting numerous connected devices and future growth; the ACM9443 is an ideal choice for enabling multi-role aircraft fleets and simplifying logistics. The ACM9443 is fully capable for communications with law enforcement and civil frequencies, such as VHF and maritime. For military aircraft, the ACM9443 is compatible with SATCOM, DAMA, UHF and more, and is capable of supporting numerous radios, transponders and other systems through a software control licensing fee, simplifying logistics and integration efforts. The ACM9443 series products have multiple connector and I/O options, including a drop-in replacement for the ARC-231 C-12601 remote control indicator.
See the ACM9433 and ACM9454 for smaller and larger models, respectively.
Features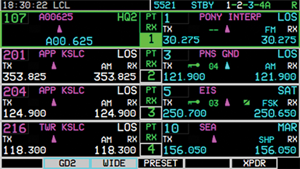 WIDE MODE
View up to 4 radio devices at once. The active radio tuning details are shown on the left with information such as radio frequencies, waveform, and preset description. The standby radio tuning appears on the right, showing similar information plus crypto key selection when applicable. The middle of the display shows instantaneous transmit and receive status of the radio.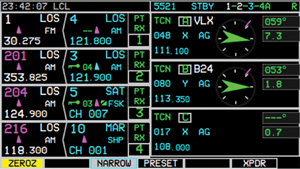 INTEGRATION
Interface with a full range of avionics equipment, including TACANs, transponders, ADS-B receivers, navigation, and mission systems. Up to four CMUs may be interconnected in an aircraft installation to provide any-to-any control in multi-crew platforms.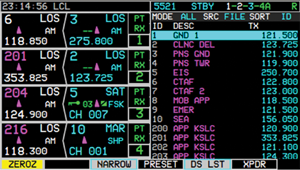 NARROW MODE
Active and standby radio tuning information appears on the left while a scrollable preset list, TACAN navigation widgets, search and rescue direction finder indications or other CMU app features are shown on the right.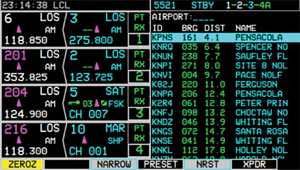 NAVIGATION
The onboard internal highspeed SBAS GPS allows the unit to integrate with the DAFIF worldwide database. Display bearing and distance information to any waypoint, navaid, or airport anywhere in the world.
Products formerly Avalex
Specifications
Model ACM9443
Width (n)
Height (in)
Depth (in)
Weight (lb)
Display Area (in)
Native Resolution
Data I/O
ARINC 429 2 in / 2 out, CAN Bus 1 port, Discrete 8 in / 4 out, Ethernet 2 in / 2 out, MIL-1553 2 in / 2 out, RS-422 / RS 485 / RS-232 4 in / 4 out, USB 1 port
Removable Storage Media
Storage Temperature Range
Operating Temperature Range
Compatibility
HAMR, SSDL, APX-117/118/123A, APX-119, ARC-210, ARC-231, ARC-906A, ARN-154, DF-935, DPX-7, HF-900D, PRC-117G, RF-7800H, RF-7850A, TACAN+
Waveforms
ANW2, DAMA, Guard, HaveQuick, HaveQuick 2, HPW, Maritime, SATCOM, SINCGARS, VULOS
Input Voltage
Qualifications
MIL-L-85762A, MIL-STD-461F, MIL-STD-704E/F/A, MIL-STD-810G, MIL-STD-810G Chg 1