AMD3105 Mission Display
The AMD3105 Mission Display is a smart multi-function display (SMFD) with a field-proven, 10.4″ display and Intel computer and graphics processing. Operators can leverage both touchscreen and programmable bezel button technology included in this practical, rugged form factor. With full-high-definition (FHD) capable serial-digital interface (SDI) and analog RS-170A video inputs, the AMD3105 integrates with all modern and legacy targeting and intelligence, surveillance, and reconnaissance (ISR) electro-optical (EO) and infrared (IR) sensor systems. And it does all this on a sunlight-readable, NVG-compatible display.
The mechanical design of the AMD3105 series features configurable installation options to support both panel and swing-arm mount designs. The electrical design of the video and data ports delivers a robust set of integration options, all enabled via the AMD3105 software developer's kit for the operating system of choice.
Features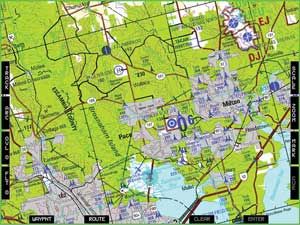 The AMD3105 can be delivered with Windows, Linux, or other Real Time Operating Systems (RTOS), and includes a software development kit (SDK) allowing development of independent customer applications. When combined with the Mission Management Suite software and an optional Harris FliteScene plugin, integrators can leverage field proven situational awareness tactical mapping, sensor and systems integration software.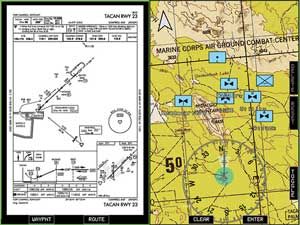 Available AMMS software also features an out-of-the-box tactical moving map and sensor fusion application. JMPS, AMPS, and Falcon View data, including route planning, threat files, tactical graphics, drawings, and custom charts, can be seamlessly imported and displayed atop map data, images, and live video. There are also additional plugins available for device third party device integration of caution and warning systems, stores management systems and precision navigation and timing sources.
SCREEN MODES
Full screen mode displays only one input signal.
Picture-in-picture mode displays two input signals simultaneously, one in a large format and one in a smaller window, whose position is configurable.
Picture-by-picture (PBP), or side-by-side mode, displays two input signals next to each other as equally sized images whose aspect ratios are maintained. Excess screen space appears as black bars.
Split screen (SS) mode displays two input signals simultaneously as equally sized images that are stretched/cropped to fit each window.
In each mode, aspect ratios can be maintained in letterbox format, or set to stretch and fit, or be cropped in the viewing space.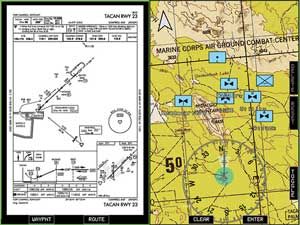 An integrated mapping software option presents overlays and the current location over either digitized maps (CADRG) or images (CIB, GeoTIFF). Operators can scale maps, drop waypoints, plan routes, cue sensors to defined waypoints, and exchange data with FMS, PFD, AHRS, and other aircraft systems.
Aside from bezel buttons and touchscreen control, integrators can select to connect a Cursor Control (ACC) device to complete the human machine interface (HMI) design.
The ACC9110 Cursor Controller is an attached accessory to the AMD3105.
The ACC9220 Cursor Controller is a remote, Dzus mounted optional accessory for the AMD3105. Learn more about this controller here.
Products formerly Avalex
Specifications
Model AMD3105
Width (in)
Height (in)
Depth (in)
Weight (lb)
Display Area (in)
Aspect Ratio
Native Resolution
Refresh Rate
Contrast Ratio
Dimming
Screen Modes
Touchscreen
Data I/O
ARINC 429 2 in / 2 out, ARINC 825 (CAN Bus) 2 ports, Discrete 4 in / 2 out, Ethernet (10/100/1000 Mbps) 3 ports, MIL-STD-1553B 2 ports, RS-232 2 ports, RS-422 2 ports, USB 2.0 2 ports
Video I/O
RS-170A 3 in / 1 out, SDI (SD, HD, 3G compatible) 2 in
Internal Storage
Removable Storage Media
Compact Flash, SD Card, SSD SATA, USB e-SATA Combo
Operating System
CentOS 7 Linux, Windows 10 Professional 64-bit IoT, Others available upon request
Graphics
Processor
NVG
Configurable Features
Customer Bezel Buttons, Embedded GPS, Touchscreen
Variants
AMD3105T Swing Arm Mount, AMD3105TF Panel Mount
Accessories
ACC9110 Display Mount Map Controller & Data Loader, ACC9220 Dzus Mount Map Controller & Data Loader
Storage Temperature Range
Operating Temperature
-40 to +55° C (+71 C for 30 minutes)
Input Voltage
Heater Glass
Qualifications
MIL-STD-461F, MIL-STD-704A/F, MIL-STD-810G
Multi-Function Displays
Integrate Multiple Applications
With a full range of sizes, features and configurations, our displays support multiple applications and easily integrate into any aircraft or vehicle.