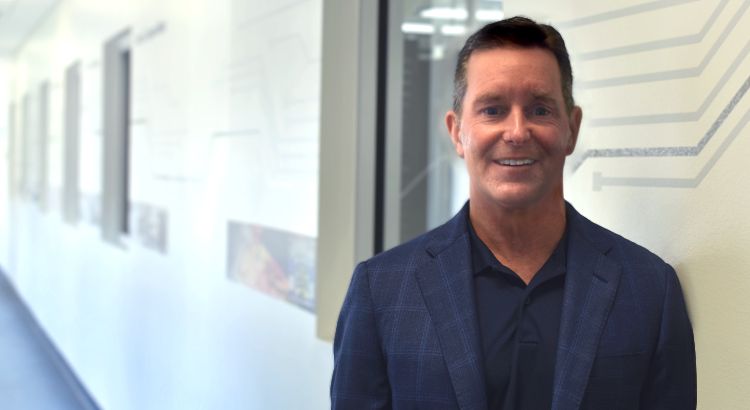 Tell us about yourself and what brought you to Mercury?
I'm actually a native Californian. I was born and raised in the Bay Area, and for the last 20 years, I've been living in northern Virginia, just west of DC, which is now home for us. My wife and I have two teenagers: a 19-year-old daughter who just finished her freshman year in college, and a 16-year-old son who is going to be a junior in high school.
My background is in engineering; I have a bachelor's in mechanical engineering, an MBA, plus an MS and a PhD in aeronautics and astronautics. I started my career as an aerospace engineer, designing and building high-powered communication satellites for government and commercial applications all around the world, and over the last 20 years, I've led a number of aerospace, defense, and technology businesses.
Being in the aerospace and defense industry, I've had the opportunity to admire Mercury from outside for years because of its unique position in the market and its ability to deliver rapid innovation to the warfighter. So, a year ago, I was excited to have the opportunity to join the board.
Mercury's Purpose is Innovation that matters by and for people who matter; how would you describe what Mercury does and why it matters?
I would say Mercury is a processing technology company whose focus is on delivering breakthrough capabilities to the A&D industry through a commitment to innovation. Why it matters is something more deeply human. As global adversaries come closer to leveling the technology advantage, the A&D industry is transforming to meet the demand for accelerated platform and application deployments, and for the modernization of critical defense systems. New platforms can take decades to deliver. Our solutions, our technologies, make platforms better today, and make a difference in our customers' missions and lives. Our customers' missions are our own and we work shoulder to shoulder to solve complex challenges because we know what's at stake to keep our world safe and secure.
What are your immediate priorities as CEO? And how will you and the Board work together to form future, long-term priorities?
In the near term, I just want all of us focused on improving how we can win and execute on our contracts, doing those things efficiently, and improving as a high-performance team so we can all experience that great feeling of being part of a thriving, organically growing organization. I want to zero in on the aspects of our business model where we know we can improve. First, we have a handful of programs that are keeping us from delivering predictable results that need to be fixed with a relentless focus. Second, in order to be a thriving, organically growing organization, we need to have a growth engine that is bidding on and winning new contracts. What I want as the CEO and what we want as a Board is to execute our strategic plan. We want to be prepared for the next phase of the Mercury journey, and ensure we have the right level of investment and the right focus to take on our competition, win new work, and grow our backlog.
Given the geopolitical climate, what do you see as Mercury's biggest strengths and how will they address the industry's greatest challenges and opportunities?
The current environment presents multiple challenges across the industry, some with the potential to be destabilizing. I think our biggest strength is our relationship with commercial tech. The reason I say that is because in order to help the defense industry stay ahead of global threats and modernize legacy systems, they need the latest technologies – found within the commercial market – and they need them immediately. Through our close collaboration with commercial technology leaders, we can take the latest, innovative, high-performance technologies and make them readily accessible for critical defense applications -- open, upgradeable, affordable, and connected across customer platforms and programs.
Perhaps a subset of that, I think we are ahead of the game when it comes to secure advanced microelectronics. The battle for information dominance has intensified and having low-latency, SWaP-optimized and secure defense-grade microelectronic technologies plays a pivotal role in winning that battle. The investments in our custom microelectronics business, combined with our partnerships with leading semiconductor manufacturers, are crucial to solving complex challenges in sensor edge processing for applications like RF, digital, radar, ISR, and electronic warfare.
This isn't your first time as a CEO. Could you share your view on leading an organization and how you will bring what you have learned to your role at Mercury?
I am the antithesis of a hierarchical command and control leader. We have organizational structures because we need to organize, and we need to find a way to connect teams and lead teams. I'd characterize myself as having an integrated mindset or an integrated team mindset. Innovation comes from people – people bringing energy every day. It's people in teams that determine the results of a company; it's the corporate culture you create. Culture is about values, mindsets, and behavior. And if the leadership shows up every day and promotes and exemplifies the right mindsets and behaviors, and everyone adapts those mindsets and behaviors, you can create the highest performing team culture that you could ever envision.
In your first few weeks at Mercury, what has surprised you the most?
I feel really privileged to be serving in an extended capacity for this esteemed team. As I visit different locations, I continue to be impressed by the candid and meaningful conversations I have with team members. The people of Mercury care about the company and the work we do. They ask great questions – questions that illustrate their commitment to not only the company's success, but our customers' success. There is a deep appreciation for what we do, and for our role in serving our customers' missions. We need to work to reinforce that by continuing to build and foster the mindsets and behaviors that are the underpinnings of a culture that will differentiate us from every other company in our space.