3U OpenVPX RF Transceiver - RFM3101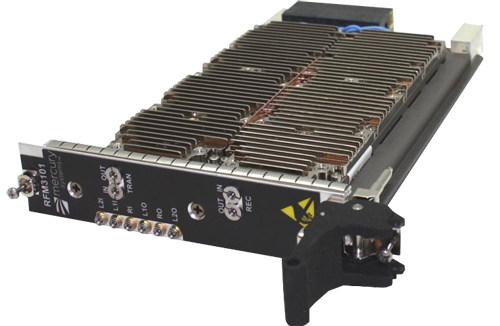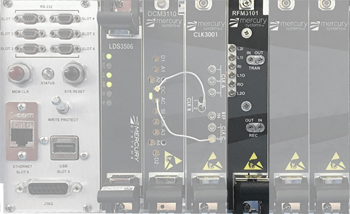 Product Description
The SpectrumSeries™ RFM3101 is an open-architecture, microwave transceiver optimized for demanding electronic warfare (EW) applications. The transceiver offers high-performance operation from 6 – 18 GHz with low phase noise and an internal local oscillator (LO). To support rapid system integration, the RFM3101 is compliant to the OpenVPX (VITA 65) open architecture standard. This modular and open architecture defines the mechanical and electrical interfaces, thereby simplifying product installation and enabling low-cost system upgrades.
This ruggedized module is packaged in a compact 3U OpenVPX form factor and contains highly-integrated up and down conversion blocks. It is ideal for broadband, volume-limited applications requiring high performance in harsh environments. While developed as a microwave tuner for demanding EW applications, the RFM3101 is also an ideal option for ELINT and beamforming systems as well as any application requiring broadband performance in a flexible, open-architecture-compliant package.
Rugged, compact and full open system compliance
Wideband - Excellent phase noise - High Dynamic range
Built-in LO generation
External LOs capability for EW versatility
One up-conversion channel and one down-conversion channel
---
Contact Us
Have a question or custom design requirement? Contact us to speak with our team of experts standing by.
Email Us