Modular Open Systems Architectures for Modern Defense Systems
Moving at the Speed of Technology
This is a critical time for our industry as we make strides to evolve faster than ever to stay ahead of a complex world that is changing as quickly as technology itself. Modular open system architectures (MOSAs) enable this velocity and is the vehicle with which you can deploy the best technology with the speed, efficiency and interoperability of the commercial marketplace.

MOSAs share a common goal, to deploy the best technology more effectively and efficiently, which enables standards to converge. Sensor Open System Architecture (SOSA) accommodates Hardware Open Systems Technologies (HOST) and Common/C4ISR/EW Modular Open Suite of Standards (CMOSS) approaches. CMOSS in turn accommodates Future Airborne Capability Environment (FACE), Modular Open RF Architecture (MORA), Vehicle Integration for C4ISR/EW Interoperability (VICTORY) and the RedHawk Linux operating system.
Sensor Open System Architecture (SOSA)

SOSA's approach decomposes existing infrastructures and recomposes them as more capable and adaptable solutions made from common, interoperable building blocks. The effectiveness of this approach is defined by the benefits it delivers which are measured in terms of the time taken to implement new missions – from the current months and years to weeks, even days depending upon the type of mission.

Speed
Rapid technology insertions at the speed of innovation

SWaP
Reductions in size, weight and power (SWaP)

Low Cost
Reductions in sustainment costs enable more and better systems to be deployed

Competition
Increased competition to drive affordability and innovation

Compatibility
Enhanced compatibility so systems can scale across platforms and domains

Security
Improved cybersecurity enables systems to become more attack resilient
SOSA Evolves at the Speed of Technology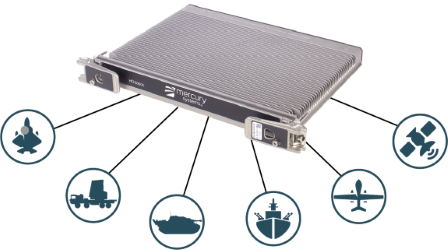 We have pioneered many of today's embedded open architectures including OpenVPX, which is the de facto defense processing approach and cornerstone of most modern defense MOSAs, including SOSA. We work closely with SOSA defining the overarching architecture, hardware and software interoperability, system management, embedded security and low-latency configurations for electronic warfare (EW). Our contemporary OpenVPX processing boards are SOSA aligned, enabling you to deploy and scale your applications quicker and more affordably than ever.