Efficient, Low-latency PCIe Switching
The EnsembleSeries SFM6126 is a 6U OpenVPX PCIe Gen3 and Ethernet network switch board with I/O mezzanine sites and system management.
SFM6126 OpenVPX™ PCIe gen 3 switch with innovative capabilities for creating your truly composable data center edge processing architecture for aerospace and defense applications.
Features:
Full Gen3 PCIe high-bandwidth switching
16 ports of 10 Gigabit Ethernet control plane switching
I/O distribution for PCIe data plane or expansion/sensor plane
Transparent or non-transparent port-by-port bridging
Dual XMC I/O mezzanine sites
VITA 46.11 system management
Optional MOTS+ rugged packaging for extreme environmental protection
Designed, built, coded and supported from trusted DMEA facilities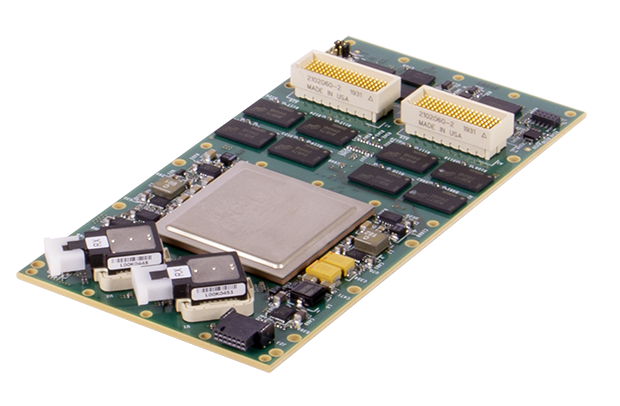 Extreme Embedded Switch Fabric Performance
SFM6126 modules switch the control and expansion planes with an efficient PCIe architecture that delivers a performance boost to OpenVPX subsystems. With the versatility of a XMC site for mounting mezzanines, including the EnsembleSeries IOM-400 that distribute wideband I/O transparently and holistically to any other PCIe-connected device – including CPUs, GPUs, FPGAs and storage arrays. This ability to mirror a composable data center architecture is critical for remote deployment of today's most contemporary AI and other big processing algorithms.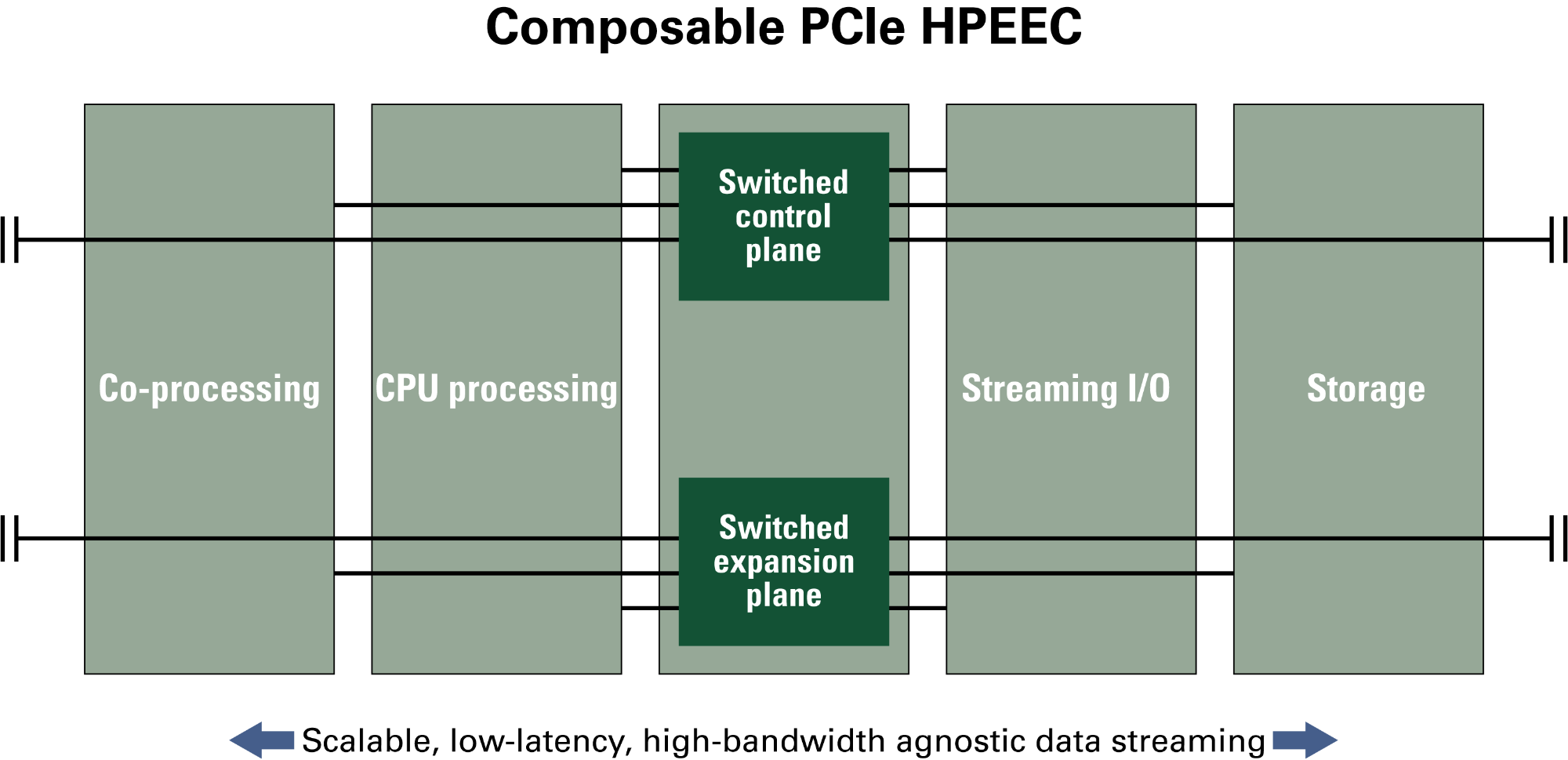 High Performance Embedded Edge Computing (HPEEC)
SFM6126 are critical scaling components for your truly composable high performance embedded edge computing (HPEEC) solution. When integrated with other EnsembleSeries OpenVPX compute building blocks, including the latest data center Intel Xeon Scalable blades, powerful GPU co-processing engines, the power of the data center is put into your application. These big data processing solutions are tailorable to your platform and can deployed in the harshest and most SWaP constrained environments.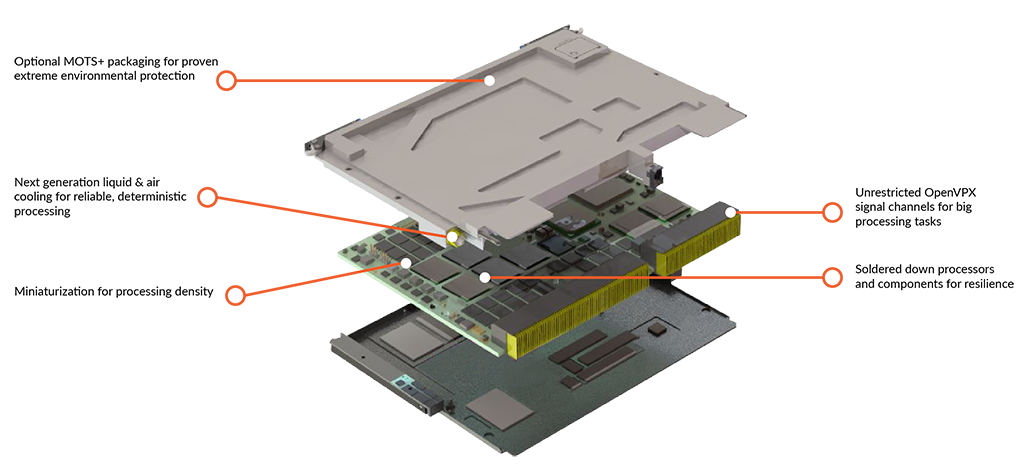 The Anatomy of a Rugged OpenVPX Module
Optional MOTS+ packaging for proven extreme environmental protection
Next generation liquid and air cooling for reliable, deterministic processing
Miniaturization for processing density
Unrestricted OpenVPX signal channel for big processing tasks
Soldered down processors and components for resilience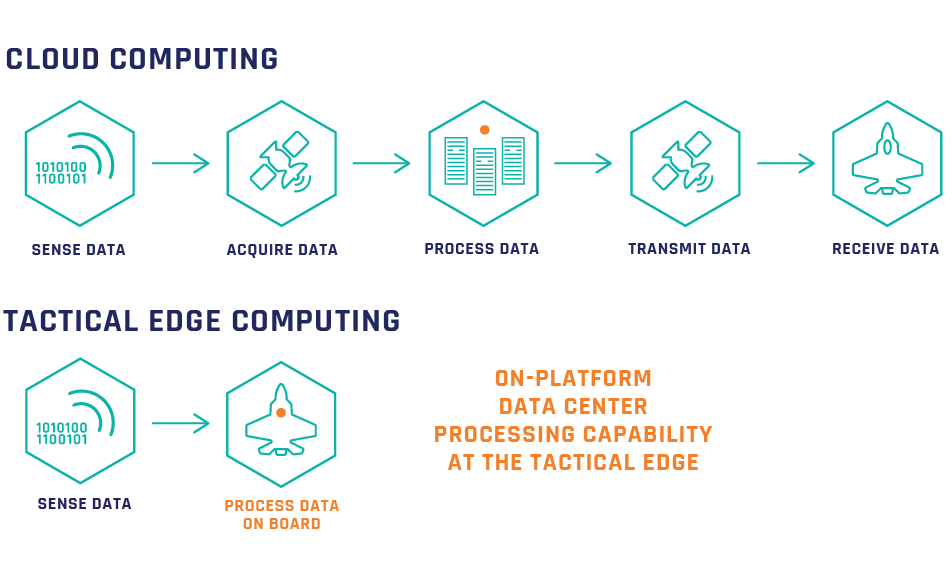 Affordable, Interoperable and Upgradable
Place the best technology into the hands of service men and women faster by building your next HPEEC processing solution with EnsembleSeries compute modules that are made with open architectures for interoperability, scalability and re-use. Further drive affordability, performance and lower your program risk by using the architecture that evolves at the speed of technology, follows industry technology roadmaps and leverages data center hardware, software and IP.

Gain a Competitive Edge
Deploy next generation automatous platforms, cognitive EW systems, compute-intensive EO/IR, AI and radar processing, and sensor fusion applications that require data center-class capabilities closer to the source of data origin – at the edge. Efficiently process streaming data over a distributed heterogeneous PCIe-enabled architecture from the cloud to the edge with a seamless and common compute architecture that integrates the latest commercial capabilities for affordability and low program risk.
HIGH-PERFORMANCE OPEN ARCHITECTURES
Use AI to Make Better Decisions
Turn your sea of sensor data into actionable intel quickly. Miniaturizing data center capability into a compact, OpenVPX high-performance embedded edge compute (HPEEC) architecture allows AI processing to be placed next to sensors on edge platforms
DEPENDABILITY
Mitigate Deployment Risk with Proven Experience
We employ cutting-edge commercial technologies and unique processes borne from a wealth of in-house expertise, garnered on over 300 programs, to develop and manufacture solutions to meet your application's demanding conditions. 
PROFOUNDLY ACCESSIBLE
Utilize the Latest Silicon Valley Tech
We partner with industry leaders like Intel® and NVIDIA® to incorporate the most advanced AI-enabled data center and multi-core edge processors into the rugged, trusted and secure solutions that power your most ambitious on-platform processing applications.
Other HPEEC Building Blocks