BLOG MENU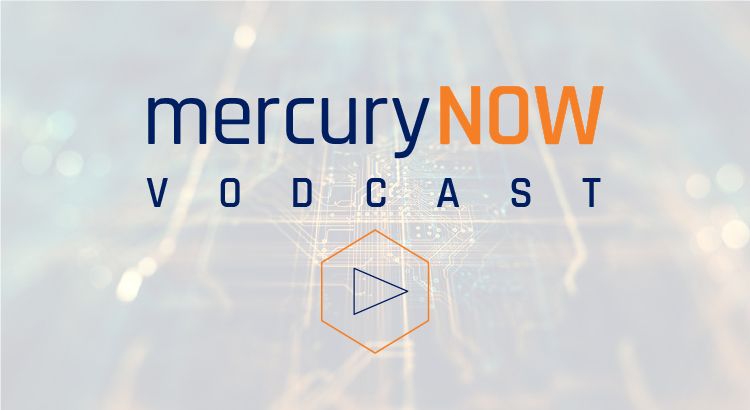 DAL-certifiable computing for future avionics
Mercury Systems
June 16, 2021
Mercury partners with Intel to deliver DAL-certifiable computing for future avionics. Hear how the two companies forged a longstanding relationship to help make the latest commercial technologies profoundly more accessible to the A&D industry and deliver trusted, secure solutions that make the world a safer, more secure place.
Learn More:
READ THE TRANSCRIPT
Ralph Guevarez:
Hello, and welcome to MercuryNOW, a podcast series brought to you by Mercury Systems. I am your host, Ralph Guevarez. And today's topic, DAL certifiable computing for future avionics. Joining me today is Greg Tiedemann, mission director of product management here at Mercury Systems, and our special guest today, Yemaya Bordain, director of IoTG global public sector sales at Intel. Greg, Yemaya, good day, and welcome to the show.
Yemaya Bordain:
Thanks so much for having us
Greg Tiedemann:
It's great to be here.
Ralph Guevarez:
Well, thank you both again. Yemaya, you are our guest today, so could you please give our listeners a brief background on your current role at Intel?
Yemaya Bordain:
Yes, absolutely. It's great to be here. Thank you again for having us here. I lead global public sector sales in the IoT segment at Intel. And we drive defense and aerospace, including safety critical avionics, civilian government at the federal state and local level, and education. And so our team is global in scope, and we have been engaging directly with Mercury now for over three years, maybe longer, on safety critical.
Ralph Guevarez:
Yeah, that's great. Well, welcome to the show. Great to have you. Greg, a brief background on your current role at Mercury, please?
Greg Tiedemann:
Yeah, sure. I'd be happy to. I am leading the product management activities permission systems here in the US, and our focus is working with a business development team as well as working with new customers and technology partners, like Intel, to go out and penetrate new markets. For example, the safety critical space is a big area for us that we've been focused on for a number of years now both in commercial as well as in defense. So it's been a great ride so far.
Ralph Guevarez:
Great. Well, thank you both again for joining me. Let's dive right into the discussion, shall we? How did Mercury and Intel start working together on safety, please?
Greg Tiedemann:
What's interesting, Ralph, is actually our relationship with Intel goes back to the founding of Mercury. We worked with Intel on some of the earlier processors back in the day. And then along the way, about 10 years ago, we started working with Intel as we were transitioning the sensor side of our business from PowerPC over to Intel because of some end of life issues back then.
Greg Tiedemann:
And then most recently I think we got started working with Intel probably a little bit over three years ago, Yemaya. And we were working on... We were getting a lot of requirements from our customers for an upgrade and performance as well as we were facing some end of life issues in PowerPC, very similar to what we went through 10 years ago in sensor processing. And we reached out to Intel. We understood that Intel at the time was working on functional safety in the automotive market, and we were looking to leverage that into avionics.
Greg Tiedemann:
So I don't know. Actually, maybe this is a good transition, Yemaya, to describe how you guys were working on functional safety and the work you were doing towards taking that into safety.
Yemaya Bordain:
Yeah, definitely, Greg, you talked about three years ago. We just celebrated our three year work anniversary together about 20 days ago. And you know, it was, it was quite the experience to kind of think about this journey over the last few years. At the time when we started this pursuit of safety in avionics space, Intel was driving automotive and industrial, and we were really wanting to get this footprint in those markets. And in order to do that, we had to develop some expertise on safety.
Yemaya Bordain:
So we had made an acquisition of a company at Pisa, Italy called Yogitech. And at the time they were leaders in developing tools for the automotive standard, the 26262. And in fact, their co-founder and CTO was the coauthor of the part 11 of the 26262, which focuses on safety guidance for semiconductors.
Yemaya Bordain:
And so we made this acquisition of Yogitech as they were starting to really dig more deeply into automotive in order to enable autonomous driving. Suddenly we had gotten a ton of OEMs that started to contact us and they had recognized that we were getting deeper in safety. And so they asked us if we could leverage that new found expertise in order to support them. And that's kind of how I got involved. I was an engineer at the time, I was a solutions engineer, when we met and my project was to answer the question of whether we could pursue this market. And it just so happened at the same time mercury had just made the acquisition of Richland Technologies and we were getting to know them.
Greg Tiedemann:
Yeah. So it really was a perfect timing, Ralph, of Intel at the same time Mercury was going after this market. And we obviously had a long standing relationship working together and we both were talking to very similar customers. In fact, I think sometimes we were talking to the same customer and they were encouraging us to work together. You could say it was just a perfect win-win combination at the time of we needed a technology partner and Intel was looking for a go to market partner.
Ralph Guevarez:
Thank you both for your insights. I'm very excited about the partnership that you are both building between Intel and Mercury. Could you do me a favor and build a picture for our listeners, how did it all start the relationship with Intel and Mercury? And talk about the collaborative nature between the two companies?
Greg Tiedemann:
So there were a number of factors going on in industry around this time, Ralph, and actually Yemaya and I ironically just finished up a webinar that you'll get some more details on. But the few major trends that we were both tracking were, as I mentioned earlier, we were faced with an end of life issue with the current product that we had around PowerPC.
Greg Tiedemann:
In combination with that, we had a number of customers in commercial as well as in defense that were looking for a lot more performance than some of the other processor companies could provide. And quite honestly, safety, it's a really intimate market and that you can't jus go to a supplier and buy a product and walk away and it's just going to work. In order to get through a safety analysis requires a really intimate relationship with your technology partner.
Greg Tiedemann:
So as we were looking for a partner to team up with it just seemed like a logical choice to work with Intel. We've done it before, as I mentioned earlier in the sensor processing stuff 10 years ago, and it felt... We had a very trusting relationship at this point. And maybe, Yemaya, you can talk about some of the factors were going on that you're hearing from your customers and parallel to that.
Yemaya Bordain:
Yeah, Greg. During the time we had many OEMs that were coming to us, and for years they had been kind of coming to us and they had been saying, "We want to use Intel for safety application and we need your help and we need your support to do that." And over and over again we couldn't get an answer on defining what help and defining what support meant. And so we didn't understand what we were committing ourselves to.
Yemaya Bordain:
And so the way that we generally operate is that we're a great merchant. We support and we scale our partners, and we knew that we needed some to learn more and then also go to market. And so Mercury had approached us about this. They were already a long-term customer of ours on supporting and driving edge computing on high-performance edge. And it made a lot of sense at the time. Mercury was relatively new to this level of safety and certainly on Intel. And then Intel of course, is our kind of first go around on safety. And we didn't know for certain whether we were going to move forward or not. And we were really just trying to understand what we needed to do in order to meet the needs.
Yemaya Bordain:
And essentially the OEMs were telling us that there is some level of information, some level of detailed documentation about our processors that could provide them with the knowledge that they needed so that they could mitigate all potential failure conditions when they integrated Intel processors. And we actually went to Mercury first as we were trying to learn what does the standard, how does that break down into what needs to be provided to OEM from the semiconductor device vendor. And Mercury provided us with what became a base document of a list of artifacts, a list of questions, a list of information that we needed to provide in order to just get started.
Greg Tiedemann:
I guess just to close on this one, Ralph, Intel was looking for a market business partner. Obviously we were looking for a technology partner, but in both sides, it really requires a very close, intimate, collaborative relationship, or we could share. And in Intel's case they had to share a lot of very sensitive technical documentation to support our certification process. And we were working very closely with them jointly with our customers, sharing a lot of business documentation and business plans and things like that. So yeah, it worked out really well for both of us. And here we are today.
Ralph Guevarez:
Thank you both for the detailed response. Now, could you elaborate on the collaboration portion of the relationship please?
Greg Tiedemann:
Sure, sure. no, it's a great question because it really required a multilevel collaborative relationship between Mercury and Intel, certainly at the technology level, as I mentioned earlier, but also at the business level and the executive level, quite honestly. It really went up very, very high on the organizations on both sides, because I had mentioned earlier, doing safety certification, things like that, really requires a lot of information going back and forth as well as we're both entering into this market, we're trying to better understand where the two organization can really be adding value. So actually, Yemaya, maybe you can be talking about some of the collaborative discussions at the technology level.
Yemaya Bordain:
Yeah. So at the beginning of this, as I stated, I was still a lonely engineer and it's just jumping in and didn't even have the expertise at the time. And it was awesome to contact Mercury. I found that we started engaging almost on a daily basis. And so I was getting our architects in meetings. I was understanding more of the problem statements and what need to be done for our OEM for the final solutions. We were learning where there were gaps in our product offering. I remember one of the first conversations that we had, and Greg was asking about our bootloader. And the response that I gave him, I was like, "Oh, we have this slim bootloader. You can get it on, on GitHub." But then they're asking questions like, "But are there any binaries?' And it's like, "Huh?" You kind of take for granted what that means and why it's so important in certification.
Yemaya Bordain:
And so we had many of these technical reviews. And also when you are going into a new area and you're working with a different company that's also going into a new area together, you find that you will both go in with many blind spots. And you have to build that trust in order to demonstrate and know that you have each other's backs.
Yemaya Bordain:
And that's what we kind of focused on. We focused on getting to know each other. We focused on getting to understand our management chains. We kind of developed our working model. And at one point we were talking about... We were seeing each other so often we said that we needed badges into each other's offices because we were just constantly hanging out at the office.
Greg Tiedemann:
That's true.
Yemaya Bordain:
And even if it meant that we would be on the board writing out a longterm strategy, or if we were going deep into technical details with some of our experts that are across the globe for both companies.
Greg Tiedemann:
Yeah. You go into these things and you can plan out a strategy on day one and by day 10 it's going to change a little bit. And by day 100 it's changed even more. Really, I think, the essence of the relationship is both sides were really able to honestly, openly, transparently collaborate on all these levels. Like I said earlier, the technology, the business level things change. We got different customer requirements along the way. There were a little bit of a surprise that, "Oh, you want that? Oh, okay. Yeah, we'll get right on that." So it just required a very open and transparent dialogue going back and forth, Ralph.
Ralph Guevarez:
Yeah. Well, it sounds like it took a lot of investment on both companies. How'd you guys make it work?
Yemaya Bordain:
Ralph, that's really a great question because we think about investment so often in terms of money. In this case, we were investing our time. We were investing quite a bit of resources, and we were really committing to each other because it takes so long in this market to get a return. One safety opportunity is anywhere between two to six years. And so there's a long time before you actually see whether you've been successful or not, or if you've you've been able to scale or not.
Yemaya Bordain:
And this was exactly what the problem statement was for Intel at the time and what we were asking ourselves. And ultimately we knew that we could support this technically. We could definitely address technical concerns. A bigger problem for us was the business model and how we would become successful in what is considered a pretty low volume market. And this has required new investment. It had required a new expertise as well. So we've been working on hiring in order to support these. And I know that that Mercury... We talked about our acquisition, but mercury also made some as well.
Yemaya Bordain:
And the defense and aerospace market, generally this is just little volume. And so in this market it's very difficult for us to influence the silicon and make changes in the silicon for a market that for instance, there are only a thousand planes or so that Boeing or Airbus would produce in a given year. And so we understood that we needed to come up with some kind of model such that we would be volume agnostic.
Yemaya Bordain:
And in doing that, we kind of learned from Mercury but we also learned from the market and particularly the software folks, and we are offering this under a licensing fee. And that's what enabled us to capture the initial investment but then also to ensure that whether the opportunity was for 5 aircraft or 5,000 aircraft, that we could support this in the longterm and have the committed resources in order to do that in a sustainable and profitable manner.
Greg Tiedemann:
It's interesting, Ralph, because what Yemaya just described is nearly identical to the same conversations we had going on within Mercury about the investment in our business strategy like she was just saying that she was having those conversations in Intel. So really in the end... well, not in the end, but all the way along the way required a very close executive level relationship and discussions. Obviously, Yemaya and I are working very closely on the technology and the business development with the customers. But when you get into a significant investment and time and resources in the end, there was certainly a lot of financial investment in this too. But getting to that return really got, got both of our executive teams engaged on a monthly quarterly basis and a very open, frank transparent conversations about do we keep going, what should we change, how can we accelerate this. yeah. And it was great to have that support. Honestly, I know Yemaya would violently agree with that, that it was great to have their support to continue to encourage and provide direction along the way. So yeah. Great question.
Ralph Guevarez:
Thank you. Both. Let's bring the customer into the equation, shall we? Why is it so important to the customer to have companies teamed up like this, the way that Mercury and Intel have teamed up?
Greg Tiedemann:
No, it's a great question. And at the end of the day, obviously that's the most important piece of the equation is the customer. And I got to say, working with Intel at this level really it's two major factors. It's time and lower risk. As we both, Yemaya and I, have been talking about throughout this discussion is that neither one of us really could have done it on our own. We could've, but I think it would have taken a lot longer. It would have been a number of retries and restarts along the way. But getting into this relationship requires a lot of information going back and forth.
Greg Tiedemann:
So having this close collaborative relationship in the end benefits the customer because we can get a solution out there quicker to them. And we were just talking about investment. Obviously, we need to get a solution out there quicker for our management team, as well as solving some very hard problems. So those are probably the two closest factors that I can think of. Yemaya, do you have some comments from some of what you've heard?
Yemaya Bordain:
Certainly. During the time we were... We had a lot of motivation at the time. We had at least one program that we were both trying to win. And at the time we were kind of engaging with that OEM separately. And we had to ensure that we were saying the same thing when we were talking about our product and about Intel and what Intel provides and what we plan to provide, and then also what Mercury would provide.
Yemaya Bordain:
So there were co-selling engagements. We did some traveling together. And ultimately, I mean, we had one OEM where Mercury wasn't in the room and they were like, "We want to look you all in the eye, Intel, and we want you to commit to this." And also to verify and validate what we had done with Mercury already and what we were working on with Mercury. And it was really meaningful to them, some of the challenges that we were able to discuss with that OEM and how we got through those challenges together.
Ralph Guevarez:
Great. Thank you both. Now, my last question, and I appreciate all your insights and I'm very excited, as I mentioned before, about the collaboration and the relationship between Intel and Mercury. I have to ask, where does the partnership go from here?
Greg Tiedemann:
Well, we've got a lot of things we started, Ralph. So we've got to finish strong, Yemaya. It's-
Yemaya Bordain:
And we will.
Greg Tiedemann:
We've had a lot of great successes so far. We announced a product about a year ago based on Intel's Atom. And we're working on a new one right now. We've got a number of program pursuits in play for both of us that are really strategic. So it's very exciting, and I'm really encouraged that we're going to build on the success. We've already got customers asking us both what's next. So it's a great question. And we're looking at areas around certifiable artificial intelligence as well as leveraging the Intel's 5G technology and things like that in combination with some of the things that we've been talking about. So yeah, I'm really excited about the future-
Yemaya Bordain:
I'm pretty excited. I'm pretty excited about what we're working on together in urban air mobility. I mean, air taxis. We're going to be keeping up with the Jetsons. We're creating that world. So that's what's next. And that's where I've been pushing Mercury in that direction. And we have some really exciting programs that we're jointly pursuing. And in that leave, we're currently in the design process. So we got to just keep innovating.
Ralph Guevarez:
I want to take this opportunity to thank you both for joining me today. I enjoyed the discussion, and I hope our audience has a better understanding of how Mercury and Intel have teamed up to deliver DAL certifiable computing for future avionics. I wish you both the best of luck moving forward. God speed. And I look forward to having you both on the show again.
Yemaya Bordain:
Thanks so much, Ralph. And thanks, Greg, three years.
Greg Tiedemann:
Yeah, man, time flies. Thanks a lot, Ralph. It was a great discussion. It's good to see you again, Yemaya.
Yemaya Bordain:
Of course.
Ralph Guevarez:
Bye bye guys.
Yemaya Bordain:
Have a good one. Thanks.
Greg Tiedemann:
Alright. Bye.