BLOG MENU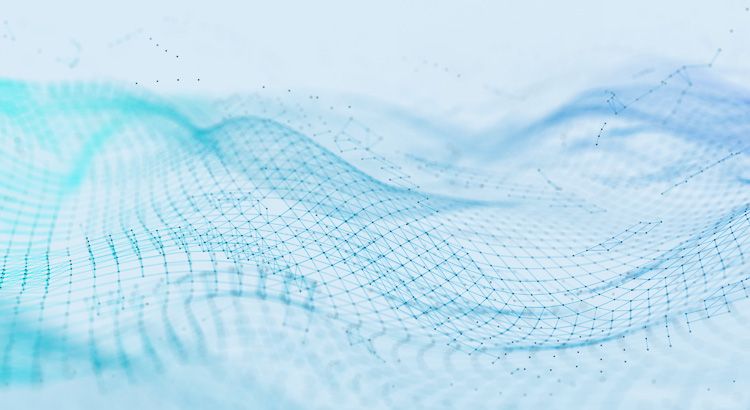 Digital transformation with MBSE is the key to rapid innovation
Taymor Kamrany
March 30, 2022
Mankind has witnessed four major industrial revolutions over the past 300 years; each of which has led to rapid changes in manufacturing and production leading to sustained economic growth for countries that were able to adapt to the new paradigm. The first industrial revolution was marked by the introduction of machines into production systems using power from water and steam. As industries matured, mass production was powered by electricity marking the second industrial revolution. The next industrial revolution brought about the use of electronics to improve engineering and production. The information technology era was largely credited with invention and improvements in transistors and integrated circuits leading to the introduction of computers. We are now entering the era of the fourth industrial revolution, in which massive processing capacity of semiconductor chips will lead the digitization and rapid innovation using digitally connected end-to-end enterprises.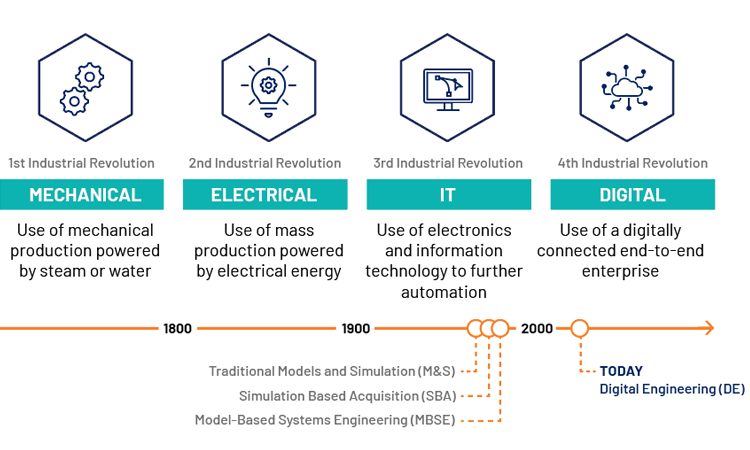 In each of these major industrial revolutions, engineering discipline has been at the forefront by adopting newer tools and processes to bring innovation to the fore. If you have worked in engineering long enough, you have undoubtedly encountered new methods and tools along the way. While some of these methods and tools have gone by the wayside, others have engrained themselves because of their benefits. Model-based systems engineering (MBSE) is one of those methods that will propel industries into the digital realm.
This is not just the opinion of engineers here at Mercury; it goes all the way up to our customers at the Department of Defense, as detailed in the 2018 DoD Digital Engineering Strategy. In an effort to stay ahead of near-peer adversaries, the DoD released their Digital Engineering Strategy, which serves as the roadmap for Government and Industry, leading to increased efficiency in engineering and acquisition utilizing MBSE. Recent examples of DoD programs that utilized MBSE are T-7A Redhawk Advanced Trainer, Ground-Based Strategic Deterrent (GBSD), Next-Generation Air Dominance (NGAD), and the B-52H Re-Engine Program (CERP). These recent ACAT 1 programs' use of MBSE modeling benefited by shortened development cycles using simulation or digital twins prior to hardware development. Additionally, programs benefited from technical and programmatic risk reduction as a result of more refined requirements earlier in the development process, as well as better configuration management leading to lowered cost throughout the program lifecycle.  
At Mercury, we are always leaning forward so our customers realize their vision and end-users achieve mission success. "We're proud of the actions and changes we've made to support digitally native programs that ensure mission success for the end military user and to reduce integration risk," says Mercury's Chief Technology Officer, Dr. Bill Conley. As part of our larger 1MPACT transformation initiative launched last August, Mercury's Global VP of Engineering, Jim Gallagher, is leading an enterprise effort to digitally transform our engineering capability – how we design, build and deliver our solutions to the customer.  MBSE is one of these initiatives. Even before our 1MPACT transformation began, Mercury hired industry-leading MBSE modelers to build a team dedicated to enabling the enterprise on MBSE practices and developing the infrastructure to support it. Mercury chose the same industry-leading and standard tool for model-based systems engineering used by our customers to support our modeling efforts, the Cameo Systems Modeler (a.k.a. NoMagic) and Cameo Teamwork Cloud. "Model-based systems engineering is an integral part of our Mercury Digital Transformation.  We recognize that modelling our designs prior to hardware build leads to higher quality products, increased reuse, improved testing capabilities and faster implementation of both the initial design and changes. I know that our efforts will result in increased collaboration with our customers and an improved customer experience.  I am excited about the progress we have made with this critical initiative." says Gallagher.
As a result of this foresight in adopting a digital enterprise approach, our team is currently working on more than a dozen active modeling efforts across the company to support the acquisition and development of our customer programs. We are continuing to add talent to our team by hiring additional MBSE modelers with systems engineering expertise. Additionally, we're beginning to roll out our in-house training program to enable Mercury systems engineers, as well as supporting team members, to acquire modeling capability on an enterprise-wide basis. Many of our modelers are working closely with our current customers to model the systems we develop for them and execute the valuable analyses that digital engineering offers. This will lead to faster development cycles and higher-quality systems delivery across Mercury's product spectrum. Ultimately, the increased efficiency in design and confidence in performance will lead to faster fielding of technologies to meet current and future defense challenges.