BLOG MENU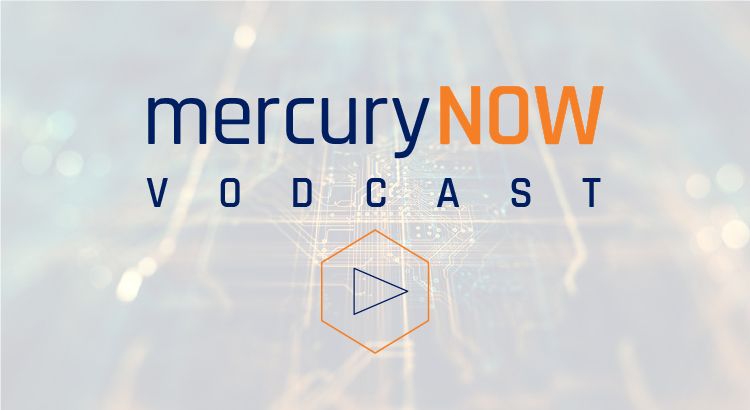 Mercury Talks Custom Microelectronics at the 2022 GOMACTech conference
Mercury Systems
April 4, 2022
READ THE TRANSCRIPT
Ralph Guevarez:
Hello, and welcome to MercuryNOW, a vodcast series brought to you by Mercury Systems. I am your host, Ralph Guevarez. And today, we are coming to you live from the Government Microcircuit Applications & Critical Technologies Conference, also known as GOMACTech, in Miami, Florida, where Mercury is showcasing high speed digitization at chip scale. We have new microelectronic solutions ready to accelerate the latest in defense applications. Joining me today is Tom Smelker, Vice President and General Manager of Mercury's Microsystems Business Unit. Tom, thank you for your time, and it's so great to finally meet you in-person.
Tom Smelker:
Ralph, I agree. It's great to meet you in-person after all this time. And it's great to be with all of our peers here at GOMACTech this year.
Ralph Guevarez:
Absolutely, absolutely. Now, Tom, Mercury has made a significant investment in our microelectronics division. Please tell us why.
Tom Smelker:
Mercury is at the intersection of high tech and defense. And we invested two and a half years ago in bringing the latest state-of-the-art advanced packaging to US soil and reshore it for our aerospace defense and space customers.
Ralph Guevarez:
Thank you, Tom. Now, could you explain to our viewers how important SiP is to the aerospace and defense industry?
Tom Smelker:
Absolutely. So SiPs, our system-in-packages are extremely important on that modernization thrust that our customers have. So think of drive, we're now able to push processing to that sensor edge, and that's enabling so much opportunity and creating so much new capabilities. So ingesting more spectrum, creating more information from the data there, acting on it real-time, bringing advanced algorithms such as AI to the sensor's edge, and reducing the time it takes to act on that data, creating that information is what it's all about. So it's also exciting about how we're able to move and customize the solutions and move the processing to much harsher environments that we haven't been able to do in the past. And that's what Mercury's all about, making microelectronics profoundly more accessible to our defense customers in the environments that they need.
Ralph Guevarez:
Thank you for that, Tom. Now, I understand we have some pretty exciting news that we're sharing at GOMACTech. Please elaborate.
Tom Smelker:
Yes, Ralph. It's very exciting. Our latest RF system-in-package, the RFS1140 is really revolutionizing how we do RF processing at that sensor edge I was talking about.
Ralph Guevarez:
Right.
Tom Smelker:
So bringing that direct to digital RF, high-end ADCs and DACs with the latest generation FPGA fabric, integrating Mercury's memory stacking capabilities, power management, all in a very small form factor. It's going to revolutionize how radar systems process the signals, how EW systems process. And it's really exciting to be part of that and bring it to our customers and working with our Silicon Valley partners in doing that.
Ralph Guevarez:
Great. Now, Tom, where can our viewers find information on that and all of our products?
Tom Smelker:
Absolutely. So please come mrcy.com, our website. And by the way, I'll even put a point out for my blog on our website, too. So always talking about the latest generation microelectronics and what Mercury's doing to bring that to our space and defense customers.
Ralph Guevarez:
Tom, thank you again for your time.
Tom Smelker:
Absolutely, Ralph. It's great to be here.