Company Culture
We are aware that the workforce required to grow our business and deliver creative solutions is rich in diversity of thought, experience and culture. Our diversity and inclusion focus on building and maintaining the talent that will create cohesive and collaborative teams that drive innovation.

Culture and Values
Our industry leadership is attributable to the spirit and commitment of our employees.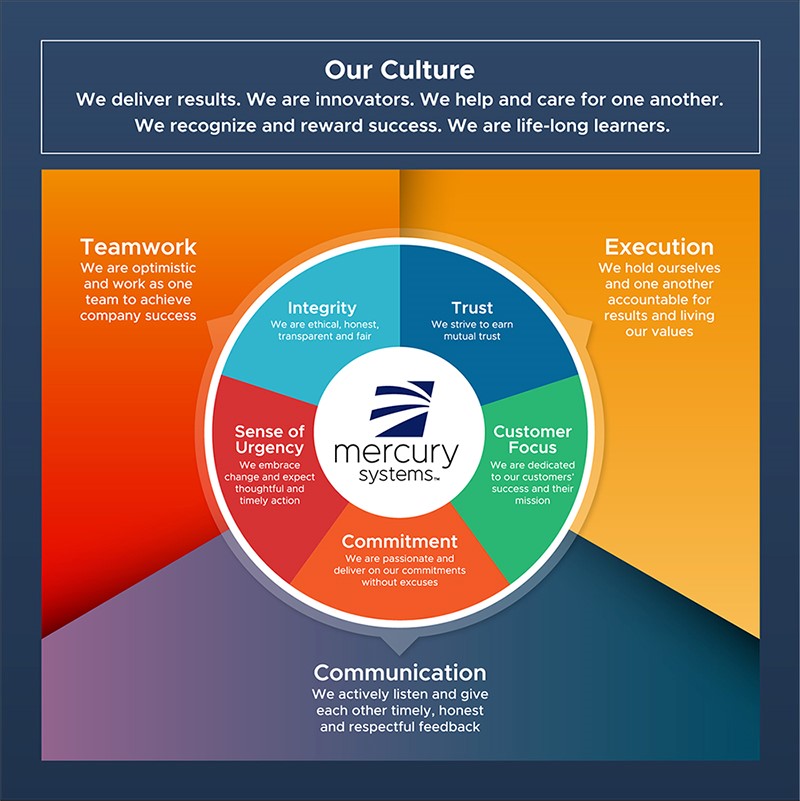 Our Value Proposition
We are a destination employer for high performing, diverse, global talent. We deliver a world-class employee experience in a fast paced, energetic and innovative environment that values results, caring and learning.
World Class Employee Experience
We are dedicated to providing a world class employee experience and maximizing the potential of our greatest asset — our people. We embrace growth and the opportunity it brings, with a focus on: a healthy, vibrant, high performance culture; organizational effectiveness; a robust talent pipeline; compensation that recognizes and rewards success; and lifelong learning and mentoring.
Our Work Environment
We are committed to making Mercury a great place to work, no matter where our employees are located. We offer a casual and enjoyable work environment and encourage employees to get involved. Our social committees at each site organize a range of engagement activities including: holiday celebrations, participation in community events such as blood drives and organized family-friendly events.
Our Community
At Mercury, we believe in building strong communities both inside our company and in the areas where we live and work. We are committed to our vision for strong communities, and we are taking action to achieve our goals. We strive to positively impact our local and global communities and understand that an important part of our success is giving back. As a community, we participate in charitable and educational initiatives around the world, donating time and contributing financially to community organizations focused on our country's youth and armed/veteran services. Additionally, our team members are involved in numerous community service and fundraising events throughout the year.