EO/IR
We produce the most powerful onboard UAV processor systems for real-time Wide Area Motion Imagery (WAMI) and Electro-Optical (EO)/Infrared (IR) data processing. These systems digest multiple simultaneous image sources to produce imagery for storage and exploitation.

Our advanced EO/IR solutions process large numbers of gigapixels of data every second. The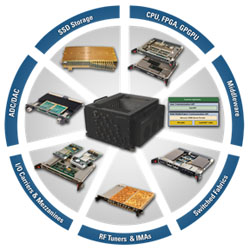 algorithms needed to extract vital information, such as chip-outs, are equally capable. MDS leverages decades of software experience in the field of embedded processing to meet these EO/IR processing requirements. By exploiting the strengths of a heterogeneous mix of the most capable processing elements, whether they be FPGAs, CPUs (uniquely including ruggedly packaged Intel® Xeon® server-class devices) and GPGPUs, Mercury solutions are able of ingesting this unrelenting flood of data, and perform advanced processing and exploitation for the warfighter — in real-time.
Our SWaP optimized EO/IR processing subsystems feature rugged Open System Architecture (OSA), heterogeneous compute resources that incorporate Intel, Freescale and GPGPU ecosystem resources. These subsystems feature advanced cooling technology and exportability options making them ideally suited for EO/IR platform modernization and new high altitude, long endurance missions.
Related Info: