GPGPU
Meet Challenging Signal and Image Processing Requirements
The new generation of mobile defense platforms for C4ISR and industrial applications requires more optimization for SWaP than ever before. Mercury addresses these challenges with signal and image subsystems designed to fit into small spaces and operate under difficult conditions. The result? Some seriously powerful, rugged — and affordable — GPU-based solutions.
Achieve Higher Performance With GPGPUs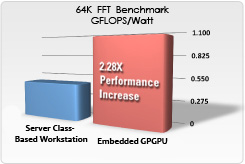 Mercury is renowned for harnessing GPGPU power to meet the performance requirements of today's most demanding applications. In fact, our GPGPU products offer the highest raw GFLOPS and GFLOPS/Watt performance available in the HPEC industry (see graphic).
Accelerate Your Time to Market
When it comes to exploiting GPGPUs — and enabling applications to take advantage of their raw power — Mercury is second to none. Power management features provide SWaP-friendly power concentration and conservation control. Our versatile software packages support the latest graphical processing units from both AMD and NVIDIA. In addition, our GPGPUs are embedded in the industry standard MxM form factor to accelerate time to market.
A History of GPGPU Innovation
Mercury has a seven-year track record of bringing the tremendous processing advantages of GPGPUs to a wide range of defense and commercial applications. Mercury first implemented GPGPUs in 2004 as part of a medical imaging application, and continues to deliver numerous GPGPU-based solutions, including a wide range of currently deployed, high performance ISR subsystems.
Take the Next Step
Products
White Paper
Comparison of Embedded Solutions for Signal and Image Processing: GPU vs. Intel Core i7 vs. MPC8641D