HDSlim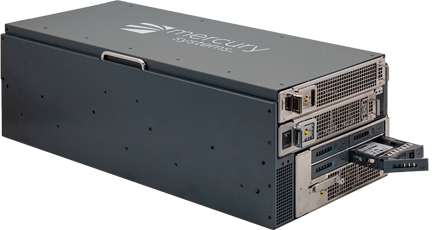 Mobile High Density Server
Only 9.9" (25cm) wide, 20" (53cm) deep, and 4RU (17cm) high, the HDslim accommodates existing and upcoming rear I/O RES-HD modules to reduce the total cost of ownership. Typically weighing 40lbs with four modules, the system can be carried aboard commercial airliners, aircrafts, and vehicles with ease.
Features
Fits in commercial airline bins
Up to 480TB of storage with 24 HDD/SSD drives
100GbE switch option
MIL-STD-810G, MIL-STD 461
Multiple Power Options: dual 1200W AC, 1100W 48V DC, or 800W 28V DC power supplies.
Modular Composability Configuration
With over six processor, storage, high-speed switch, global fabric extension, and system management modules, operators can configure and reconfigure the HDslim according to application needs. Rather than removing and opening up the entire server - simply "plug and pull" modules during technology maintenance or upgrades. Modules themselves can be mixed and matched - reducing costs associated with spares. The HDslim accommodates previous, current, and future RES HD modules - eliminating the need to rip and replace and reducing the total cost of ownership.

Available Modules
A part of the RES HD product line, the HDslim has four modular bays that accommodate previous, current, and future RES HD modules:
Height: 4RU or 7" (177.8 mm)
Width: 9.9" (25.1 cm)
Depth: 20.7" (526 mm)
Chassis Weight: 18.1l lbs (8.21l kg ) with power supplies
Additional Options
Shock Pins
Front Door Filter
Slide Rails
Power Supply Options
Single or Redundant 100/240V VAC (1200W, 50/60Hz, 400Hz)
Single or Redundant 10-36 VDC, 32 Amps
Single or Redundant 36-72 VDC, 18 Amps
Operating
Temperature: 0°C to 50°C
Extended Temperature: -15°C to 65°C
Humidity: 8% to 95%
Shock: 3 axis, 35g, 25ms
Vibration (10-2000Hz): 4.76Grms, 5Hz to 2000 HZ (SSD)
Non-Operating (if different)
Temperature: -40°C to 70°C
Humidity: 5% to 95%
Reliability
Safety: EN60950
RFI/EMI: EN 55032, EN 55024, EN 61000
MIL-STD 810G