HDversa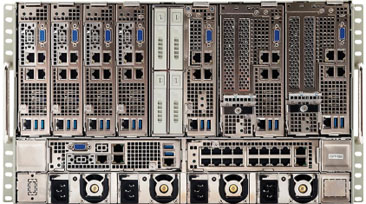 Common Composable Solution
Designed for applications that require minimum size, weight, and power (SWaP) - the Themis HDversa features twelve module bays for standardized compute, storage, PCIe expansion, networking, and management modules.
Achieve optimum performance and precise functionality for a multitude of applications by mixing over five module types. Each module shares common attributes—allowing users to simply plug and pull modules according to specific system needs.
Minimum Size, Weight and Power (SWaP)
Only 10" deep and 6U tall, the HDversa is a lightweight, low power, high density computing platform—requiring 50-100W of power for each module. It can be mounted in place of a VME sub rack in a standard 19" rack.
High Performance
A configured HDversa system can contain up to twelve Intel Xeon D processors with 1.5TB memory or up to 160TB SATA storage with seven Intel Xeon D Processors and 1.5TB memory.
The Perfect Solution is Only a Module Away
The Themis HDversa is a low power, lightweight server which features twelve bays that hold between seven to twelve single or double slot modules. Each module is designed for a special purpose—compute, storage, PCIe expansion, networking, or management—and can be plugged into the chassis in any combination.
This configuration flexibility simplifies logistics and allows users to design a solution best suited for their application.
Choose

Your Modules

Each module embeds the latest commercial off the shelf (COTS) technology components. Compute (HDC), storage (HDS4), and PCIe expansion (HDP) module contains an Intel Xeon D processor with eight or sixteen cores and up to 128TB DDR4 ECC memory. Advanced thermal and mechanical design features provide superior resilience to shock, vibration, and temperature extremes.

Application Highlight: The Future is Here: Self-Driving Cars
Autonomous vehicles are here and our compact, low-power, rugged servers have paved the way. Sitting in the trunk, our server is the brain of the vehicle; packing multiple Intel Xeon D and GPU processors to run the advanced software that gets you to your destination safe and sound. With twelve reconfigurable modules, this highly flexible server can accommodate the rapidly evolving technology of current and future vehicles.
Downloads
Deployability and life-cycle management is one of the most critical challenges facing DoD today. In our Tech Brief learn how we bring commercial concepts to the military market.
Download Now