RES-XR6 2U Rugged Server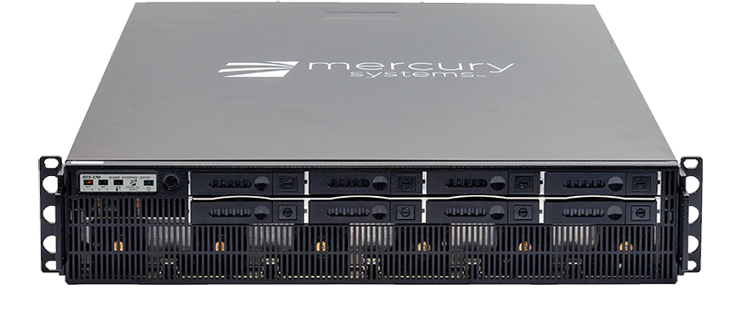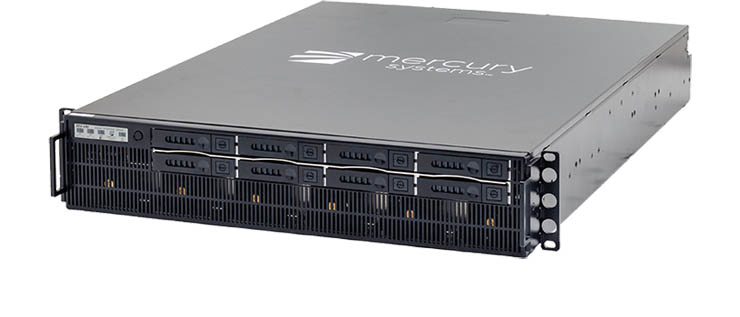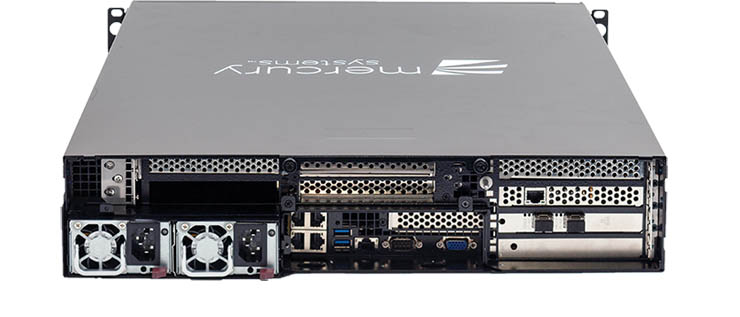 23 Inch Deep, 8 Drive, Rear I/O Server
Featuring four Intel® Xeon® Scalable Processors, 6TB memory, up to 240TB of storage, and enhanced reliability features, the RES-XR6 2U Quad accelerates compute-intensive workloads for virtualization and applications such as signal intelligence, cryptography, AI, surveillance, analytics, communications, and audio/video processing.
Designed for the Field
Dual redundant, hot swappable AC or DC power supplies provide high availability while a specially designed dust cover, new memory retention + vibration dampeners, and optional tamper-evidence features offer users extra security for operations on the move.
Space Optimized Performance
Optimized for size, weight, and power (SWaP), the system weighs only 30 lbs and is 23" deep. A robust array of high speed I/O, storage options, enhanced security features, and expansion choices allow users maximum flexibility for current and future system requirements.
Up to four Intel Xeon Scalable Bronze, Silver, Gold, or Platinum CPUs with up to 28 cores per socket
Up to 6TB DDR4 ECC memory
8 hot-swappable disk drives and 7 PCIe 3.0 cards
MIL-STD: 810G, 901D, 167-1, 461
Two onboard 1Gbit Ethernet (optional 10Gbit Ethernet) ports
The system incorporates advanced thermal and mechanical design features to provide superior resilience to shock, vibration, dust, sand, and temperature extremes.
4 Intel Xeon Scalable Bronze, Silver, Gold, or Platinum CPUs
with up to 28 cores per processor
Up to 6TB memory with 64 DIMM slots
Management and Operating System
Windows®, Linux®, VMWARE® and other hypervisors
IPMI v2.0, Redfish option available
TPM 1.2 or 2.0 Support
Expansion and Modular Maintainability
Onboard M.2 SATA slot
PCIe 3.0 card options (horizontal):
Up to 7 full-height PCIe cards (mix of x4, x8, and x16)
Or up to 5 full-height PCIe 3.0 x16 cards
Input/Output Versatility
Front Access
8 Removable, Hot Pluggable, 2.5" SATA/SAS3 drives, U.2 NVME option available
1 Power Switch
Rear Access
4 1GBaseT Ethernet Ports (RJ45)
2 USB 3.0
1 IPMI 2.0
1 VGA Graphic Port
Power Supply Options
Dual Redundant 100/240V VAC (50/60Hz)
Power Consumption: 1600W
Additional Options
Shock Pins
Front Door Filter
Slide Rails
Tamper-Evidence Features

Environmental*
Operating
Temperature: 0°C to 55°C
Extended Temperature: -15°C to 65°C
Humidity: 8% to 95% (non-condensing)
Shock: 3 axis, 35g, 25ms
Vibration: 4.76Grms, 10Hz to 2000 Hz (SSD)
Non-Operating
Temperature: -40°C to 70°C
Humidity: 5% to 95% (non-condensing)
Mechanical
Height: 2U or 3.5" inches (87.8mm)
Width: 17 inches (438mm)
Depth: 23 inches (583mm)
Weight (Typical)*: 30 pounds (13.6kg)
19" rackmountable
* Mercury Systems designs all products to meet or exceed listed data sheet specifications. Some specifications including I/O profiles, weight, and thermal profiles are configuration dependent. Contact Mercury for information specific to your desired configuration requirements.
Downloads
Want product information in PDF format? Download our datasheet to find out more.


Download Now
View our entire product offering. Our RES servers are designed from the ground up for mission critical applications where performance, reliability, and up-time are crucial.
Download Now