BLOG MENU

Privacy policy emails everywhere!
Mercury Systems
July 3, 2018
By now, I'm sure both your work and personal email inboxes have overflowed with GDPR-initiated emails around "updated privacy policies" and new "we protect your data" messages. I know mine have.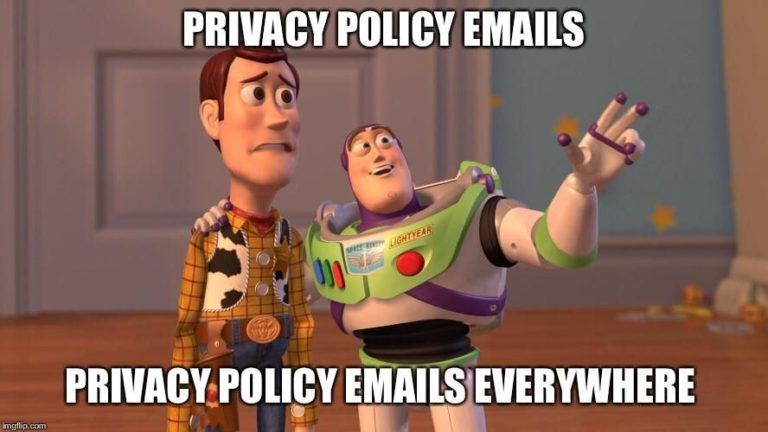 In case you haven't heard, a new data privacy law called General Data Protection Regulation (better known as GDPR) took effect on May 25th. This law affects all people in the European Union – but its impact is global. This law aims to strengthen data protection for rights for EU residents and to streamline data protection laws across all EU countries. And the fines for non-compliance are steep - up to 4% of annual global revenue or €20M, whichever is greater!
Following CAN-SPAM (US) and CASL (Canada), GDPR is the latest in a series of government regulations that promises to have a major impact on the way firms conduct business. Of these, GDPR is the most far-reaching in that it not only impacts email communication (the focus of CAN-SPAM and CASL) but also the way companies gather, store, protect, share, and utilize personal data.
GDPR means big changes in the way businesses collect, store and process information about individuals. When holding personal information, businesses must ensure:
It is processed lawfully, fairly and in a transparent manner

It is only processed for a specified, explicit and legitimate purpose

Any information held must be relevant to the specified purpose

All data must be accurate and up to date

No data is kept for longer than necessary

Information is handled and processed in a way that maintains security
What does this mean?
Basically, this means that you get to dictate which companies get to collect data on you, how they do it and how long they keep it. And if you don't want anyone to collect your data, you can do that, too.
Why is my data so valuable?
Your data IS valuable – to both companies and you. For me as a marketer, if I know you downloaded our previous whitepaper on "Safe Guarding Mission Critical Data with Secure Solid State Drives" then I probably would want to let you know about our new whitepaper on "Demystifying Hardware Full Disk Encryption Technology for Military Data Storage." I need to have the data that you did step one in order to send you step two. You see value in getting new, useful information; we benefit by getting this info into your hands.
Think about your personal life. I like to read books. I get emails from Book Bub, Riffle, Simon & Shuster, Barnes & Noble and Amazon. I really like that they get to know which genres I'm most interested in. They serve up ideas for new books I'd like to read. I don't have to scroll through so many items before I get to ones that interest me. This is where website tracking and cookies come in handy.
But there is also the ugly side of data collection and the misuse of your information. All I have to say is Cambridge Analytica and Facebook. And also there is the threat of data theft – especially when a company has your sensitive data. At the end of the day, I believe this law is a good one. It puts more power in consumer hands to manage where our data is collected and for what reasons. I can say that we at Mercury take this law very seriously.
We believe that if you don't want us to track your actions on our website, we shouldn't, so we won't

We believe that if you want to download a whitepaper, then you should be able to do so – and we will take NOT send you marketing emails unless you opt in
Our goal is to only communicate with people who want to receive those communications. And we don't send a lot of email. Currently, we have two customer newsletters:
Defense Connections goes out 6 times a year and covers sensor processing, avionics, C4I and other areas

Making Waves goes out 4 times a year and focuses on Electronic Warfare and RF/Microwave technologies
And you can control which communications you want to receive at our Preference Center webpage.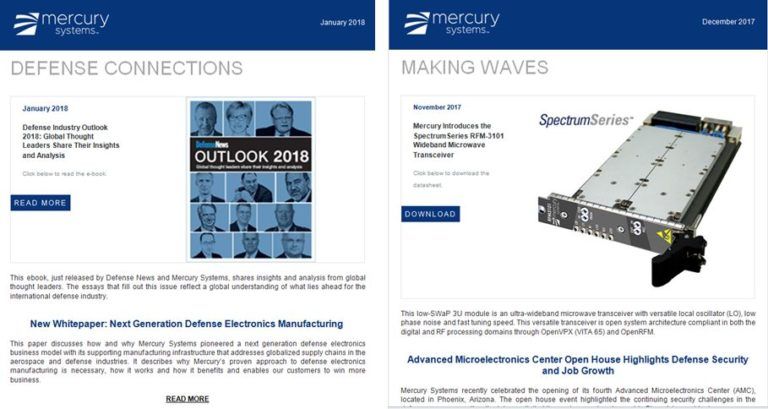 It will be interesting to see how the GDPR law impacts us all. I think it is only the start of more strict laws that will help people protect their data. And I welcome that change.