BLOG MENU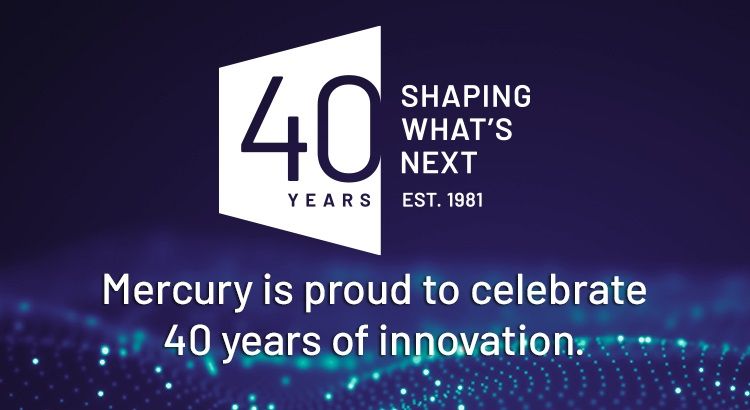 Shaping what's next: 40 years of innovation
Mark Aslett, President and CEO
July 14, 2021
The year 2021 marks the 40th anniversary of Mercury Systems. In the wake of an unprecedented global health crisis, it's also a special year for demonstrating our resilience and authenticity and establishing a sense of normalcy. It seems fitting that during this time of great transition we have a heighted sense of appreciation for being in business for 40 years—a major achievement for any company.
While it's not yet the right time for a full-blown anniversary celebration, it's still important for us to reflect on our past and look ahead to a bright future. Mercury was founded by Jay Bertelli on July 14, 1981. Interestingly, this was also the first year that the word "internet" was mentioned, and when MS-DOS was released by Microsoft along with the first IBM PC. 1981 was also marked by NASA's launch of the inaugural Space Shuttle mission, which successfully carried two astronauts into space.
The number of changes we have seen since our founding and the advances we have made as a company over the past four decades are incredible. Besides overcoming some very bad '80s hair and fashion choices, we have built a legacy of which we can be proud. We've transformed our business and our identity. Our brand voice has evolved to one that is more human and articulates our position as a leader at the intersection of high tech and defense.
Since we opened our doors 40 years ago, we've accomplished much, including:
Increasing our workforce by 10,000 percent
Listing on Nasdaq in 1998
Completing more than 20 acquisitions, contributing to our tremendous growth
Expanding our global presence to include offices throughout the United States, North America, Europe and Asia
It would be nearly impossible to list all of our achievements, but the following timeline does a great job highlighting our 40 years of leadership in the aerospace and defense industry.
When I first joined the company in 2007, our objective was to grow Mercury's leadership position as a trusted commercial technology provider for aerospace and defense —and we have been working relentlessly to achieve that status. Today, I'm proud to say Mercury is the leader in making trusted, secure mission-critical technologies profoundly more accessible to aerospace and defense. Our work is inspired by our Purpose of delivering Innovation That Matters, By and For People Who Matter helping create a safe and secure world. The results to date speak for themselves and have exceeded my expectations. From advancing the development of leading industry open standards to introducing game-changing chiplet technology, Mercury has a history of delivering innovative solutions that go beyond what was previously thought possible to help make a difference in the lives of those we serve.
Today, as we approach $1 billion in revenue with 20+% EBITDA margins and reach this anniversary milestone, Mercury is at an inflection point, and it is time to both celebrate our past and take a fresh look at how we can accelerate our growth and continue to create value for all of our stakeholders. We intend to take full advantage of our position of strength and the opportunities at hand to continue to scale Mercury to create value as we look toward the next milestone in revenue.
Although much has changed over the years, there are some things that have remained the same—our commitment to our people and to our customers. I appreciate each member of our Mercury team and recognize we wouldn't be where we are today without the contributions made by all. To our team members and all of Mercury stakeholders, thank you for the loyalty you have shown. I am incredibly excited about how our journey has unfolded, but even more excited to continue shaping what's next. I truly believe the best is yet to come.