BLOG MENU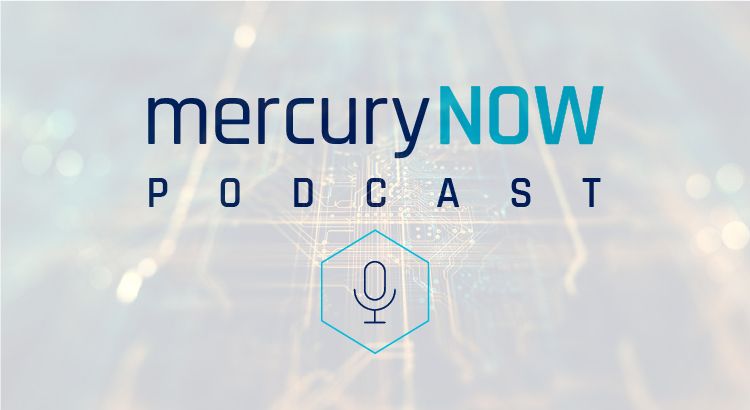 A Trusted and Secure Ecosystem for Microelectronics
Mercury Systems
June 15, 2020
With recent testimony before Congress signaling an increased focus on defense microelectronics and the stability of its supply chain, Mercury Systems CEO Mark Aslett joined the MercuryNOW podcast to share his thoughts about the importance of addressing the entire microelectronics capabilities ecosystem critical to the nation's defense.
Read the transcript.

Ralph Guevarez:

Hello, and welcome to MercuryNOW, a podcast series brought to you by Mercury Systems. I am your host, Ralph Guevarez in today's topic. A trusted and secure ecosystem for microelectronics, as the Pentagon continues to make microelectronics modernization a number one priority in light of COVID-19. I'm excited to introduce my next guest, Mark Aslett, CEO and president of Mercury Systems. Mark, good day and welcome.

Mark Aslett:

Hello, Ralph. And thanks for having me.

Ralph Guevarez:

Mark, as I look at Mercury Systems background, it was originally founded as Mercury Computer Systems, but you focused the company on the defense market and changed the name. Now, can you tell our listeners how Mercury came to focus in this area?

Mark Aslett:

Sure Ralph. So, when I joined the company, you're right, the name of the business was Mercury Computer Systems. And, when I took over, Mercury had gone through a period of quite significant diversification into different end markets. Despite that, the defense business inside of Mercury was always really the economic core. So, what I set about doing was to really refocus the business back on the strength inside of defense.

Mark Aslett:

But over a period of time, we had transitioned our capability set from just providing high performance computing solutions for defense applications, into being able to provide more complete subsystem solutions for censoring the fact that mission processing. And so, we decided to change the name from Mercury Computer Systems to simply Mercury Systems. Because the computer in the name really became a little challenging to understand that the scope and the scale of what we can provide had changed substantially over time.

Ralph Guevarez:

Now, building on that point, it's really insightful to see how you identified the need to protect the supply chain for electric parts years ago. Now, as you look at the ecosystem today, how is it now constructed?

Mark Aslett:

So, proactive communications, regular interactions with suppliers and customers to balance the risk more holistically. So, while the DOD is opened to so-called section 3610, to allow for COVID related expenses to be billed back to the government. I'm proud to share that we've successfully navigated these turbulent times and delivered to our customers.

Mark Aslett:

I was glad to see the Under Secretary of Defense for Acquisition and Sustainment testify to Congress that she's addressed many of the challenges with components coming from Mexico. Their government really hadn't considered that defense suppliers essential in the same way that we had in the United States. And in fact, Mercury's relationships with key suppliers have become more bilaterally, more strategic.

Ralph Guevarez:

That's a really valuable point related to the bilateral sharing of knowledge, insight, and data. Now, as I mentioned in my opening statement, I've been reading recent materials from the Pentagon that micro electronic modernization is now their number one priority. What are your thoughts on this evolution?

Mark Aslett:

It's a really critical step for the DOD to take in recognizing that microelectronics and the trust of our supply chain is the number one priority for the DOD to address. As we've seen with globalization over the past several decades, the majority of microelectronics are actually fabricated overseas, particularly in East Asia.

Mark Aslett:

While I understand the market and investment dynamics that drove this evolution, it's clear that there are substantial risk that is introduced into A and D microelectronics. In addition, at the same time the foundries have moved to East Asia. The volume of the components used to defend systems has decreased. Our own CTO has stated that less than 1% of micro electronics components are actually now used in defense applications globally.

Mark Aslett:

So, this increasing outsourcing as well as decreasing volume required for military electronics have really made this supply chain very fragile.

Ralph Guevarez:

That surprises me to be honest, I would have expected military systems to require the most exquisite and substantial micro electronics components. Wouldn't you agree?

Mark Aslett:

You're right, Ralph. On the defense requirements being exquisite, but there is substantially more cell phones as well as vehicle sale of each year when compared to tanks, radars or electronic warfare systems. And, these military systems require much higher performance from the electronics, but the volume is far smaller than the consumer markets the high tech companies are focused on.

Ralph Guevarez:

That's a really insightful point. Now, could you expand on how the defense micro electronics market functions? It seems like the mix, the volume and the technical requirements would make it different from non-defense markets. Your thoughts.

Mark Aslett:

Yeah. Thanks Ralph. This question really does address how we position Mercury at the intersection of high tech and defense. I think many of you probably know that last year we invested $15 million of our own capital into an expansion of our Phoenix facility to meet this exact need. Actually, a new way of making micro electronics that has matured over the past couple of years. And that's called chiplets.

Mark Aslett:

These chiplets are smaller than traditional components. Traditionally a single piece of Silicon was packaged into a component. Chiplets allow for individual functions to be tailored into a very specific design. The chiplets are then connected inside of a package part with what is known as Silicon interposers. You can think of these interposers as really being a routing path that connects the different optimized processes.

Mark Aslett:

So, by blending different sets of chiplets, a few basic designs can be composed into an amazingly diverse number of applications. To use a music analogy, each symphony is made up of the same instruments, but by blending them together differently, very different music is produced by each one. But the core intellectual property, the individual instruments are really all the same.

Ralph Guevarez:

As a musician I appreciate the metaphor. It's often hard to understand the nuances of microelectronics. Their functioning is amazing, but an individual packed part may not look different from any other one. So, can you please expand on what Mercury is doing with chiplets?

Mark Aslett:

Yeah. I'd love to. Look, it's a really exciting time. What we're able to do now is to take advantage of the most advanced Chiplet they're available and bring them together much as what you would do with Lego building blocks to provide the needed capability for our customers.

Mark Aslett:

We underpinned the trust of the supply chain and the security of these electronics capabilities to really meet our customer's needs. What we found is that the suppliers of Silicon are not really interested in doing designs for many defense applications, the volumes are too low, the mix is too high, and the exquisite processes used for military systems don't really fit that well with their business model.

Mark Aslett:

Now, in comparison, if you look at Mercury, these factors all play into ultimately supporting our purpose, which is innovation that matters by and for people who matter. We've optimized our processes to support the hundreds of military platforms that are procured each year. We've optimized our design tools to respond in a very agile way to meet the diverse mix of requirements of our customers and we continue to partner with the government to address supply chain challenges associated with our electronics.

Ralph Guevarez:

Thank you for the detailed answer Mark. I really appreciate that. I've also read recent statements from congressional and defense leaders about increasing investments for ensuring the United State's micro microelectronics capabilities. So, how do you see that strategy playing out, and what opportunities do you plan on contributing to?

Mark Aslett:

So you're right Ralph. There are really are several different bills being put forward in Congress that would increase the policy expectations for securing the supply chain as well as increasing investment in companies providing these essential capabilities. Now, some of these bills are about national competitiveness. Others are about industry, and a final bill is really around the academic research to support our national competitiveness.

Mark Aslett:

As I touched upon, we need to invest in the entire ecosystem. The foundries are part of the solution, but also companies like Mercury, which tailor these micro electronics to be profoundly more accessible to aerospace and defense. Lastly, we need to ensure that the prime integrators are able to fully integrate these very advanced capabilities into our future designs quickly and affordably.

Ralph Guevarez:

That's a great point about the need to invest in the full ecosystem to deliver the desired results. Mark, I'd like to take this opportunity to thank you for your time and your insight. It was great speaking with you, and I wish you safety and good health as you continue to drive Mercury System forward. Thank you.

Mark Aslett:

Well Ralph, thank you for the invitation to speak with you today. I think you asked some great questions and it's a really important topic for the industry and for our nation. Thank you.

Ralph Guevarez:

This has been another edition of MercuryNow, the podcast series brought to you by Mercury Systems, I'm your host Ralph Guevarez, signing out.