Secure and Powerful - Mercury 5th Gen Intel Xeon Data Center Server Blade
The EnsembleSeries HDS6605 is a 6U OpenVPX server blade powered by Intel® Xeon® Scalable processor (formerly codenamed "Cascade Lake"), 40Gb/s or 100Gb/s Ethernet switch fabrics. This powerful server blade is available with MOTS+ technology for extreme environmental protection and BuiltSECURE proven built-in systems security engineering for deployment anywhere, and is SOSA-aligned for maximum interoperability and technology reuse.
The HDS6605 is the industry's first OpenVPX server blade powered by Intel 2nd generation Xeon Scalable processors and built-in AI acceleration. A truly composable processing architecture that delivers data center processing capability to the edge.
Features:
Intel Xeon Scalable server-class processor, 1.9 GHz, 22-core
96 GB - 192 GB DDR4-2400 SDRAM per blade
40 Gb/s - 100 Gb/s Ethernet high speed switch fabrics
Gen 3 PCIe co-processing and I/O expansion plane communications
BuiltSECURE systems security engineering (optional)
MOTS+ extreme environmental protection (optional)
SOSA aligned and VITA 65 compliant
Extreme processing performance
Give your application the most powerful embedded general processing power available. Powered by a 22-core Intel Xeon Scalable processor with Deep Learning Boost, which extends Intel's Advanced Vector Extensions-512 (AVX-512), accelerates inference applications and other big data processing and AI applications. New embedded Vector Neural Network Instructions (VNNI) accelerators speed up dense computations, characteristic of convolutional neural networks (CNNs) and deep neural networks (DNNs), delivering up to a 14x improvement in inference performance compared to first-generation scalable processors.

Embedded Composable Data Center
HDS6605 data center server blades are the cornerstone of a truly composable high performance embedded edge computing (HPEEC) solution. When combined with other EnsembleSeries high-performance compute modules, including the latest data center GPU coprocessors, and interconnected with wideband, low-latency PCIe switch fabrics, your application leverages the power of a data center. These big data processing solutions can be tailored to your specific platform and deployed in the harshest and most SWaP-constrained environments.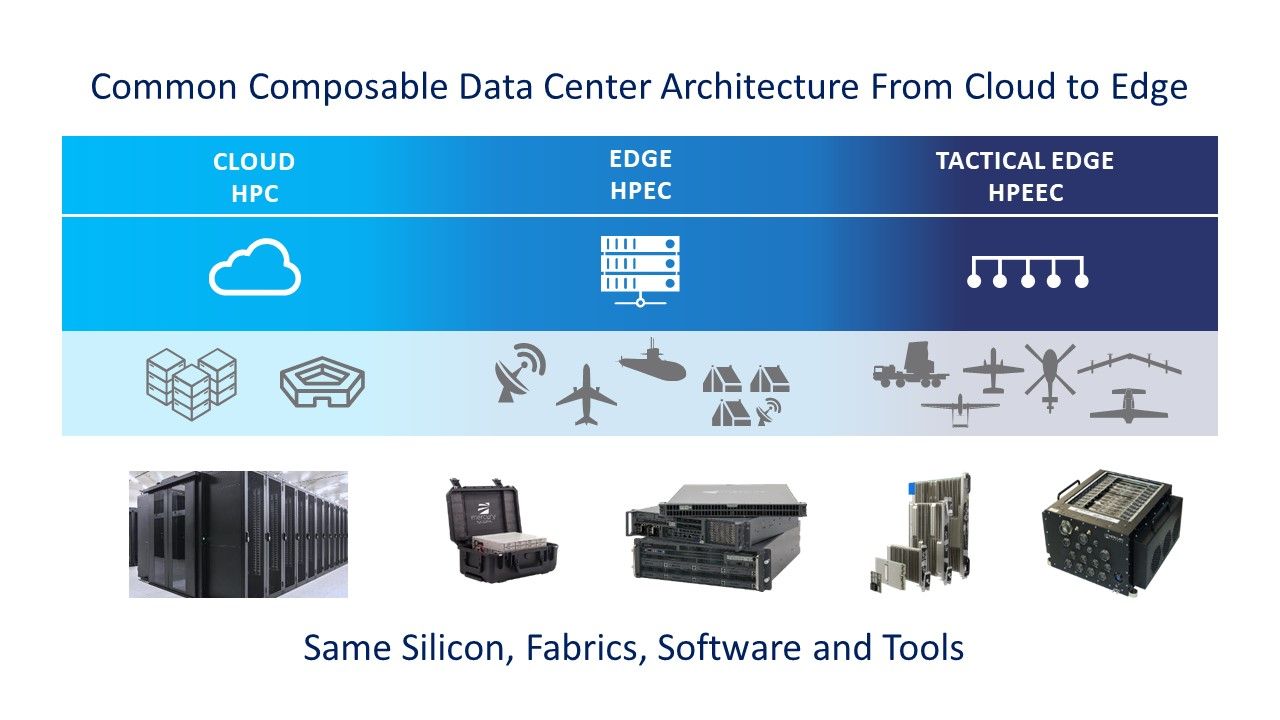 Affordable, Interoperable and Upgradable
Deploy faster by building your next HPEEC processing solution with EnsembleSeries server blades. The HDS6605 is based on open architecture standards including Sensor Open System Architecture (SOSA) for interoperability, scalability and reuse. Drive affordability, performance and lower your program risk by using an architecture that evolves at the speed of technology, follows Intel's technology roadmap and leverages commercial data center hardware, software and IP.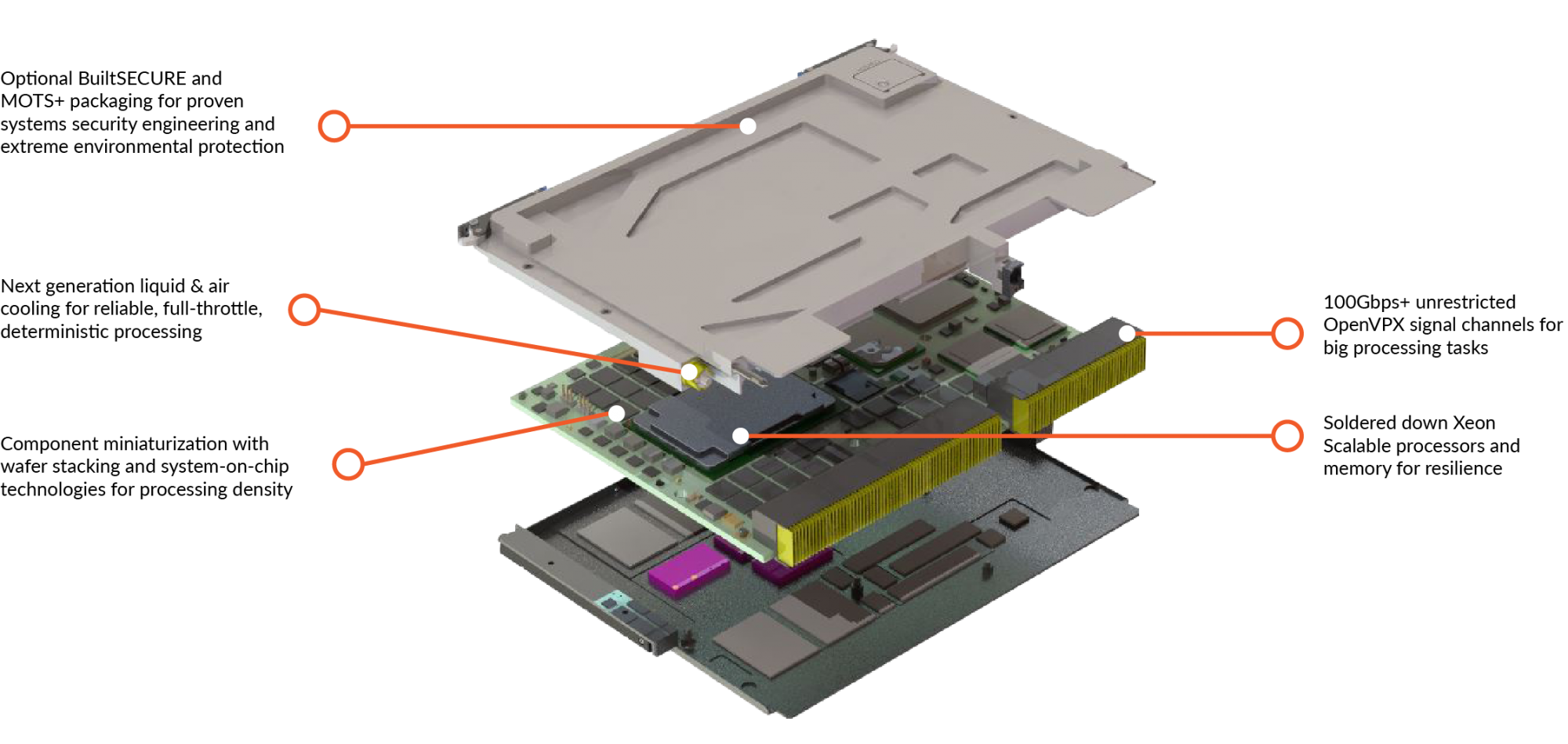 The Anatomy of a Rugged Blade Server
EnsembleSeries server blades use proven liquid and air cooling, rugged packaging and high-speed in-system switch fabric interconnect technologies which are open systems compliant and have a technology readiness level of nine (TRL-9). HDS6605 blades are well-suited for systems that require the utmost in reliable processing performance. The HDS6605 is available with 100 Gbps in-chassis fabrics and optional MOTS+ and BuiltSECURE technologies for extreme environmental protection and proven systems security engineering (SSE).

Gain a Competitive Edge
With an architecture designed for big data and AI processing performance, wider, faster channels and 192 GB of shared DDR4-2400 system memory, HDS6605 server blades create an elegant compute solution for complex on-platform C4I, AI, radar, sensor fusion and autonomous platform management challenges.
HIGH-PERFORMANCE OPEN ARCHITECTURES
Bring AI to Sensor at the Edge
Our high-performance embedded edge compute (HPEEC) architecture packages the data center in a compact OpenVPX™ form factor so AI processing can be located next to sensors on edge platforms. 
OPEN SYSTEM ARCHITECTURES
Rapidly Launch and Sustain AI Applications
Mercury's modular solutions, designed using open system architectures and open standards, can be quickly and affordably updated with the latest technologies to support changing AI software or algorithm requirements. 
PROFOUNDLY ACCESSIBLE
Utilize the Latest Silicon Valley Tech
We partner with industry leaders like Intel® and NVIDIA® to incorporate the most advanced AI-enabled data center and multi-core edge processors into the rugged, trusted and secure solutions that power your most ambitious on-platform processing applications.