BLOG MENU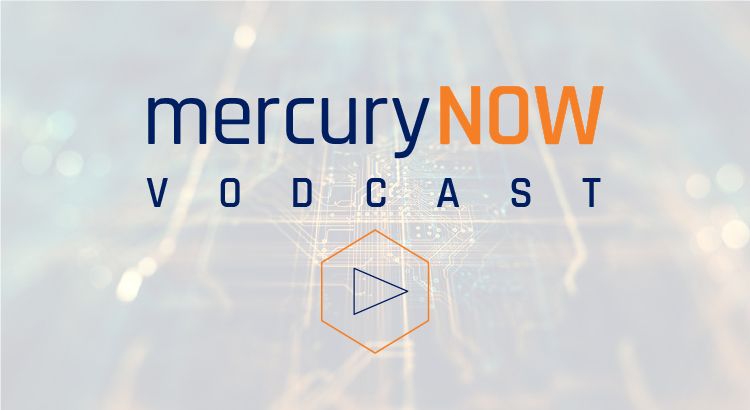 Mercury is helping close the gender gap by supporting women in STEM
Mercury Systems
March 24, 2021
READ THE TRANSCRIPT
Ralph Guevarez: Hello, and welcome to Mercury Now. I am your host, Ralph Guevarez, and today's topic; women in STEM and Mercury sponsorship of a predominantly female Brigham Young University capstone team called, Cognite. Now, for the benefit of our listeners, STEM stands for science, technology, engineering, and mathematics. We did some research on the topic of women in STEM, and the findings were very surprising to me.
According to Catalyst, a nonprofit group that helps build workplaces that work for women, STEM occupations are expected to experience rapid growth in the coming decades. However, despite this, there were still a gender gap in STEM, which persists across the world. Men, continue to make up the overwhelming majority of students studying STEM in higher education and dominate the STEM workforce in many countries. Why is this the case, and when will we begin to see more women emerging in STEM roles? Well, my guests and I, we're going to have that very discussion, right here, on Mercury Now.
Joining me today are Allyson Gibson, external relations manager and capstone coordinator for the Electrical and Computer Engineering School at Brigham Young University, a return guest, Sabrina Pina, Mercury senior manager of software engineering, and Chris Opoczynski, VP and GM for Mercury's Data and Microsystems Business Unit. Allyson, Sabrina, and Chris, good day and welcome to the show.
Allyson Gibson:Great to meet you, Ralph, and thanks for having me on the show.
Sabrina Pina: Hi Ralph, glad to be here.
Chris Opoczynsk...: Hi Ralph, thanks for having me on the show.
Ralph Guevarez: Well thank you all for your time. Before we begin, can each of you please give our listeners a brief background on your current roles?
Allyson, let's begin with you, and also please tell us who Team Cognite is.
Allyson Gibson: So, in my role, I'm responsible for bringing in up to 60 unique real-world industry projects for our senior level engineering students. This year, three students from electrical engineering, two from mechanical, and one from computer engineering form Team Cognite. Who's been tasked with developing a DDR memory module tester for Mercury Systems. The team is mentored by Sabrina and coached and day-to-day operations by a Faculty Coach. I'm particularly excited about Team Cognite this year, because this is our first female majority capstone team: five of the 16 members are women.
Ralph Guevarez: Thank you Allyson, this is very exciting indeed. Sabrina and Chris, tell us a bit about your current roles? So, let's start with you Sabrina.
Sabrina Pina: Sure, I'm one of the engineering managers for Mercury's Data Division in Phoenix, Arizona. I manage a cross-functional team of engineers and act as a mentor and technical liaison for Team Cognite.
Ralph Guevarez: Thank you, Sabrina. Chris, please, brief background?
Chris Opoczynsk...: Thanks Ralph, as you've mentioned, I'm the VP and GM for the data and microsystems businesses in Phoenix. Now, I'm really excited to be the executive sponsor for Team Cognite.
Ralph Guevarez: Well, thank you again all for joining me today, very exciting indeed. Let's begin our discussion, shall we?
Allyson, let's start with you. What have your own personal experiences been like as a woman engineer, and also how can we begin to balance the inequities we are seeing in STEM today?
Allyson Gibson: Ralph, I think the reason we have fewer women in STEM is because of the social conditioning of girls at a young age. Many very young girls are so interested in STEM topics, but they lack that support to forge through the cultural bias in the middle school and junior high years. So often the bias sadly comes from their own parents and even school teachers. Personally, I grew up with two brothers and just jumped into whatever they were doing, and I was totally fascinated by The Jetsons. So for me, engineering was a pretty natural fit. My high school Physics teacher really sealed my fate for me when he talked to us about what engineers do. It was a short lesson in Physics class, but it truly impacted the trajectory of my life.
I think that the first step in bridging the gap is acknowledging our role in it. What messages are we sending to the young girls in our lives? Are we supporting them as they face the difficult junior high years? Do we try to remove their hardships or do we let them learn how to really truly tackle those challenges head-on? Do we encourage their love of STEM early on by providing opportunities and experiences for them to do things, like coding and robotics and even digging in the dirt. These days, it's often benevolent sexism that drives girls and young women away from STEM.
Ralph Guevarez: Thank you Allyson, and that's a great point. There are a lot of ongoing conversations regarding the quiet cultural influences on this issue. Thank you again.
Sabrina, what has your STEM journey looked like? What have your challenges been and how are you helping to elicit change through programs such as Capstone Team?
Sabrina Pina: I faced the biggest challenges as a woman in STEM in college and early in my career. I feel I had to prove myself over and over again, and would often find my success discounted or my expertise questioned. There were many times when my ideas were dismissed without consideration or I was overlooked for my technical contribution. These challenges, however, simply turned into extra motivation to work harder and help change the perception of women in STEM. My journey was not easy which is why I worked to elicit change by volunteering and supporting organizations that promote women in STEM, speaking at school career days, mentoring college students; basically, anything that I can do to make a positive impact.
Ralph Guevarez: Thank you Sabrina, your determination is certainly inspiring. Let's get Chris's perspective as the only male in this panel.
Chris, as I understand you are the Mercury sponsor for the BYU Capstone Team. What motivated you to get involved? And, Why was this so important to you?
Chris Opoczynsk...: It's been quite a journey for me, Ralph. At first, honestly, I didn't give it much thought. My mom was an engineer, I've worked with women like Sabrina and Allyson for the majority of my career. So, women in STEM was just part of doing business.
It wasn't until I started dating and then ultimately marrying my wife, Connie, that I saw first-hand the bias and discrimination that she faced as a female physician. And that's really what got me passionate about the topic. I quickly realized that not being part of the problem is not the same as being part of the solution, and that there was no guarantees that there wasn't bias or discrimination elsewhere in my organization if I didn't take an active role.
When I joined Mercury, I wanted to do something to set the right example for the women in my organization, that we supported them, and also supported all core focus diversity. The Capstone Project was a really fun way to do that. By enabling these five highly capable women to do this project and show that they are just as good as the boys, sets a clear message to the organization as a very visible way for me to come out in support of women in STEM.
Ralph Guevarez: Thank you, Chris. I hope more men will take your lead in being a supporting voice for women in technical roles. So, let's talk about the capstone program itself. What is Team Cognite working on and what has it been like working with the team?
Sabrina, let's start with you.
Sabrina Pina: Team Cognite is working on a prototype low-cost tester to validate the assembly of a Mercury DDR four memory module. The team is currently in the schematic and PCB design phase working to complete the prototype within the next few weeks. It's a very, very impressive team of students, many experiencing the product development lifecycle for the first time.
Ralph Guevarez: Thank you Sabrina, it sounds like an incredibly valuable real-life work experience.
Now, Allyson, how did the students like the program? What type of feedback have you been getting specifically about working with the Mercury team?
Allyson Gibson: The team is so grateful to be working with Mercury, and in particular with Sabrina. They're currently in the throes of the project with just a few weeks left, and they are really, really recognizing the tremendous value of Sabrina's mentorship and experience; as well as the value of the assistance of other engineers at Mercury. At the beginning of these projects, students often underestimate the level of difficulty and the time that it's going to take to do these projects, and Team Cognite is no exception to that. This really is their first foray into the world of engineering design. So to have the valuable guidance of Sabrina and others at Mercury, is just invaluable. My experience has been that overtime students look back on their capstone project as one of the most valuable crucibles of their college career. Right now though, the only thing they're thinking about is how to get their PCPs laid out correctly and how to found time to program an FPGA.
Ralph Guevarez: Thank you for that Allyson, that's great news. Way to go Team Cognite! Finally, what can you tell our listeners about the importance of companies like Mercury, to continue sponsoring capstone programs that give students real-life engineering experiences, to help set them up for success in the workplace?
Allyson Gibson: Ralph, simply put, I think there's just no way that we can produce, in the classroom, what our students are learning with real-industry professionals working on real projects. The support of companies like Mercury enables us to help prepare a new generation of engineers, who truly have the potential to change the world. The added value of Mercury's focus on diversity, which is reflected in the team and the mentors, is something that I personally consider to be a beacon to the future. We're honored to work side by side with Mercury Systems in educating our students.
Ralph Guevarez: Thank you again Allyson, that is great to hear.
Sabrina, do you plan on supporting additional initiatives, such as a capstone program? Are there any other workplace programs you are involved with, specifically for women in STEM?
Sabrina Pina: Absolutely, I'm a believer that women must support women and I'm committed to devoting my time to any such initiative. Other than the capstone program, we have an unofficial society of women engineers in Phoenix, where we offer support and advice to one another. We all benefit from participating, but I feel this is most useful for the new women engineers that come on board. It helps provide a sense of community from the start of their career journey here at Mercury.
Ralph Guevarez: Thank you, Sabrina.
Now Chris, what does the future hold for Mercury supporting more capstone teams and women in STEM, in general? And, are we hiring any of these amazing students that are graduating in May?
Chris Opoczynsk...: First, let me say the program has been a resounding success. We definitely hope to continue this program with BYU next year, as well as expand to other universities and have multiple capstone teams. Ralph, I would hire every one of these students if I could. I just hope they feel the same way about Mercury as we do about them.
Ralph Guevarez: Thank you, Chris. Mercury has made many inroads to advancing the careers of women in STEM. We have many successful women who are thriving in technology roles throughout all levels of the company, and we look forward to welcoming a new generation of women to the fold. And who knows, perhaps, from this amazing team: Team Cognite? Allyson, Sabrina, Chris, thank you again for your time.
Allyson Gibson: [crosstalk] Thanks Ralph, it's been great.