BLOG MENU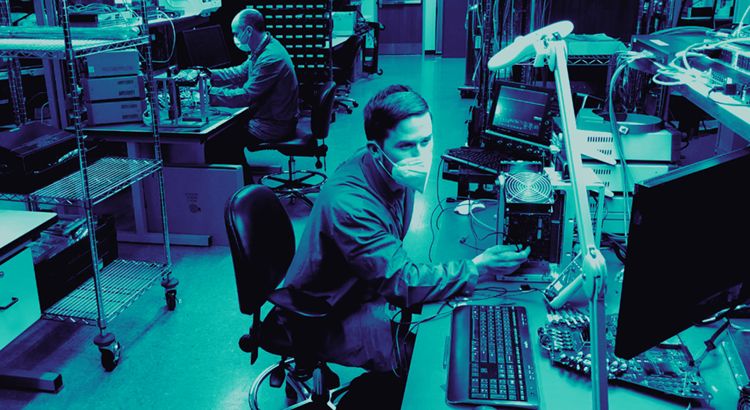 A closer look: Mercury is a case study for business continuity during COVID-19
Mercury Systems
April 12, 2021
A year has passed since more than half of Mercury employees transitioned to a work-from-home environment due to the COVID-19 pandemic. From the outset, Mercury took a people-centric approach to its COVID-19 emergency response, swiftly implementing several mitigation measures to help protect the health, safety and livelihoods of its employees. In addition to the early adoption of mandatory work from home, Mercury employed several other health and safety strategies for work that required face-to-face interaction, including on-site screening and COVID testing. At the personal level, Mercury established a $1 million relief fund for employees and their families, increased overtime pay and sick-leave allowances, provided on-site workers with Uber Eats credit, and offered several wellness benefits. Above all else, Mercury continually focused on educating its entire workforce on the importance of staying safe at work and at home. To date, all Mercury facilities have remained open and productive through the pandemic.
Early COVID testing data prompted Mercury's chief fellow technologist Karen Haigh, PhD, to take a closer look the company's response. To help with the research, Dr. Haigh enlisted Monica Gandhi, MD, MPH and professor of medicine at the University of California at San Francisco. The pair co-authored a study detailing these measures, which has been recently published by Oxford University Academic Press in the medical journal, Open Forum Infectious Diseases. Since publication, the article has garnered considerable media attention, including Bloomberg who stated, "Business leaders plotting ways to bring their employees safely back while awaiting protective COVID vaccines might turn to Mercury for guidance." (link to Bloomberg)
We sat down with Dr. Haigh and Dr. Gandhi to talk about their research and how this study came about in the following Q&A.
Question: Dr. Haigh, can you give us a brief history of your initial research on Mercury's COVID-19 mitigation and what led to the creation of your article?
Dr. Haigh: Part of my role at Mercury is to provide data analytics for our COVID-19 response. I analyze what's happening in the community and what's happening with our on-site testing; I predict when an outbreak may hit a site; I look at factors impacting why people are getting sick; and I make recommendations for mitigations and how we should be testing. When we got our first COVID testing results in July, we had a high number of asymptomatic positives, and "inconclusives." This didn't fit any of the academic or community statistics, so I went looking for academic hypotheses that might explain the results. In my search through academic journals, I came across Monica's research and emailed her, asking whether she thought these results fit her reduced inoculum hypothesis. She was enthusiastic, so we pulled the paper together, being very careful to track exactly what procedures Mercury implemented and the timeline for those actions. I spoke to probably 50 people around the company to figure everything out.
Question: How did you collect and examine the data?
Dr. Haigh: From a data-science perspective, I've been working on different visualizations that explore the data – for example, a radar plot that shows how individuals track the disease. I've spent a lot of time educating our employees on how to look at data, what you can legitimately throw out, for example.
Question: What was Mercury's biggest value for taking this people-centric approach as early adopters of several mitigation measures?
Dr. Haigh: Putting people first and taking the necessary proactive steps to prepare for and respond to the pandemic has proven to be the right thing to do for all Mercury stakeholders. I think that one of the important things we did was educate people about their own behavior. By sending people home, enforcing social distancing and mask wearing for on-site workers, weekly testing, paying for sick leave—all these actions—showed that we care about our employees. That is reflected in Mark's GlassDoor award, naming him the highest-rated CEO during the COVID-19 crisis.
Question: Dr. Gandhi, why did you decide to partner with Dr. Haigh and contribute to the research?
Dr. Gandhi: For me, as an infectious diseases doctor, I have been very interested in the impact of masks, ventilation and distancing (the three major non-pharmaceutical interventions to mitigate COVID-19 transmission and disease severity) from nearly the beginning of the pandemic, when we had understood how effective each of these strategies were for safety. I was particularly interested in seeing these strategies at work in settings that stayed open since I was concerned about the impact of indiscriminate closures (like of schools) and the collateral damage that could result.
Therefore, when Karen contacted me to tell me that Mercury had never closed but had deployed successive mitigation strategies to keep their employees safe—and had great results with these measures—I was intrigued and wanted to help her write this study by adding in the literature how these measures work. Even though Mercury used testing campaigns, which verified that their employees were not contracting COVID-19 at work, I think Mercury has shown that the universal precautions they employed (masks, distancing, ventilation), along with providing the necessary PPE, were enough.
Question: What is the lesson for other businesses?
Dr. Gandhi: I think more of the U.S. could have adopted Mercury's approach to keep their employees safe, instead of completely shutting down. One of the most important business-related strategies was encouraging employees to stay home when ill and providing sick leave support. This is something we should adopt moving forward (even when the dangers of COVID-19 have passed with vaccination) for other respiratory viruses, such as influenza, to keep our workers safe.
As the vaccines continue to rollout, Mercury's actions are a great example of how other businesses can bring employees safely back to the workplace.
Karen Haigh, PhD, is an energetic innovator with expertise in artificial intelligence (AI) and machine learning (ML) for physical, embodied systems like robots and smart homes. At Mercury, she tracks market trends and develops technology strategies and implementation plans, specifically related to AI, ML, autonomy, analytics, and data science for products and companies. She thrives in finding new ways to solve problems. In addition to over 100 publications, she is currently writing a book called Cognitive Electronic Warfare: An AI Perspective and holds numerous patents.
Monica Gandhi, MD, MPH is an infectious diseases doctor, Professor of Medicine and associate chief in the Division of HIV, Infectious Diseases, and Global Medicine at the University of California, San Francisco (UCSF). She is also the director of the UCSF Center for AIDS Research (CFAR) and the medical director of the HIV Clinic ("Ward 86") at San Francisco General Hospital. Her research focuses on HIV and women and adherence measurement in HIV treatment and prevention and, most recently, on how to mitigate the COVID-19 pandemic.