BLOG MENU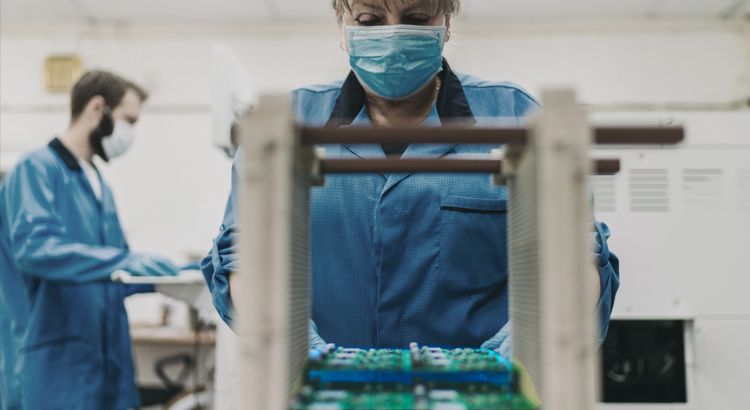 Semiconductors and the security of our nation
Mark Aslett, President & CEO
March 27, 2023
Microelectronics and semiconductors power our modern defense platforms, providing our armed services with an advantage across all domains. But reliance on these small components has created a big, and unusual, national security issue: our capacity to produce these valuable parts lags behind that of adversarial nations such as China. My recent op-ed in DefenseNews discusses this problem, including how the future of warfare and national security will be defined by such advanced microelectronics and why it's so important that the U.S. enacts and delivers on a sound semiconductor supply strategy. Here's some of what was discussed:
Small components with big consequences
The supply chain disruptions highlighted by the pandemic revealed a problem that was already decades in the making. Commercial technology firms moving chip production offshore the past 30 years in the name of cost savings came with a trade-off: a supply chain that was more susceptible to global interruptions such as weather and geopolitical changes.
To change this, and to ensure uninterrupted access to the wide spectrum of advanced chips the Department of Defense needs for today and tomorrow, a multifaceted strategy is needed to address many near-term and long-term challenges. The CHIPS and Science Act is a big first step forward, and the money being invested must truly redomesticate our semiconductor supply chain in a timely fashion. However, as part of this effort, we must also ensure that we prioritize access to chips for defense and aerospace applications. While the supply of commercial-grade chips has swung toward an oversupply, the high-end semiconductors Mercury relies on for platforms such as the F-35, Aegis, Patriot and LTAMDS currently have wait times between 36 and 99 weeks — a length of time that just isn't acceptable.
Our chip strategy should also go beyond investing in factories and production capabilities. We must build a sustainable and skilled workforce to produce, package and integrate these components — whether that's by providing career advancement and learning opportunities at home or by simplifying the immigration process for interested and knowledgeable talent abroad. Changes to our tax code should also be reconsidered to further incentivize domestic investment, as should the "just enough, just in time" model that has taken hold in the U.S. defense industry.
Electronification and the edge of defense
The use of microelectronics is roughly doubling with every generation of defense platform. Mercury Systems is helping drive this change by adapting the latest commercial technology and for use in the harshest and most complex of defense and aerospace environments. From silicon chip level to full systems, we are taking the steps necessary to ensure our armed services are always ready to respond, equipped with a tactical and technological advantage.
Read Mercury CEO Mark Aslett's recent op-ed in DefenseNews to learn more about the importance of a holistic semiconductor strategy to U.S. national security.