BLOG MENU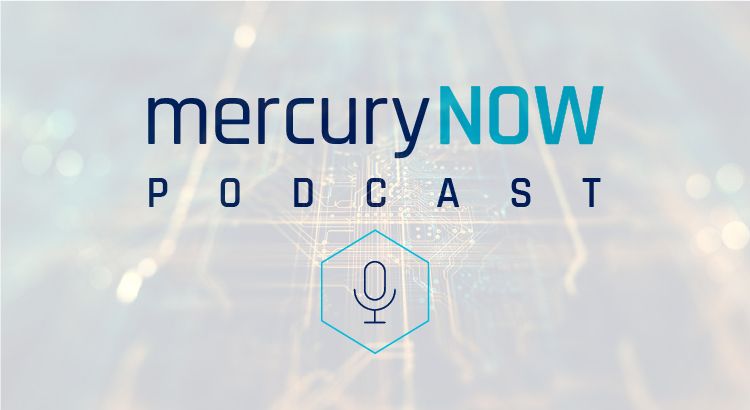 Supporting Significant Avionics Market Trends
Mercury Systems
July 20, 2020
Discover how safety-certifiable computing is evolving to meet the application requirements of next-generation platforms. Dr. Amela Wilson, senior vice president and general manager of Mission Division at Mercury Systems, discusses the increasing demands placed on safety-critical solutions to solve the challenges of the future battle space and aerospace.
Read the transcript.

Ralph Guevarez:

Hello and welcome to Mercury Now, a podcast series brought to you by Mercury Systems. I am your host, Ralph Guevarez. Today's topic, how Mercury is meeting the next generation requirements for safety certifiable computing. Joining me is Dr. Amela Wilson, senior vice president and general manager of Mission Division for Mercury Systems.

Ralph Guevarez:

Dr. Wilson, good day and welcome.

Amela Wilson:

Hello, Ralph, and thank you for having me. Please, call me Amela.

Ralph Guevarez:

Thank you. Amela, you recently joined Mercury to lead the Mission Division. Would you please give our listeners a brief description on what exactly Mission Division does?

Amela Wilson:

Ralph, we deliver a mission critical products for mission computing, avionics, displays, and system integration. Mission provides a safe, secure, innovative solutions to solve the challenges of the future battle space and aerospace. We do that by making mission-critical technologies profoundly more accessible to aerospace and defense customers.

Ralph Guevarez:

Thank you. Now you mentioned solving the challenges of future battle space and aerospace, which I'm sure there are a number of challenges. What customer needs are Mission looking to satisfy?

Amela Wilson:

The most prevalent need is for scalable open system architecture, avionic solutions that offer ease of integration, rapid fielding capabilities, safety certification standards like DO-178 for software, 254 for hardware, and even cybersecurity. Customers benefits from the transparency of our open system architecture to make it reusable in safety certifiable building blocks.

Amela Wilson:

Let me actually maybe elaborate a little bit more on some of the challenges that we are experiencing. For example, our European customers already have safety certification in all of their defense platforms. Now we are seeing an uptake of the requirements that gently expand into the United States defense applications. These platforms needs to safety processing architecture for the Mission computing.

Amela Wilson:

Then we have artificial intelligence and machine learning that are happening in everything we do, especially now we are seeing in a commercial world, autonomous flight platforms in the urban air mobility. All of those demands, they all have demands for computing power, graphical strength, graphical power, computing, the visual computing, all of these platforms also must achieve a safety certification. Size, weight, and power, that has been always a challenge of every airborne platform. And now, especially putting more applications on a platform, drives the reduction in size, weight, and power, trying to put more computing power into single line replaceable unit with a fewer independent processors.

Amela Wilson:

Then now the aspect of safety and security. As vulnerability grows, there's a demand to incorporate the secure requirements for cyber on the temporary multilevel security and we at Mercury are really [inaudible 00:03:28] position to support all of aspects of the growth, really compact processing, intensive processing, safety and security, and providing easy open system architecture.

Ralph Guevarez:

Now the very nature of safety certification seems at odds with the complexity of multiprocessing, compute technology and the uncertainty that security measures must address. How is Mission able to deliver solutions capable of driving next generation avionics platforms?

Amela Wilson:

Great question, Ralph. It speaks really to the core of what Mission division does. Safety needs a right answer every time. Security is protecting against the threats that may disrupt the safety decision process, so they're really not at the odds with each other. What is difficult at times is to incorporate security with a modular open system architecture. Mercury is one of the very few companies in the world who is able to provide safety and security in the modular open system architecture.

Amela Wilson:

How we do that is we are a commercial non-standard supplier. We build innovation and we combine our innovative technology solution. We collaborate with the technology leaders in real time operating systems and providers of CPUs and GPUs and FPJ technologies and leveraging that those technologies with our cutting edge products, we were able to meet sometimes 10 times, up to even 100 times more performance than the Legacy systems.

Ralph Guevarez:

Now we've spoken at length on how Mission is delivering mission critical technologies. Shifting to conversation for a moment. What are some of the business trends and opportunities you're seeing for Mission division at this time?

Amela Wilson:

Well, from our customers, the biggest momentum is towards open system architecture solutions, probably second to it. It's providing interoperability with existing platform, providing more on platform functionality.

Amela Wilson:

Our modular open architecture supports rapid modernization. That is what it's really important these days, and at the same time deliver a scalable solution. Our offers, our solutions, our products offer really a future proof solution.

Amela Wilson:

Now the other trends, we're global company and we are noticing trends for both ITAR or ITAR free solutions for the domestic and international customers that we are able to support. And then recent trends are meeting our global presence, allowing us to meet international offsets.

Ralph Guevarez:

Could you please tell our listeners exactly what international offsets are? Thank you.

Amela Wilson:

Sure. Offsets are all types of compensatory transactions in connection with the procurements abroad. They enable national companies to gain access to the expertise and markets, despite the facts that the procurements were made elsewhere. They can provide access to technology, cutting edge technology, make it possible to acquire expertise, get additional export volume and strengthen the position of the national industry in the international market.

Amela Wilson:

Sometimes they also use to close the security relevant skill gaps of the national industry. I will give you an example of how we are directly involved in some of meeting some of the offset's requirements. Through our computing center of excellence in Geneva, Switzerland, we are working with Raytheon and Ryman [Towel 00:07:18] in support of the Patriot system program that we are collectively offer for the bottle of air 2030 programming. That is the program for Swiss government.

Amela Wilson:

In combination with our partners, we offer world class Swiss engineering and manufacturing in support of this very important program for Raytheon and our team. Just as we are supporting Raytheon on the offset, we're ready to offer our engineering and our capability in manufacturing to any other company out there to meet their Swiss offset requirements.

Ralph Guevarez:

Amela, I'd like to take this opportunity to thank you for joining me today. I enjoyed the discussion and I have a much better appreciation to your goals to support next generation safety certifiable systems. I wish you and the Mission Division the best of luck and Godspeed in leading the industry and providing safety and mission critical solutions. I hope I have a chance to chat with you again soon.

Amela Wilson:

Thank you, Ralph. For those of you out there, please see us at mrcy.com.

Ralph Guevarez:

This has been another edition of Mercury Now, a podcast series brought to you by Mercury Systems. I am your host, Ralph Guevarez signing off.