Fast Direct RF Wideband Data Capture at the Edge
COTS 3U VPX processing board powered by the Intel® Stratix® 10 AX SoC FPGA
Electronic warfare, radar and ELINT applications demand direct RF solutions to deliver low-latency, fast data processing solutions for critical real-time decision-making. The DRF3182 offers heterogenous FPGA processing with explosive A/D & D/A speeds of 51.2 GSPS, Ku band frequency coverage from 2-18 GHz and six 100 GigE interfaces with an aggregate throughput of 75 GB/sec. Plus, COTS technology reduces time to market and fewer modules decreases system costs.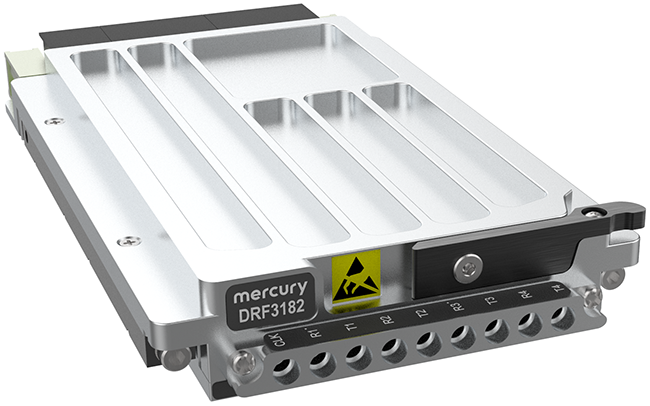 High Data Bandwidth for High-Performance Applications
2-18 GHz
Signal Bandwidth
600 Gbps
Backplane ingress/egress bandwidth
Direct RF vs. IF: Receive-Application Architecture

Features
Flexible compute, high-speed
connectivity and frequency agility for
radar, EW and test and measurement
applications
Integrated, advanced data converters
COTS 3U VPX, 4Rx/4Tx, 51.2 GSPS Direct RF module with Intel® Stratix® 10 AX SoC FPGA
Fast sample rate providing high
instantaneous bandwidths
Heterogeneous integration
Specifications
3U OpenVPX Packaging
OpenVPX (VITA 65) encompasses:
VITA 46.0, 46.3, 46.4, 46.6, 46.11 and
VITA 48.1, 48.2 (REDI)
Data Planes
PCIe Gen 3 support and/or VITA 49.2
Backplane Interface
SLT3-SWH-8F-14.14.2 slot profile
Processor
Intel® Stratix® 10 AX-Series SoC FPGA
2753 logic elements
Quad core ARM processor
244 MB of on-chip memory
Memory
4 GB DDR4 Total: 2 GB for FPGA fabric,
2 GB for HPS
​​​​​​Data Converters
ADC: Four 10-bit ADC channels up to
51.2 GSPS
DAC: Four 10-bit ADC channels up to
51.2 GSPS
Programmable tunable digital up/down
Converters (two per port)
High instantaneous bandwidth allows large portions of spectrum to be
directly digitized
VITA 46.11 IPMI controller
Sensor interface to monitor
temperature, voltage
Power sequencing
Secure JTAG
Manufactured in an AS9100D facility
VODCAST
Delivering RF signal processing solutions to the edge with MOSA
WATCH THE VODCAST
blog
Top four tips to avoid data bottlenecks in high-performance computing systems
READ THE BLOG
VODCAST
Discussing EW trends and emerging capabilities with Dr. Bill Conley
WATCH THE VODCAST
Thank you! We have received your message and will be in touch with you shortly.