Protect data-at-rest up to classified level
Compact NSA Type-1 Encryption
A small, 0.9 lb., NSA certified Type-1 data-at-rest encryption module that requires less than 7 W of power, JDAR protects secret and below data and simplifies integration. It's ability to withstand extreme temperatures and 30,000 hours MTBF allows JDAR to be deployed on aircraft and unmanned platforms and in inhospitable environments.
Easy to Integrate and Deploy
JDAR can be easily integrated into rackmount, embedded, or tailor-made systems using common open standard interfaces and VNX/3U VPX connectors. Fast <12 sec cold boot improves system readiness while multiple zeroization capabilities enable classified data to be left unattended without risk of compromise.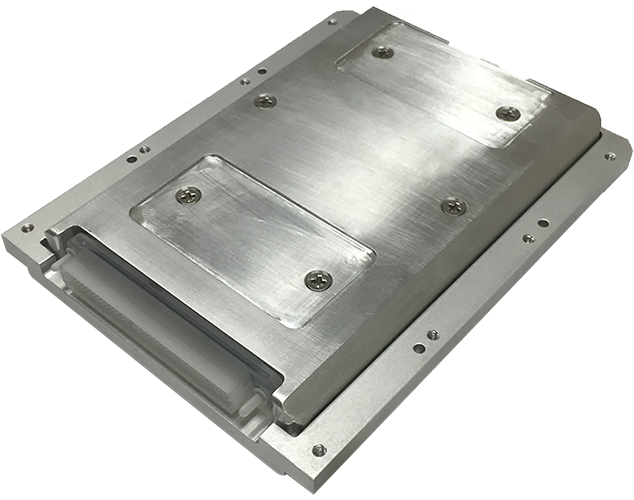 Compact and Fast NSA Type-1 Encryption
6 Gbps
high-speed encryption
0.9 lb.
small form factor
Features
NSA Type-1 certified for SAB and a tamper-resistant design
4-lane SATA III High Speed Encryption
Scalable architecture and interfaces for VNX/3U VPX
0.9 lb., 7 W power consumption
-40°C to +85°C operating temperature range with 30,000 hrs. MTBF
Startup <12 sec
MIL-STD 461F, MIL-STD 810, DO-160
Multiple zeroization capabilities
Easy to configure and encrypt with legacy and modern fill devices and upgrade options to support Key Management Infrastructure (KMI)
Intuitive Windows-based software interface or GUI
SMART (Self-Monitoring Analysis and Reporting Technology) SSD support
Support to meet data encryption requirements
Embedded video recorder or data transfer system option to speed deployment

Specifications
Encryption
Type-1 Secret and below; other
encryption options available for
system high operation
Status discretes: zeroize, alarm,
tamper and state
Suite B encryption algorithms
Zeroization
Multiple zeroization paths and forms of zeroization
Unattended/self-attended write-only
operation
Data Exchange
6 Gbps SATA bulk data input (1) and
output (4) ports
SMART (Self Monitoring Analysis and
Reporting Technology) SSD support
Diagnostics and Management
Built-in-Test (BIT)
Easy-to-use Windows software interface (GUI)
Subsystem Integration Features
Low-power VNX/3U VPX interface
Customizable design for any platform
Compatibility
Implements DS-101 over RS-485
Compatible with EKMS 308-compliant fill devices
Mechanical and Environmental
Dimensions: 5.04 x 3.94 x 0.63 inches (12 x 10 x 16.6 mm)
Weight: 0.9 lb (0.4 kg)
7 W max power consumption
MIL-STD 461F, MIL-STD 810, DO-160
Extended operational temperature: -400C to +850C continuous
30,000 hrs. MTBF
Cold Start <12sec
Compliance
NSA IAD Management Directive 110
compliant
SATA III compliant
Applications
Platforms/Applications
Avionics
Unmanned platforms
Unattended sensors
Surveillance
Communication
WHITE PAPER
Demystifying Hardware Full Disk Encryption Technology for Military Data Storage
READ THE WHITE PAPER
Encryption Solutions
Protect Classified and Sensitive Information
Field-proven and certified encryption solutions that safeguard confidential information from unauthorized access and meet government mandate requirements.
Thank you! We have received your message and will be in touch with you shortly.