Capture your critical signal data
The Model 2757 COTS high-capacity data recorder speeds through the spectrum with built-in optical connections.
This turnkey system built for recording 100 Gigabit Ethernet UDP streams from Mercury's Quartz® RFSoC products delivers up to 122 TB of removable solid-state storage and a recording data rate of 12.5 GB/s providing hours of multichannel wideband signal recording.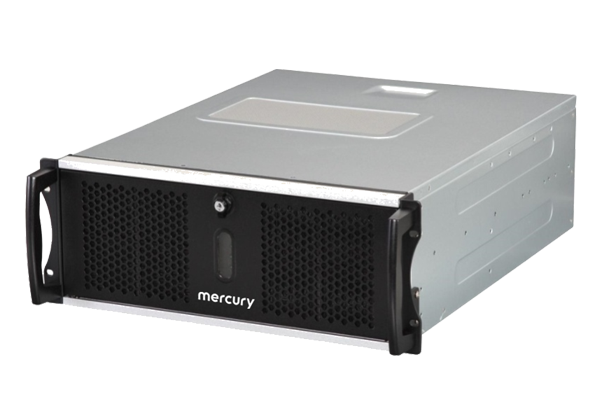 High-Speed Recording for High-Performance Applications
12.5 GB/s
Real-time Recording Rate
122 TB
Solid State Storage
100 GigE
Optical Connection
Features
Designed for data capture from Mercury Quartz® RFSoC products' 100 Gigabit Ethernet ports
Single QSFP28 port with MPO transceiver
Real-time record rates up to 12.5 GB/s (100 Gigabits/s)
Front-panel removable solid-state storage up to 122 TB
Dual Intel Xeon® Gold processors with up to 4 TB of DDR4 SDRAM
4U 19-inch industrial grade server chassis
Supports up to four independent UDP streams
SystemFlow software GUI with Signal Viewer analysis tool
C-callable API for integration
Specifications
PC Workstation
Operating System: Windows®
Processor: Intel Xeon Gold processor
SDRAM: Up to 4 TB of DDR4 SDRAM
RAID
Drive Type: Front-panel removable MVMe U.2 solid-state drives (SSDs)
Storage: Up to 122 TB
Supported RAID Levels: (standard) 0
Ethernet Interface
Quantity: 1 port
Connector Type: QSFP28 port with MPO transceiver
Physical and Environmental
Dimensions: 16.93" W x 22.19" D x 6.93" H; (430 x 563.7 x 176 mm)
Weight: 51 lb approx.
Operating Temp: 0° to +50°C
Storage Temp: –40° to +85°C
Relative Humidity: 5 to 95%, non-condensing
Operating Shock: 15 g max. (11 msec, half sine wave)
Operating Vibration: 10 to 20 Hz: 0.02 inch peak, 20 to 500 Hz: 1.4 g peak acceleration
Power Requirements: 100 to 240 VAC, 50 to 60 Hz, 500 W max.
WHITE PAPER
Development Tactics & Techniques For Small Form Factor RF Signal Recorders
DOWNLOAD NOW
TECH BRIEF
Expedite Critical Wideband Signal Recorders in Defense Applications
READ MORE
ON-DEMAND WEBINAR
Technology advancements in data storage and system interfaces for high-speed data recording
LEARN MORE
Thank you! We have received your message and will be in touch with you shortly.