BLOG MENU

ETT 2020 Recap: Accessibility and Innovation in Embedded Technologies
Mercury Systems
February 6, 2020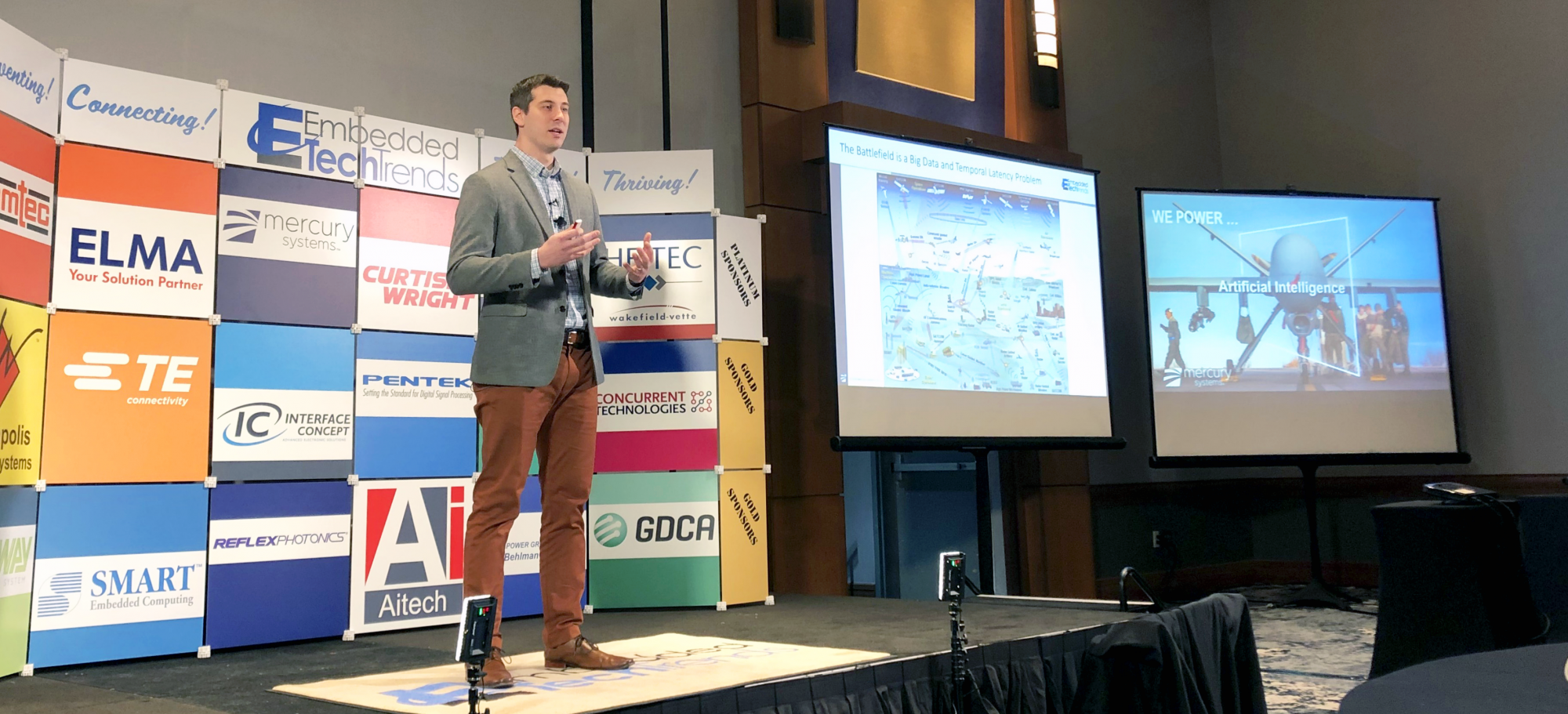 On January 27 and 28, Mercury Systems joined VITA and some of the leading minds in embedded systems in Atlanta, Georgia, for Embedded Technology Trends (ETT) 2020 – a comprehensive forum on the latest trends and developments in the industry. This year, suppliers of component-, board- and system-level solutions joined industry media to discuss the path forward for continued innovation in embedded systems, and how best to carry that innovation over into the government and defense sectors.
Mercury Systems is proud to work in close partnership with our peers and organizations like VITA on the most challenging and important issues facing aerospace and defense. As in years past, ETT 2020 surfaced several key observations that validate our commitment to enabling affordable public-sector access to the most advanced commercial technologies.
AI Applications Driving the Industry Forward
More than almost anything else, the promise of new AI applications for embedded computing was top of mind at ETT this year. Among other topics, attendees wrestled with how to integrate the immense computing power required by AI into existing and upcoming platforms.
On Monday, January 27, Mercury's Devon Yablonski, Principal Project Manager for Artificial Intelligence, gave a detailed look at how new applications leveraging AI are being translated to the defense industry, specifically at the tactical edge.
Devon demonstrated how a mirrored datacenter architecture is being built into aerospace and defense platforms that may not have access to the cloud, creating potentially significant challenges for data processing. As a solution, high-performance embedded edge computing (HPEEC) is transferring the data center to the edge, with the built-in security, trust, miniaturization, environmental protective packaging and cooling required for in-theater operation. This in turn is making military platforms smarter, more independent and more autonomous.
Moore's Law Continues to Prevail
There was also much discussion at ETT regarding how (and how quickly) embedded computing technology will develop moving forward. As advancement through transistor miniaturization approaches an end, some have questioned whether Moore's Law – the notion that the number of transistors on a given microchip will double every two years, with simultaneous reductions in costs – will hold true.
In his January 28 presentation, Mercury's Tom Smelker, Vice President & General Manager of Custom Microelectronics Solutions, described advances in 2.5D packaging which dispelled some of those doubts, and suggested that the next phase of development will come from heterogeneous integration of silicon or chiplets – as predicted in the last page of Moore's Law.
Among other advancements, 2.5D packaging will help continue to drive the industry forward by increasing time-to-market roughly 3x compared to monolithic design, reducing timelines from 3-4 years to 12-18 months.
Open Standards Are a Must
While there was collective optimism at ETT 2020, there was also some doubt regarding the future of open standards at the chip level. At present, chiplet manufacturers design using different, sometimes proprietary, chip-to-chip interfaces, creating inherent inefficiencies that have the potential to hamper growth.
In his presentation, Tom suggested that continued stagnation on establishing universal standards might ultimately dampen projected advances in cost efficiency and development time, as companies continue to operate under multiple standards.
Of course, the question then becomes how best to move forward on open standards. While that question remains unanswered, the conversations we had at ETT 2020 – including detailed analyses of new technologies as well as best practices for consensus-building – leave us ever optimistic about the path ahead.