BLOG MENU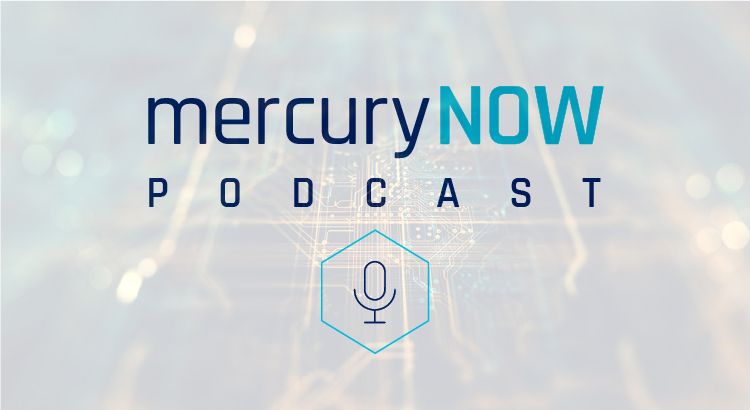 Modern Processing Approaches for JADC2
Mercury Systems
November 12, 2020
Joint All-Domain Command and Control, or JADC2, is the DOD's vision to connect sensors from all the military services—Air Force, Army, Marine Corps, Navy, and Space Force—into a single network by providing a cloud-like environment for the Joint force to share intelligence, surveillance and reconnaissance data, transmitting across many communications networks, to enable faster decision-making. Listen in as Matthew Alexander, fellow systems engineer at Mercury Systems, discusses the challenges associated with implementing JADC2 and the role Mercury is playing to help make it a reality – from data center processing at the edge to high-performance AI processors and secure processing.
Read the transcript
Ralph Guevarez:
Hello and welcome to Mercury Now, a podcast series brought to you by Mercury Systems. I am your host, Ralph Guevarez, and today's topic, modern processing approaches for JADC2 as Mercury continues to build on innovation that matters. Joining me is Matthew Alexander, a fellow systems engineer for our embedded business unit at Mercury Systems. Matt, good day and welcome to the show.
Matthew Alexander:
And good day to you, Ralph. Thank you for having me. I'm excited to be here and appreciate the opportunity to speak with you today.
Ralph Guevarez:
Thank you. Let's dive right in, Matt. Can you give us an overarching understanding of JADC2? When did this initiative begin and also what was the idea behind it?
Matthew Alexander:
JADC2 is really a doctrine that allows census systems and information systems to be able to be shared across the different military services. In terms of an implementation, JADC2 can be viewed as a set of interconnected open architectures. Each branch of the military will have an open architecture. For example, the most widely known one is the Air Force's ABMS. ABMS allows for sensors and for C4I systems to connect in a many-to-many fashion, as opposed to the one-to-one manner in which we've seen in the past.
Matthew Alexander:
This concept has been around for many years. It's nothing new in terms of open architectures and it's kind of grown into this doctrine that I'm describing. If you rewind 10 years, OMS or Open Mission Systems started by having payloads and services on platforms talking to each other over open interfaces. This concept has grown into what is now known as basically ABMS and JADC2.
Ralph Guevarez:
Thank you, Matt. The idea of JADC2 has been around for a while now. What are some of the challenges preventing it from being realized? Please, your thoughts?
Matthew Alexander:
I think ABMS and JADC2 will be a persistent evolution of increasing capabilities. To say it cannot be realized they might be a bit of a misnomer. In other words, I think you could implement parts of ABMS and JADC2 today and grow the capability over time, but to discuss some challenges for a moment-
Ralph Guevarez:
Please.
Matthew Alexander:
… three in particular, come to mind, at least in the near term with things that Mercury is looking to address. The first is artificial intelligence. We need to make sure we have compute architectures that enable efficient implementations of these new capabilities at the edge. The next one that comes to mind for me is compute power. We need heterogeneous data centers deployed at the edge to deal with the increase in sensor data and to be able to generate useful products to the end user. And then finally, open architectures. And again, this is nothing new to the DOD, but we really need a next generation of open systems that allow for even more rapid insertion and reuse of capabilities. One particular area of interest for us is cloud-based solutions at the edge.
Matthew Alexander:
Thank you, Matt. Now, I'm curious, what are some of the technological challenges involved with JADC2? Your thoughts, please?
Matthew Alexander:
I can think of two that immediately come to mind. The first as we were just discussing is cloud and hyper-converged architectures. We're seeing a convergence of sensor processing and some traditional C4I capabilities, which is driving the need for cloud-based processing architectures. As the hybrid becomes even more capable, we need to outfit our sensor systems with cloud-based infrastructure in order to realize the converged sensor C4I processing vision. To do so, we continue to partner with leading cloud architectural organizations and we'll seek opportunities to demonstrate these capabilities through the ABMS IDIQ.
Matthew Alexander:
Then perhaps a bit out of the box, another area I find challenging is test. As the DOD has evolved to an open architecture approach in order to facilitate rapid technology insertion, we need to also pay attention to how we test these systems. We cannot deliver a new capability in weeks only to have to take months or years to test. The more testing we can push into environmentally accurate simulators and emulators, the faster we can get a capability deployed to our warfighter.
Ralph Guevarez:
Now, staying with the DOD, what is Mercury doing to help the DOD get where they need to be and help JADC2 really take off? Your thoughts?
Matthew Alexander:
Yeah, that's a good question, Ralph, and we're really doing a lot from data center processing at the edge to high-performance AI processors, and of course, secure processing. We're looking to deploy technology building blocks across a wide variety of form factors. This is the technology that will help generate decision-making data at the edge so that our warfighters get the information they need faster.
Matthew Alexander:
Let me also give you an example of something we're doing at a very tactical level. We're working closely with the Air Force right now to deliver a 6U OpenVPX processor based on data center CPU's for their ABMS sensor test aircraft at Hanscom Air Force Base. We've already delivered some loaner hardware and expect to deliver a full-up system by the end of the year, and this will allow the ABMS sensor mode developers to deploy new capabilities onto the test aircraft in open architecture fashion.
Ralph Guevarez:
Now, what could you say about any partnerships Mercury is pursuing for JADC2 and ABMS, please?
Matthew Alexander:
Yeah, this is a really important topic. We're certainly working towards partnerships right now, although I'm not quite ready to talk broadly about who we're pursuing partnerships with. Suffice it to say, we're looking at partnerships with organizations who have deepened roads with the Air Force and DOD, and we're looking at partnerships with organizations who complement our offerings. For example, cloud infrastructure and hyper-converged architectures are areas we're interested in establishing strategic partnerships in.
Ralph Guevarez:
What you're saying, Matt, is that it's really about addressing all of these elements you just mentioned. Everything needs to come together in an incremental fashion for the vision of JADC2 to work. Am I understanding that correctly?
Matthew Alexander:
That's right, Ralph. We need rapid, high-performance technology built around open standards that leverage the best available commercial technology, but are hardened, rugged, and protected to meet demanding military requirements.
Ralph Guevarez:
Matt, I want to take this opportunity to thank you for joining me today. I enjoyed the discussion and have a much better appreciation of Mercury's approach towards JADC2. I wish you the best of luck moving forward and Godspeed with all that you do for Mercury Systems. Thank you again.
Matthew Alexander:
Thank you, Ralph. It was my pleasure.
Ralph Guevarez:
This has been another edition of Mercury Now, a podcast series brought to you by Mercury Systems. I am your host, Ralph Guevarez, signing off.