BLOG MENU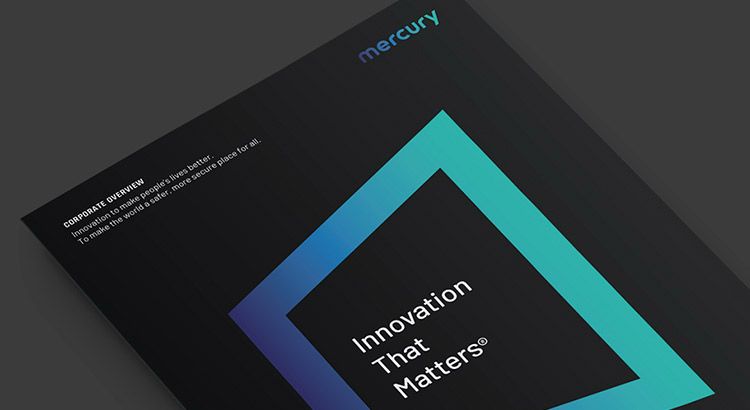 The world is changing and so are we
Stephanie Georges, SVP & CMO
December 14, 2020
Mercury has evolved as a technology leader. And just as we have evolved, so too has our brand. Human, confident and bold, our new brand voice is symbolic of Mercury today – a technology company dedicated to innovation, a culture that is people-centered and a vision to make the world a safer and more secure place for all.
Today, our new wordmark completes our brand transformation. Befitting the exactitude of our engineering legacy and our transformation as a technology company, our new visual identity has been thoughtfully crafted:
With a nod to our heritage, the color of our new wordmark begins with the emblematic Mercury blue and morphs boldly to teal, conveying the transformation underway, as well as our unique position at the intersection of two critical industries – technology and defense.
 We chose rounded lower-case letter forms, in our own new, exclusive typography to exude the confidence and accessibility our customers and our team require of us every day.
The wordmark's modern design reinforces our role as a forward-leaning technology company that is committed to investing in people, innovation and trust to retain and attract top talent and better serve our customers.
Simple and strong, the identity drops accessories and focuses on the power of what we do to make technology profoundly more accessible.
 While our formal company name remains Mercury Systems, Inc., you will see us frequently using the simpler approach of Mercury in our website and other brand elements.

Our brand and our strategy are inextricably linked
While executing against our growth strategy, we are targeting key areas of opportunity, such as artificial intelligence, edge computing, 5G, autonomy and chip-scale processing technology, through both organic investment and smart M&A. We remain committed to leading the industry in R&D and proudly invest at a rate 4-5 times the industry average as a percentage of revenue. And we embrace the challenge to raise the bar for ourselves and our industry by making trusted, secure technology profoundly more accessible.
As we continue to enter new markets, expand our portfolio and innovate, we see an opportunity to play an even more important role in our customers' success. In today's rapidly changing world, we believe access to trusted, secure, leading-edge technology is critical. We believe we can make an impact. And we believe there is no more urgent time than now.
 
Our promise begins with our people
At Mercury, our promise to our customers begins with our people, fortified by a history of innovation and inspiration to deliver technology that makes the world a safer and more secure place. As our CEO Mark Aslett says, "At Mercury Systems, we have always been a why company. Defined not only by what we make, but why we do what we do."

Our new brand reflects our ambitions for the future
My aspiration is for the new Mercury brand to convey both our unique business model and the inspiring culture that drives us through an articulation that withstands the next decade of Mercury ambitions.
Our plan is to roll out our new brand over time. We start first with the launch of our new website.
Moving forward, you will see the brand initially reflected in other digital applications, such as social media, videos, presentations and digital collateral.
We know that a brand won't come to life unless it is authentic, relevant and believable. It needs to be built on action and purpose, and why we do what we do. Throughout our history, Mercury has acted with urgency and care to deliver innovative solutions for a safe and secure world. Our new brand and wordmark reflect this promise and our continued commitment to customers to deliver Innovation That Matters. By and For People Who Matter.